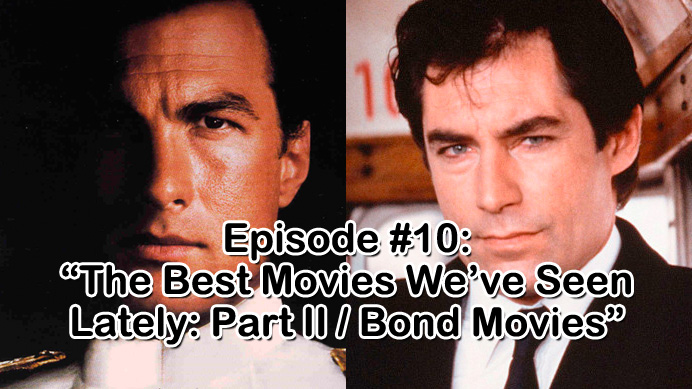 52:34 | View on iTunes | Download Mp3
On this episode, I am joined by fellow Smug Film contributors John D'Amico and Jenna Ipcar. We discuss the best movies we've seen lately, Bond movies, and much more! As always, we take a quick break for a movie joke by comedian Anthony Kapfer, and then close the show with questions from our mailbag.
If you have a movie-related question you'd like answered on the show, leave it in the comments or email us at Podcast@SmugFilm.com.
If you enjoy the podcast, be sure to subscribe on iTunes, and leave a rating and a comment on there as well. Doing this helps us immensely as far as our ranking on there, which is what allows people to be able to discover us. Word of mouth is always best of all though, so spread the word!



This episode is sponsored by ClassicSciFi.com, who has teamed up with Housebroken Clothing to bring you the ultimate in classic science fiction inspired apparel. All shirts are hand-printed here in the USA. Everyone loves the luxurious feel of these shirts. The prints are light weight with soft inks, making them the perfect combination of style and comfort. Each shirt is unique and meticulously cared for during production. They are then inspected, approved and signed by the artist himself. All this, plus free shipping!
If you would like to sponsor an episode of our podcast, you can do so for just ten dollars. What a sponsorship means is that, at the beginning of one of our episodes, we will plug your product, blog, website, movie, or literally anything you want (so long as it's legal). We will also plug it on the episode's blog post, much like I did directly above this paragraph. If interested, drop me a line at Cody@SmugFilm.com.