Tag Archives:
mikey and nicky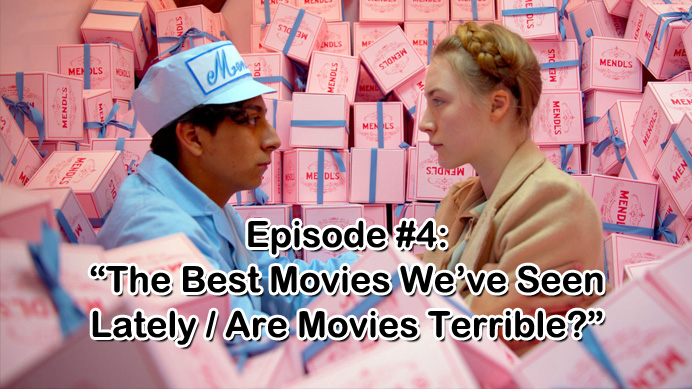 1:06:45 | View on iTunes | Download Mp3
On this episode, I am joined by fellow Smug Film contributors John D'Amico and Jenna Ipcar. We discuss the best movies we've seen lately, new and old. Then, we take a quick break for a movie joke by comedian Anthony Kapfer, and close the show with a few questions from the mailbag, one of which sparks an impassioned rant from John!
If you have a movie-related question you'd like answered on the show, leave it in the comments or email us at Podcast@SmugFilm.com.
If you enjoy the podcast, be sure to subscribe on iTunes, and leave a rating and a comment on there as well. Doing this helps us immensely as far as our ranking on there, which is what allows people to be able to discover us. Word of mouth is always best of all though, so spread the word!
Movie Stuff Referenced in this Episode:
Continue reading →
Posted in

All Posts, Podcast Episodes
Tagged

12 years a slave, A Man Escaped, a serious man, airplane, Aladdin, Alan Partridge at the Races, Alan Partridge: Alpha Papa, amistad, anchorman, Andrew WK, anthony kapfer, battleship, Belly, blade, Bob's Burgers, bottle rocket, buffalo 66, classicscifi, classicscifi.com housebroken clothing, Cleopatra, cody clarke, Daddy Longlegs, Damnation Alley, dog day afternoon, Dr. Doolittle, dredd, Drive-By Truckers, fantastic mr fox, Figures in a Landscape, film joke, film jokes, film podcast, Filthy Gorgeous: The Bob Guccione Story, Game of Thrones, Gary Wilson, Gary Wilson You Think You Really Know Me, Godzilla vs. Hedorah, Godzilla vs. King Ghidorah, godzilla: king of the monsters, gojira, gravity, Guardians of the Galaxy, Homicide, I Get Wet, i love lucy, in the loop, Inside Llewyn Davis, it's always sunny in philadelphia, It's Complicated, jane eyre, jaws, jenna ipcar, John Carter, john damico, Logan's Run, louie, lucky dragon no. 5, lucky dragon number 5, mikey and nicky, moonrise kingdom, movie joke, movie jokes, movie podcast, mrs doubtfire, Nest of Spies, OSS 117: Cairo, OSS 117: Lost in Rio, Pain & Gain, paranormal activity, popeye, Prisoners, Red River, Rodan, rushmore, Saxondale, seven samurai, Sin Nombre, Slumdog Millionaire, smug film, smug film podcast, smugfilm, Southern Rock Opera, spring breakers, star wars, Surviving Desire, terminator, terminator 2, The Artist, the brown bunny, The Darjeeling Limited, the grand budapest hotel, The Green Lantern, the incredible shrinking man, The Life Aquatic, the lone ranger, The Naked Gun, The Raid 2, the raid: redemption, The Royal Hunt of the Sun, the royal tenenbaums, The Squid and the Whale, The Thick of It, the trip, the wire, the wolf of wall street, To Kill a Mockingbird, True Detective, Trust, V/H/S 2, Veep
Leave a comment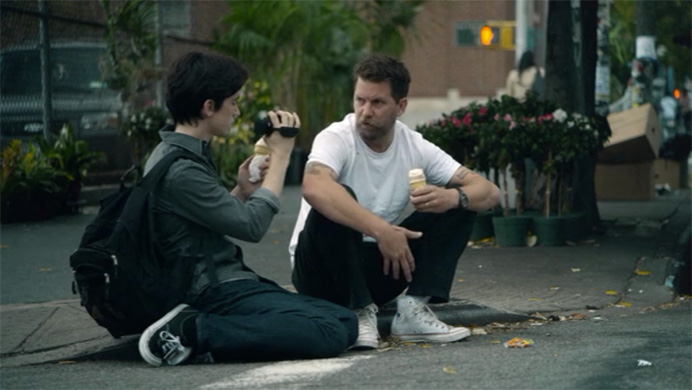 How to Be a Man (2013)
Directed by Chadd Harbold
Written by Bryan Gaynor, Chadd Harbold, and Gavin McInnes
Story by Chadd Harbold
85 min.
Mild spoilers ahead.
I love me some Gavin McInnes. From his appearances on Red Eye, to his pieces for Taki Mag, to his YouTube shorts, to his standup, to his book, to his previous feature-film, The Brotherhood of the Traveling Rants, I'm certainly a fan of his work, and a fan of him as a person, too—when I interviewed him here last year, he was a delight. Sweet and honest and gracious, the polar opposite of what his detractors might expect him to be based on his brash demeanor and polarizing views on all things life. I see him as a living embodiment of the phrase 'warts and all', and an inspiration to anyone who holds honesty as a virtue. A man as man 'might be and ought to be', to borrow a Rand-ism.
All this to say, I have a knot in my stomach as I write this review, because I have a duty to be honest here—a duty as a critic, of course, but also, a duty to Gavin and all that he stands for. He would not want me to sugarcoat my feelings on this film just because I like him. That would not be very manly of me. And so, here goes.
I did not like this movie.
Continue reading →
Posted in

All Posts, Cody's Reviews
Tagged

albert brooks, bryan gaynor, chadd harbold, cody clarke, derrick comedy, edmond, eric schaeffer, fall 1997, fall movie, ferris bueller's day off, gavin mcinnes, gavin mcinnes movie, how to be a man, how to be a man film, how to be a man movie, how to be a man movie review, how to be a man review, jody hill, lost in america, mikey and nicky, mystery team, planes trains and automobiles, red eye gavin mcinnes, red eye with greg gutfeld, riding the bullet, roger dodger, smug film, smugfilm, taki mag, the breakfast club, the brotherhood of the traveling rants review the brotherhood of the traveling rants
2 Comments