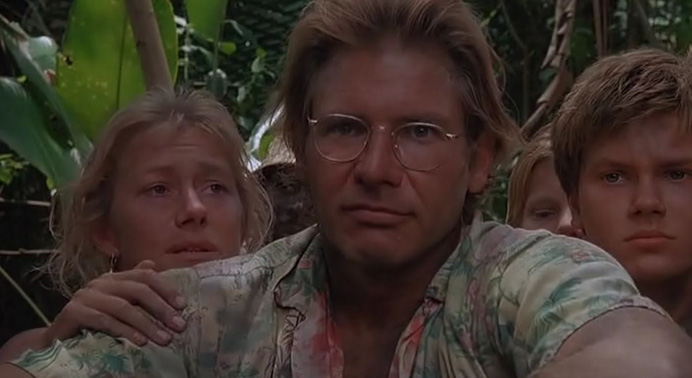 Obviously he's pretty singular, but is there anything else kinda Weir-y like The Mosquito Coast & The Year of Living Dangerously? — Charles W.
Editor's Note (12/4/14): We no longer answer movie questions through our advice column. We answer them in the mailbag segment of our podcast. Send them to Cody@SmugFilm.com and we will answer on the show!

John D'Amico: You're in luck because Sorcerer just got a Blu-Ray release. One of the ultimate responses to everyone who blindly bitches about remakes [Ed. Note: The original, The Wages of Fear, is also great] Sorcerer is the grim, almost unbearably tense story of truck drivers transporting nitroglycerin across the treacherous roads of South America. That great storm sequence in Mosquito Coast finds its match in the signature sequence of Sorcerer, as they try and get their truck over a rope bridge in slashing rain.
Werner Herzog's South America cycle—in particular, Fitzcarraldo—are kind of the Alpha and Omega for you here. Like Mosquito Coast, Fitzcarraldo follows a monomaniac white man struggling to bring "civilization" to the deep heart of the Amazon. Where in Mosquito Coast it was ice, here it's music. I like Mosquito Coast, but it never quite delves deep enough into Harrison Ford's character's madness. Here, we're a party to it, a part of it. The film itself was an expression of madness—be sure to watch the making-of, Burden of Dreams, which is just as harrowing and touched by madness.
One of my favorite deep cuts of this genre is Fyodor Otsep's hard-to-find 1934 film Amok. As far as I'm concerned, it wrote the book on that languid jungle vibe. Check out the opening sequence to see what I mean:
https://www.youtube.com/watch?v=xtvUF_XgTgU
I've always had a soft spot for Dino De Laurentiis's The Bounty, which captures that aggressive young Mel Gibson from Year of Living Dangerously. He was the best in the world in the early '80s.
One thing I love about both the movies you mentioned, as well as Weir's The Last Wave, is that inscrutable feeling that some bad, primal thing is coming, even if you don't quite no when or where. I think John Carpenter's Prince of Darkness and Saul Bass' Phase IV capture that same paranoia.