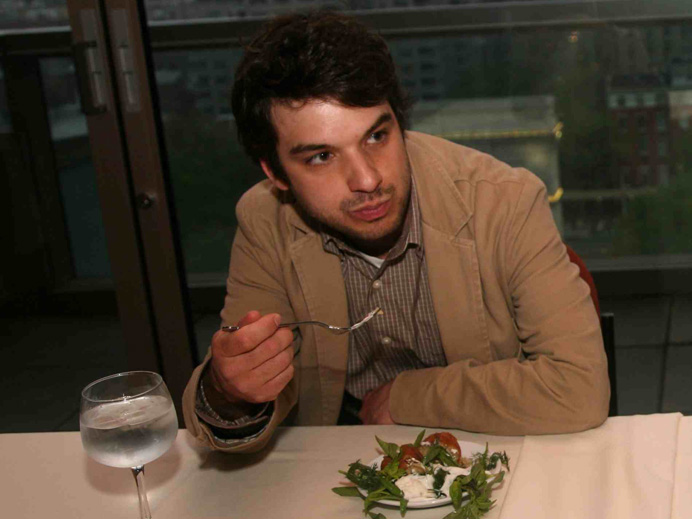 A couple weeks ago I wrote about my films Shredder and Rehearsals going up on IndieFlix, and since then I've been exploring their library. 'Library' isn't even a good enough word for it—it's an absolute treasure trove of under the radar, wholly independent films that you'd never come across anywhere else. Not all of them are good, but there are absolute gems to be found, such as my favorite discovery so far, a 35-minute documentary called Bowling Blind.
The film is about a blind bowling league that bowls in the basement of a housing building for the blind in Manhattan. If you enjoy light, honest documentaries about colorful characters, you'll definitely like it. It's a very warm movie, suitable for any age.
Recently I had the opportunity to sit down and chat with the director, producer, and cameraman of the film, Marc Cantone:

What's your background? What got you into documentary filmmaking?
My background is in screenwriting.  I went to the University of the Arts in Philadelphia and graduated with a BFA in Writing for Film and TV.  In college, our professor showed us a documentary called Seventeen by vérité filmmaker Jeff Kreines.  I was blown away by the intimacy he achieved with his subjects and how honest it all felt.  I had always just thought of documentaries as historical, slow moving, Ken Burns type films—which are great—but there's a vibrancy in vérité that made me see documentaries in a whole new light.  From there I was hooked.  I went back to the films of the Maysles brothers and Frederick Wiseman, then Steve James' Hoop Dreams and Stevie.  These guys, Kreines included, are the reason I wanted to start making documentaries.
How did you discover the blind bowling league?
I heard about blind bowling over ten years ago, when I was still in college.  It sounded insane to me, so I found a league in Philly and checked it out.  And it was insane—the bowlers were really good!  Much better than me.  I tried to do some filming with my Sony VX2000 but I wasn't yet competent enough as a camera operator to get much useable material, so I never did anything with it.  But I did film quite a bit, and it would be interesting to go back to those stories some 12 years later and see where everyone is now.
When did it occur to you to do a documentary about the NYC blind bowling league, and how did you pitch it to them?
A few years later, I had moved to New York and still wanted to make a blind bowling documentary, so I found a league in Manhattan and went to meet them. They were all super nice and after a few nights of just hanging out, I asked if I could do some filming.  I shot a little presentation reel and wasted a good year pitching it to producers.  It finally occurred to me that I didn't need any money to start filming, so my friend Kristie Lutz and I would bring our DVX's over to the alley in our free time and film the bowlers.  When it came time for them to go to the tournament, I was actually able to raise a couple thousand dollars to cover our expenses for the trip.
I was only able to complete the film with the generosity of AMF Bowling Centers.  I had been emailing their PR people for a long time (we see the AMF brand a lot in the film) and they finally agreed to give me some money which covered all our post-production costs.  This was huge because I was then able to hire one of the best documentary film editors I know, David Egan, to work on it.  David took our tangled mess of footage and crafted a really sweet and compelling story from it.
Was there ever the thought to make the doc feature-length, rather than a short?
We had enough material to make it longer, but David and I decided to try to make a really tight, fast paced short.  We left out some awesome footage—like Bobby going into great detail about his romantic conquests, and a whole sequence of Braulio trekking over to Chelsea Pier to pick up their brand new bowling shirts—but it would've made the narrative less focused, and slowed the story down.
Was there a conscious effort to make sure the film would also be enjoyable for blind audiences?
I honestly never thought about it! Hmm… maybe I should have!
I ask because as I was watching it, even though there's text and stuff that they wouldn't be able to see, the way the story and the dialogue flow, it feels like it wouldn't be that hard for someone blind to follow. What did your subjects think of the finished film?
For the most part, they really enjoyed it.  However, we ended up leaving out one of the bowler's stories because it didn't move the narrative along, and they were pretty upset about it.  I felt so bad that I went back and tried adding the story, but it just didn't work.  Aside from that though, there were lots of laughs when they saw it, and no one felt that they were portrayed in a dishonest way.  I become good friends with the people I film, so it's important to me that they never feel misrepresented.
Your film was accepted to six festivals, and even won best short at the Different From What? Festival. What was your experience like doing the festival circuit? 
It's very hard to get accepted into film festivals, especially since it's become such a big money making business.  So I'm always totally flattered and honored if something I make gets into a festival, big or small.  And this film was no exception.  We went to all the festivals we got into, from Arizona (Different from What) to Arkansas (Hot Springs Documentary Film Festival), and had a great time.
IMDb tells me that you were on two episodes of The Cosby Show back in 1991, 'Theo & The Kids, Parts 1 & 2', as one of the students in class. Can you tell me about that experience? How'd that come about, and how was it?
Ha! Yes, I was such a good background actor that I appeared both parts of the two-part episode!  Or maybe they just needed me back for continuity.  Either way, I was a celebrity in my sixth grade class for a week or so.  My dad is in the casino entertainment business, and had been booking Mr. Cosby for years.  I guess they thought it'd be fun for me to be an extra, so I got the gig.  I didn't have any lines, but you can distinctly hear me saying, "I'm gonna kick your butt" when we walk into Theo's classroom.  Oddly enough, a good twelve years later, I ended up writing for one of Mr. Cosby's animated shows, and even directed a documentary project for him about Missouri's juvenile justice system.
What have you been working on lately? I saw you've been doing some videos for kids, and you have an indie band called The City and Horses.
I'm currently a writer/producer for Sprout, a 24-hour children's television network.  I make promos and various pieces of short form content for the network.  It's a lot of fun and I even get to write some songs, one of which was produced by RJD2 and used as Sprout's theme song in the Macy's Thanksgiving Day Parade a couple years ago.
And, yes, I have a little indie-pop band called The City and Horses.  We don't play too often, but we do manage to put out an album every year and a half, and make some fun videos every now and then.
In addition to Sprout and the band, I'm finishing up post production on five episodes of a comedy web series I wrote and created with my friend Robert Yula called Not Safe For Work (which will premiere in a month or so) and I'm continually trying to finish a documentary film about celebrity impersonators that I've been making for almost ten years.  Know any investors?
Ha, I wish I did! For myself and for you. Looks like it could be a pretty good movie. Looks like what I wish that Hamony Korine movie Mister Lonely had been.
Lastly, what are some of your favorite documentaries of recent years?
I'm terrible at keeping up with current movies and can't think of any recent ones off the top of my head.  This is embarrassing.  Oh, my buddy Drew DiNicola made that great Big Star documentary a couple years ago.  That's one!
How about of all time?
All time is a little easier.  Salesman, Hoop Dreams, Stevie, Seventeen, High School, Sound and Fury.
Great picks, man. Thanks for doing this!
Thanks so much, Cody!
To watch Bowling Blind, my films Shredder and Rehearsals, and countless other great indie films, click the rectangle below for a 30-day free trial of IndieFlix: