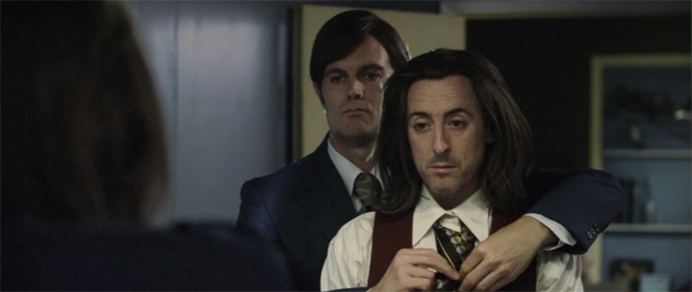 Any Day Now (2012)
Directed by Travis Fine
Written by Travis Fine and George Arthur Bloom
97 min.
Spoiler-free.
What does 'based on a true story' mean?
The phrase gets used a lot to promote movies, and both your average joe and your above-average joe, when seeing said phrase, typically assumes it to mean that the basics of the story are true. Maybe there's some artistic license here or there, some composite characters or whatever, but the movie bears enough resemblance to the actual facts that the phrase can be used in good faith.
This assumption is usually correct. Most movies 'based on a true story' are, in fact, that. But occasionally, they aren't. Occasionally, the phrase is used as a deception. The filmmakers and/or producers know that the movie will have more pull if the phrase is there, so they stick it on a poster or promotional material, even though the film is entirely fictional.

The Texas Chainsaw Massacre is a classic example of this. The film's plot is entirely made up, and real life serial killer Ed Gein, whom Leatherface is 'based on', is nothing like him. Yet, right on the poster, it says: "What happened is true. Now the motion picture that's just as real."
I'm okay with horror movies doing this. To me, it's like a carnival barker hyping up a freak show. Yes, he's outright lying, but who cares? It enhances the experience. I'm all for audiences being fooled so long as it's in good fun.
The deception of Any Day Now is most certainly not in good fun.
I stumbled upon this movie on Netflix, and decided to give it a shot, based on its brief summary:
"Rudy [Alan Cumming] and Paul [Garret Dillahunt] take in their neighbor's teenage son Marco, who has Down syndrome, when his neglectful mother throws him out of her apartment. Their attempt to legally adopt Marco sparks a court battle over gay rights in this powerful true story."
Sold. For one thing, I like both those actors. But more importantly, I'll watch any movie with a mentally handicapped character in it, because I'm always curious how the subject matter is handled. One of my favorite guilty pleasure genres is what I call 'Tardsploitation'. I Am Sam, The Other Sister, and Riding The Bus With My Sister are all hallmarks of the genre (as are a bunch of Hallmark films.) These films, though well intentioned, are often complete and utter messes. Train wrecks that you can't look away from. No matter how good an actor is, when they try to play mentally handicapped, it's always uncomfortable and minstrel-y.
I also like to watch movies that feature actually mentally handicapped people. Often these are inherently better, because the character is at least believable, but sometimes it's clear they are being exploited (such as in the unwatchable festival darling Girlfriend). A rare exception to this rule is the phenomenal documentary Monica & David, which is one of the best movies I've seen in recent years. I reviewed that one a little while ago.
The down syndrome character in Any Day Now is played by an actor who actually has down syndrome. And he does a good job, I guess. It's hard for me to really judge his ability as an actor, because he isn't exactly given much to do. He's used solely as a MacGuffin, which is unfortunate—but as I was watching, I remembered, this is based on a true story, so for all I know, the real life kid was exactly this.
As I watched, I used this same logic to rationalize pretty much every strange or seemingly mishandled aspect of this movie. For instance, Alan Cumming is basically doing a gay Dustin Hoffman impression the whole time, which on the surface, may seem like a bizarre acting choice, but hey, that could be exactly how this guy really sounded. And in the third act of the film, a black lawyer character shows up, wearing one of the worst afro wigs I've ever seen, and speaking like a poor man's Jackie Chiles. That could be exactly how that lawyer looked and sounded. I have to give the film the benefit of the doubt.
Ultimately, I thought the movie was pretty forgettable, but I very much enjoyed the story, or at least, a few basic story beats: the court case and its unfair aftermath. I love stories like these, stories of miscarriages of justice. In fact, the Paradise Lost trilogy is my favorite trilogy of all time. (Sorry, Star Wars.) After it was over, I was eager after the movie ended to go online and look up the actual court case and read up on it, and perhaps even see if there are any documentaries on it.
It turns out there aren't. It also turns out that the movie is 100% made up. None of it happened. Literally none of it. So why the 'Based On A True Story'? Apparently, George Arthur Bloom, the original screenwriter, lived in Brooklyn in the late 70's, and knew a gay guy named Rudy (who wasn't even a drag performer or singer like the character based on him in the film is) that would occasionally watch a kid with down syndrome who's mother was a drug addict. George was inspired by this to write a fictional screenplay about a gay guy trying to adopt a kid with down syndrome. That script went unproduced for decades until Travis Fine heard about it and decided to rewrite it with George, further veering it from the true story it was barely based on in the first place.
But things get even more despicable. In 2008, a documentary came out called Dear Zachary: A Letter to a Son About His Father. The documentary itself isn't great (largely due to the abysmally distracting editing) but the 100% true story it tells is one of the most harrowing stories I've ever heard in my life. And I suspect Travis Fine thought so too.
A major story beat of the true story in Dear Zachary is quite similar to one in Any Day Now. I'm not accusing Travis of stealing plot elements, because I have no idea if he even saw Dear Zachary, but the way I see it, if you're despicable enough to shamelessly say a movie is 'based on a true story' when it absolutely isn't, it's plausible that you might be despicable enough to lift a key detail that you liked from another movie.
Even if the Dear Zachary thing is pure coincidence, Travis Fine is still a huckster filmmaker. When a movie has the phrase 'Based On A True Story' attached to it, you naturally rate it a bit higher in your mind as you watch it. You're more forgiving, because you know a lot of it really happened. You do this because you're a good person, and you love people, and you don't want to see them suffering unjustly, and the thought of bad things happening to not just made up characters but real people is really affecting. For Travis to exploit the good nature of filmgoers so that his movie is received a bit better and potentially makes more money is sick.
I could've tacked 'Based On A True Story' onto the poster and/or promotional material for my first film, Shredder, but I didn't. Though many elements are autobiographical, I could not, in good conscience, stick that vague phrase on it, because to me, I had changed enough that Shredder was definitely its own thing. But Shredder is lightyears closer to a true story than Any Day Now is.
Hell, even Texas Chainsaw is closer.
Fuck this movie.
2 1/2 out of 5 Codys for the movie itself,
0 out of 5 Codys taking into account the deception behind it.