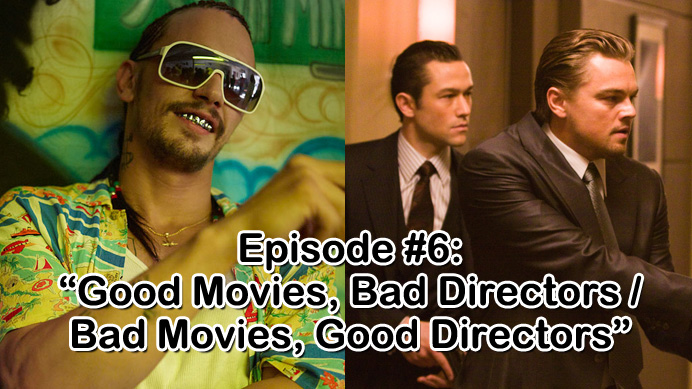 1:17:43 | View on iTunes | Download Mp3
On this episode, I am joined by fellow Smug Film contributors John D'Amico and Jenna Ipcar. We discuss movies we like by directors we don't typically like, as well as movies we dislike by directors we typically like. As always, we go on tangents along the way, take a quick break for a movie joke by comedian Anthony Kapfer, and then close the show with questions from our mailbag.
If you have a movie-related question you'd like answered on the show, leave it in the comments or email us at Podcast@SmugFilm.com.
If you enjoy the podcast, be sure to subscribe on iTunes, and leave a rating and a comment on there as well. Doing this helps us immensely as far as our ranking on there, which is what allows people to be able to discover us. Word of mouth is always best of all though, so spread the word!
Movie Stuff Referenced in this Episode:

Spring Breakers
Gummo
Kids
Ken Park
Mister Lonely
Julien Donkey-Boy
Harmony Korine on Letterman in 1995, 1997, and 1997
The Bling Ring
Lost in Translation
The Virgin Suicides
Somewhere
Marie Antoinette
8 1/2
La Strada
Juliet of the Spirits
The Tree of Life
Stardust Memories
Breathless
Masculin Feminin
Alphaville
Pierrot Le Fou
A Woman is a Woman
Trust
Heathers
The Beyond
Four of the Apocalypse
The Long Goodbye
California Split
M*A*S*H
Nashville
The Life Aquatic
School of Rock
Slacker
Waking Life
Before Sunrise
Almost Famous
Pirate Radio
Watchmen
Forrest Gump
Cast Away
Flight
Back to the Future
Play Misty For Me
Gran Torino
High Plains Drifter
Mystic River
The Outlaw Josey Whales
Dirty Harry
Unforgiven
Young Guns
The Man with No Name Trilogy
Changeling
Million Dollar Baby
Moonrise Kingdom
Don't Drink the Water
The Curse of the Jade Scorpion
Garfield
Garfield and Friends (TV)
Ghostbusters
The Real Ghostbusters (TV)
Star Trek: The Animated Series (TV)
Dracula & Dracula: Spanish Version
The Unholy Three
The Unknown
London After Midnight
Freaks
Don Quixote
Horror of Dracula
Vampyr
Frankenstein
King Kong
Godzilla
Bride of Frankenstein
Son of Frankenstein
Breaking Bad (TV)
The Spirit of the Beehive
Cria Cuervos
The Prestige
The Dark Knight Trilogy
Memento
Inception
The Return of the King
Side By Side
Tigerland
Jenna's Piece on Wolf of Wall Street
Wall Street
Scarface
Baraka
Samsara
Killers of the Sea
Shot Context
Seven Samurai
Jane Eyre by Charlotte Bronte
Oliver Twist by Charles Dickens
Say Anything
Rocky
Wet Hot American Summer
The Jerk
Rambo: First Blood Part II
First Blood
Some of the above links go to Amazon, and if, after you click the link there, you purchase something, anything, we receive a monetary kickback from them, at no extra cost to you. This is a great and very simple way to support the show, and our entire site.

This episode is sponsored by ClassicSciFi.com, who has teamed up with Housebroken Clothing to bring you the ultimate in classic science fiction inspired apparel. All shirts are hand-printed here in the USA. Everyone loves the luxurious feel of these shirts. The prints are light weight with soft inks, making them the perfect combination of style and comfort. Each shirt is unique and meticulously cared for during production. They are then inspected, approved and signed by the artist himself. All this, plus free shipping!
If you would like to sponsor an episode of our podcast, you can do so for just ten dollars. What a sponsorship means is that, at the beginning of one of our episodes, we will plug your product, blog, website, movie, or literally anything you want (so long as it's legal). We will also plug it on the episode's blog post, much like I did directly above this paragraph. If interested, drop me a line at Cody@SmugFilm.com.