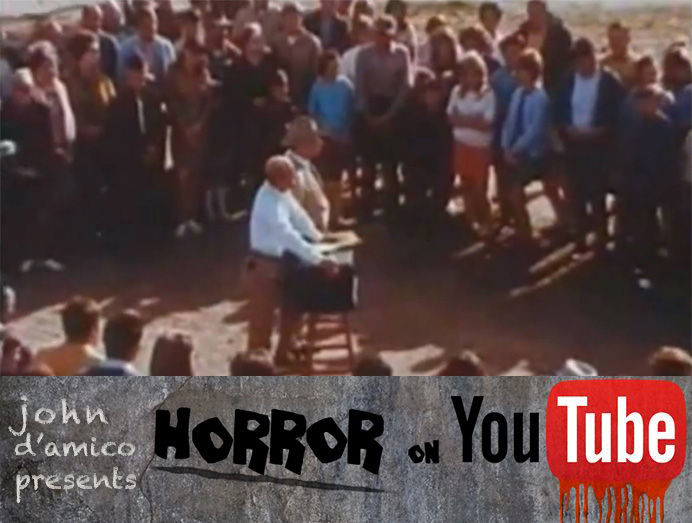 The Lottery (1969) | Dir. Larry Yust | 18 min.
Every day in October, a recommendation from John D'Amico of a horror movie or TV episode available for free on YouTube. Enjoy:
I'm not even gonna pretend I'm not proud of myself for managing to squeeze in a classroom learning film produced by an encyclopedia company, but The Lottery is not just an adaptation of one of the most disturbing short stories ever written—it is an exceptional one. It's beautifully paced, careful and propulsive. Each line has weight, each gesture leads us along. The sound of the birds, the muddy banality of the setting sink us into an inescapably 'real' world. The camerawork quivers with handheld intensity. It is tightly zoomed, curious. It holds on faces and on hands, studying them. It's the camerawork of D.A. Pennebaker filming Bob Dylan, or of journalists that were surely just at that moment filming the carnage in Vietnam. It's hard to imagine that an encyclopedia company filming a movie for classroom use could cut to the dramatic core of a story as weighty as this one, but the academic understanding of events and the deliberate patience of someone who parses every line imbue this short with a shattering and studious rawness. Truly one of the best horror films of its length, and as I said before, but it bears repeating, an exceptional adaptation.
The director and production company also did a strong adaptation of Herman Melville's absurdist horror-tinged short story Bartleby, The Scrivener. And the fine folks at Britannia even shot a little postscript plunging into the themes of The Lottery. It's well-worn ground for anyone who was ever in seventh grade, but certainly worth the five minute refresher course.
Incidentally, Jackson's novels should be Halloween reading for everyone. We Have Always Lived in the Castle and The Haunting of Hill House are rightly established classics, but I have to throw a bone to the underrated The Sundial, which treads the same New England Gothic as The Lottery, but pushes the doomsday prophecies even further.