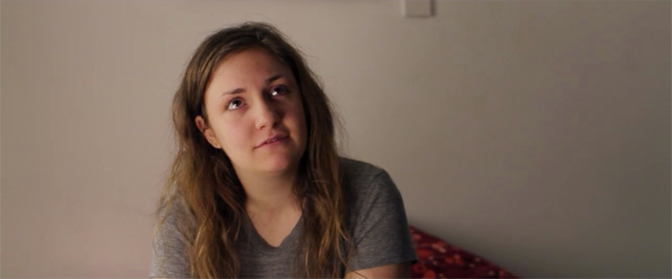 I've been putting off writing this essay for some time, waiting for the 'right moment' I guess. As though there is ever a 'right moment' to write a scathing criticism of an individual and their artistic output. It's kind of a dick thing to do, I'll admit. But god dammit, when it comes to Lena Dunham, it really needs to be done—and done by smart ol' me. Because even though there is plenty of distaste out there for her and her work, it seems no one is really getting to the root of exactly why she should be despised. So, over the course of this essay, I will break down, on a deep, intellectual level, exactly why she is a counterfeit artist, and why Girls is a hazardous product that goes against the proper functions of storytelling.

My first encounter with Lena Dunham's work was stumbling on a link to the trailer for Tiny Furniture. It had just been acquired by IFC, and said link was making the rounds as a 'dude what the fuck is this piece of shit'-type curiosity. The line delivery was so amateurish, the dialogue so faux-witty, the plot so narcissistic, the directing so non-existent, the cinematography so mishandled, the characters' eye lines so blatantly incorrect, that I absolutely could not wait to see it—and, see it eviscerated by critics.
But critics, as so often happens, dropped the ball. Not all critics, mind you, but most of them. The film currently holds a 76% on Rotten Tomatoes. Some of the critics who contributed to this unwarrantedly high score are probably just morons. But to assume they all are would be unfair. The truth is that most critics who gave it a positive review are probably mildly-observant enough to see that this is a very flawed film. They just felt like giving it a passing grade anyway, out of pity for the sad, lost, dumpy girl.
Like a too-forgiving mother, they mistakingly believed that if they helped her out 'just this once', she'd change. She'd break from her mopey rut, comb her damn hair, wear things that are not embarrassing, eat with regard towards food's effect on one's body, move around enough to burn off her lazy jiggles, surround herself with mature people, truly hone her craft, and maybe one day even make a real film.
These assumptions were and are all pipe dreams. Lena is perfectly content being an irresponsible, warts-and-all pig wallowing in her own filthy arrested development—and, with the success of Girls, has now built a powerful career around it. She's an affluent, all-grown-up, liberal 'Honey Boo Boo'—and similarly, a sensation. However, the toddler queen of TLC is accurately seen by most people, including her viewers, as emblematic of a growing national problem. Lena, on the other hand, is seen as positive, strong, fearless, a feminist icon, a role model, the 'voice of a generation'—all this despite having absolutely nothing of substance to offer her audience.
Although lost chicks may enjoy her work, and dig that someone is finally speaking 'for' them, and 'gets' their 'struggle'—and maybe even, as a result of this, they feel slight relief from the pain of their life—this is actually the absolute worst possible entertainment for them. It provides nothing they truly need: no wisdom, no rationality, no objectivity. It's the blind leading the blind. She's the pied piper of frumpy 20-somethings.
Her goal is not to help her fans transcend their shittiness and become awesome people—if they did, they'd no longer enjoy her insipid works anymore. Instead, her goal is to keep her audience just the way they are: infants, sucking on her teat for ever and ever. Because so long as women have no idea what the hell they are doing, Lena, the profiteer, profits.
Does this sound like an artist to you? Does this sound like art? Of course it doesn't. It isn't. It's a deception. Like a crack dealer selling to their own neighborhood, their own brothers and sisters and cousins and uncles and next-door neighbors, Lena may be 'just providing what her customers want' but it sure as hell is not what they need.
The purpose of art is to make people's lives better. To help them see the world in a new way, and understand more, and feel more, and do better things. That is the power of myth. Of storytelling.
Girls exists to do none of these things. Its goal is to be your pseudo-life, and for its characters to be your pseudo-friends that you must catch up every week on the gossip of. No actual story is being told, and there are no actual character 'arcs'—just character 'straight lines', so to speak. Things happening.
No one grows—neither the characters, nor the viewers. Which I guess is like the 'point' or something. (And the only 'point' Lena Dunham seems to know how to make.) How much longer she'll be able to get by on this ruse, I have no idea. But the public is bound to wake up at some point, realize they're being sold empty boxes, and take their business elsewhere.
Look, there are plenty of brilliant works of art out there about lost girls. Works that have actual nutritional value, and depth, and will forever stand the test of time. There's no reason to waste your hours watching drivel. That time could've been spent way more wisely. But it's not too late. I'm here to help.
Cody's Fantastic List of Ten Fantastic Films About Lost Girls:
Fish Tank (2009)
Vicky Cristina Barcelona (2008)
Rosetta (1999)
The Last Days of Disco (1998)
Welcome to the Dollhouse (1995)
The Match Factory Girl (1990)
Another Woman (1988)
Je, Tu, Il, Elle (1976)
All That Heaven Allows (1955)
Brief Encounter (1945)
Any one of these films are light years, galaxies, universes better than Lena Dunham's work. Knock yourself out. And if you have ideas of ones you think might fit the bill, leave 'em in the Comments section.