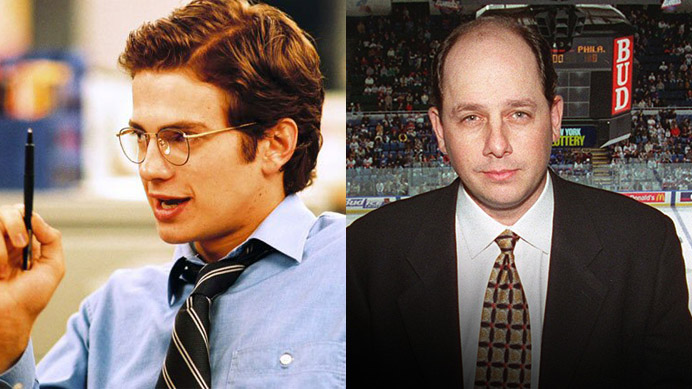 Continuing a series started by John D'Amico.
Shattered Glass is a wonderful movie that doesn't get enough credit. It's that case where an indie movie is good enough to be a real movie, so nobody notices it.  People do like it, but their eyes don't light up the way they do when they talk about some shit that sucks like Wendy and Lucy. It's hip to like crappy shit, whereas, it's square to like good movies.
It was made by a guy, Billy Ray, who adores Network and All The President's Men—and like most great artists, he surpasses his influences. Whereas Network and All the Presidents Men are bland, sluggish, and overlong (albeit with a few iconic moments: "I'm mad as hell…" from Network and the birds-eye view pullout shot in the library in All The Presidents Men) Shattered Glass—and even Billy Ray's follow up, Breach—are prime examples of clever, calculated filmmaking, with a solid pace and story structure.
Kevin Connolly's documentary for ESPN's 30 for 30 series, Big Shot, which chronicles the scandalous purchasing of the New York Islanders NHL franchise by con artist John Spano, is just as compelling.
Whereas Shattered Glass is a dramatized retelling of a true story, Big Shot is a look back by the main character himself. Both styles serve their stories well and will drop your jaw to the floor.
You can immediately see their connection—there's a beautifully devious hubris that drives the decisions of both protagonists. And, as the stories unravel, the tension rises until the walls finally close in on our heroes.
Billy Ray uses performances to drive his story. The ensemble that makes up Shattered Glass is exquisite and multi-dimensional. Hayden Christensen might be a weak link, but the rest of the cast more than makes up for him. We've got Hank Azaria, Chloe Sevigny, and the cold but moral Peter Sarsgaard character, whose beat-by-beat pressing of Christensen is like watching a surgeon operate on a time bomb. And then of course there's the duo of Steve Zahn and Rosario Dawson, the Woodward and Berstein of the group. They're really fun together.
In Big Shot, Connolly wistfully recounts his boyhood New York Islanders, whose dynasty in the early 1980s is one of the most legendary in NHL history. However, by the early 1990s, the team had fallen apart, and in stepped John Spano.
Connolly does an expert job at digging through the Spano story and highlighting all the best parts. But its the one-on-one stuff where Connolly really excels, utilizing his accessible charm to dull the edges of his most biting questions. Spanos answers are shocking in their self-awareness, honesty, and sometimes even audacity.
The two movies take the opposite approach to the same content, but acheive the same effect. Watch them back to back, and let me know what you think!