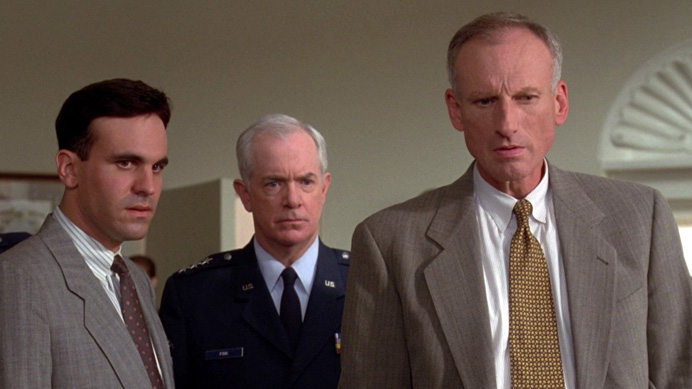 Greg DeLiso: Why are all of these cool people dying?  Harold Ramis right after Philip Seymour Hoffman and Bob Casale from Devo, and now, a guy I'm ashamed to say I did not know the name of.  But, his face, his voice, and his performances were a huge part of my childhood.
Independence Day was a huge theater going experience for me as a kid.  My mom took me one Summer afternoon when I was ten years old, and it was like my The Day the Earth Stood Still or The Blob—a fun excursion into the bigness of movies, the kind of stuff Spielberg and Scorsese talk about from their youth.

The aliens were the 'bad guys'—that's the spectacle that wowed my ten year old brain.  But of course, what kept me interested was the antagonist, played by James Rebhorn.  It's a small role.  He's the asshole who works for the president, there to deliver exposition, mostly.  He's the type of character that big Hollywood gets parodied or even criticized for—a guy who says just the right thing at just the right time to rile the audience, like the lawyer in Jurassic Park.
James Rebhorn played that guy a lot throughout his career.  And we always believed him.  And—and this is just a hunch—but I bet he wasn't at all like that in real life.
Rebhorn's most famous characters are integral to the plot.  They are the pressure against our hero to make the right decision. Whether it be as the prosecutor in the totally underrated and genius Seinfeld finale, or the steely administrator in Scent of a Woman, Rebhorn always made you feel that pressure with his gaunt jawline and his squint.
He was typecast as a plot device, and he flourished.  He's been in some amazing stuff—aside the aforementioned Scent of a Woman, Seinfeld, and Independence Day, he was also in Carlito's Way, Sleepwalk With Me, Meet the Parents, 30 Rock, The Game, My Fellow Americans, Blank Check, Shadows and Fog, Cat's Eye, and Silkwood.
Here's an interesting fact from IMDb:  In 1992, he appeared in the climactic scenes of both My Cousin Vinny (1992) and Scent of a Woman (1992), meaning that he worked opposite both Marisa Tomei and Al Pacino in their Oscar-winning roles that year.
Rebhorn played against—a concept completely essential to acting, and something totally underrated in art.  Without Rebhorn and actors like him, the greatest lines in movie history would not be said.  He creates the build up—with anger and subtlety, nuance and craft, he makes us contemplate our morality, time after time.
I took you for granted James Rebhorn, and I'm sorry.  I should've known your name just as much as I know the names of other greats like David Paymer, Austin Pendleton, and Bradley Whitford.  Rest in peace.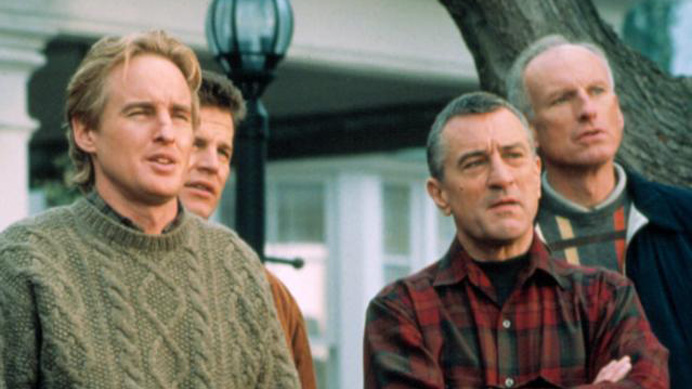 Cody Clarke: My favorite Rebhorn performance is Dr. Larry Banks in Meet the Parents. What an underrated movie. People lump it in with its sequels Meet the Fockers and Little Fockers as a trilogy of lame Hollywood shit, which is hypocritical, because nobody does that with The Matrix. They separate the first from the awful followups, and praise it separately. The same should be done with Meet the Parents—it's got a great tone, setting, and vibe, and the script and performances are really funny. Plus, it's chockfull of funny things that aren't even jokes per se, like that part where Tom McCarthy is all "I thought Deb told you. Dr. Andy threw out his back. He can't make the wedding." There's not a single joke in that line, but his delivery—and the way he says the word 'back', in particular—is just fucking hilarious. It brings a smile to my face just thinking about it. So does thinking about Dr. Larry.
Rebhorn really got to flex his comedic muscle with this one, getting the opportunity to play both drunk and stone sober, and nailing the humor of both. Every goddamn thing he says in this movie is hilarious. Part of it is that his lines are funny, but mostly it's just the fact that he's a dramatic actor, and as such, delivers them with no wink whatsoever. To be able to say a line like "The animal doesn't even have thumbs, Focker", with perfect timing and no acknowledgment of the humor, is quite a talent.
I will miss this fiercely talented actor, who I am ashamed to say, like Greg, I did not know the name of. But I knew his face, his performances, his work—and I get the sense that that's how he wanted it. To me, Rebhorn was the ultimate movie actor, in that he was someone you only knew from the movies, and only seemed to exist within the universe of film. And because of that, he is, for me, immortal.