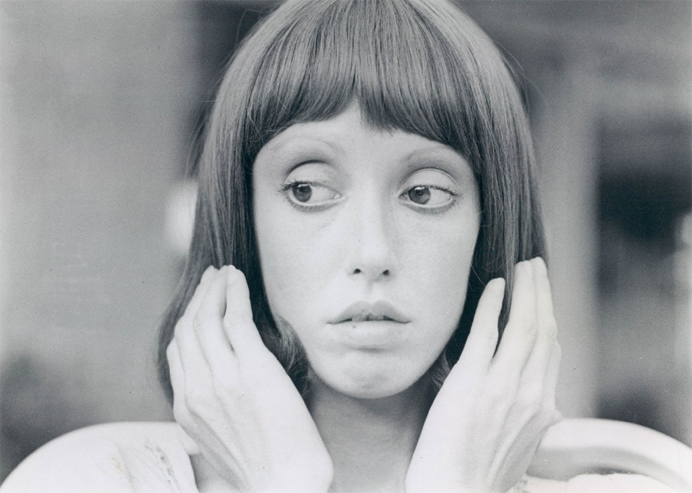 By and large, the film community has a frustrating habit of undervaluing some of our less conventional actresses. Great talents like Viveca Lindfors, Alfre Woodard, and Catherine Burns tend to promise more than they're ever really allowed to deliver. We embrace the hell out of our oddball actors like Walken, Goldblum, and Buscemi (and with good reason, what a harvest of incredible parts those three yield), but it seems to me that things are tougher out there for a woman who's not conventional enough to be a romantic lead.
So, I'd like to take a moment here and profess my appreciation for one of the rare talents of all of cinema, a woman who, despite major criticism, consistently gave some of the best and most memorable performances in film history.

Robert Altman's location scouts discovered Shelley Duvall while she was working as a saleswoman in Houston, and she got her start in Altman's early counterculture cult classic, Brewster McCloud. It's an amazingly assured debut. She's perfectly at home in his weird world, alongside other Altman mainstays such as Rene Auberjonois, Sally Kellerman, Bud Cort, and Michael Murphy. She practically steals the show as an empowered, fast-driving badass—a role retrospectively incongruous for a woman best known as, in the elegant words of some asshole on YouTube, "that Shining bitch." (Look for the comment by Skulldini.)
Altman always plumbed Duvall for range. They made seven films together, and in an interview with Roger Ebert, Duvall repeatedly called Altman "family". Over the course of work in Brewster, McCabe and Mrs. Miller, Thieves Like Us, Nashville, Buffalo Bill and the Indians, 3 Women, and Popeye, she plays heartbreak, joy, loneliness, love, pride, degradation, hauteur, unsentimentality, and everything in between. The Altman/Duvall union, which lasted from 1970 to 1980 was, in my opinion, as artistically fulfilling and rewarding as Kurosawa/Mifune or Spielberg/Hanks.
In the 1970s, with the exception of a few TV series guest spots, Duvall only made two screen appearances not directed by Robert Altman—a small part in Woody Allen's game-changing Annie Hall, and the title role in PBS's television film version of F. Scott Fitzgerald's Bernice Bobs Her Hair. This is generally regarded as one of, if not the, best Fitzgerald adaptations, and that's in large measure thanks to Duvall's complex and magnetic performance as the mousy Bernice. She's backed by a career-high performance from Veronica Cartwright, and their careers are surprisingly similar—both are actresses of tremendous range, and somewhat non-traditional beauties, who found early success under the tutelage of great directors (Cartwright's first two film roles were The Children's Hour for William Wyler and The Birds for Hitchcock). And unfortunately, for both of them, their illustrious careers have been overshadowed by roles as hysterical women in post-New Hollywood horror films.
That's the great shame of Duvall's career. Like Veronica Cartwright, who's now best known as Lambert, the woman everyone hopes Ripley will deck in Alien, Shelley Duvall's turn as Wendy Torrance in The Shining is one of the most controversial and powerful performances in film history.
Duvall got a Razzie nomination for her efforts in The Shining (just another reason why we should burn that jackass institution to the ground) and, using my super-scientific method of trolling internet comments, it seems like there's a pretty even split between people who think her performance was a highlight of the film, and those who, like this guy, think that "it seems like she's having trouble playing a human being."
I am firmly in the former camp. Duvall's frazzled performance is one of the great expressions of true terror in film. At times she reminds me of Maria Falconetti in The Passion of Joan of Arc. At other times, Lillian Gish. She lays it all out on set, giving as much physically as Christian Bale gives with his ridiculous weight fluctuations and hysterics. A friend of mine once pointed out that the difference between Susanne Lothar and Naomi Watts in their respective versions of Funny Games is that, even though Watts puts on a great performance, she never loses herself in terror. Shelley Duvall absolutely loses herself in terror in The Shining.
A performance like that really does a number on a person, and it seems like from then on she gravitated towards less demanding supporting roles. She still has great showings in stuff like Time Bandits, Frankenweenie (the original short, in which she plays a great mom) and her TV shows (which she also produced) Faerie Tale Theatre, Tall Tales and Legends, and Bedtime Stories—perfect fits for her oddball, instantly charming presence.
One of my favorite Duvall moments is her turn in the 1986 Twilight Zone adaptation of Theodore Sturgeon's classic short story A Saucer of Loneliness. The 1980s Twilight Zone series was dull and ugly and had a habit of turning great stories into sentimental trash (just look at what they did to Arthur C. Clarke's haunting The Star). Sturgeon's original story, a majestic prose poem about UFOs and heartbreak, is essential reading, on the short list of the best science fiction stories of the 20th century. The TV version is predictably prosaic and uninspired, but it's rescued by the inspired casting of Shelley Duvall as the leading lady, the loneliest woman in the world. It's just pure pathos. All of the shame and heartache she lays into 3 Women and The Shining in about 15 minutes. It's a breath of fresh air, a world class performance in the middle of one of the most under-achieving creative works of the era.
Slowly but surely, Shelley Duvall's presence in cinema diminished. In the 2000s, she only appeared in two films. In the 2010s, none.
She lives in Texas now, pretty far from the Hollywood she never quite fit but always sparkled in, and I hope she's happy there. I've heard that the famously nightmarish shoot of The Shining, which came on the heels of a traumatic breakup with Paul Simon, drove her into semi-retirement, and I've heard pretty rough tabloid rumors that she's crazy now. I hope neither story is true. I can picture her sitting on her porch in Texas, smoking a cigarette and watching all us boring people go by. I like that mental image.
Here's to you, Shelley Duvall. Thank you for being you, and in the process, making the movies a better place.