Tag Archives:
airplane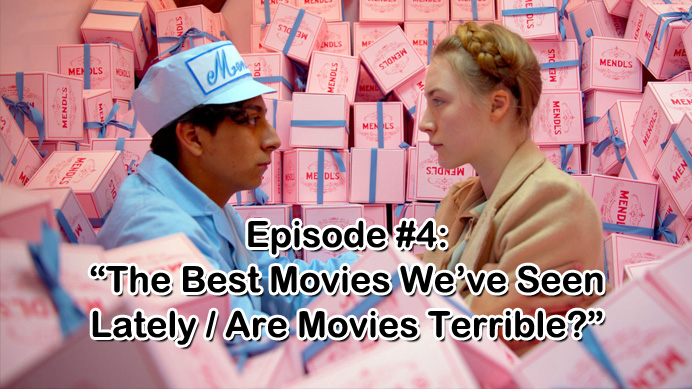 1:06:45 | View on iTunes | Download Mp3
On this episode, I am joined by fellow Smug Film contributors John D'Amico and Jenna Ipcar. We discuss the best movies we've seen lately, new and old. Then, we take a quick break for a movie joke by comedian Anthony Kapfer, and close the show with a few questions from the mailbag, one of which sparks an impassioned rant from John!
If you have a movie-related question you'd like answered on the show, leave it in the comments or email us at Podcast@SmugFilm.com.
If you enjoy the podcast, be sure to subscribe on iTunes, and leave a rating and a comment on there as well. Doing this helps us immensely as far as our ranking on there, which is what allows people to be able to discover us. Word of mouth is always best of all though, so spread the word!
Movie Stuff Referenced in this Episode:
Continue reading →
Posted in

All Posts, Podcast Episodes
Tagged

12 years a slave, A Man Escaped, a serious man, airplane, Aladdin, Alan Partridge at the Races, Alan Partridge: Alpha Papa, amistad, anchorman, Andrew WK, anthony kapfer, battleship, Belly, blade, Bob's Burgers, bottle rocket, buffalo 66, classicscifi, classicscifi.com housebroken clothing, Cleopatra, cody clarke, Daddy Longlegs, Damnation Alley, dog day afternoon, Dr. Doolittle, dredd, Drive-By Truckers, fantastic mr fox, Figures in a Landscape, film joke, film jokes, film podcast, Filthy Gorgeous: The Bob Guccione Story, Game of Thrones, Gary Wilson, Gary Wilson You Think You Really Know Me, Godzilla vs. Hedorah, Godzilla vs. King Ghidorah, godzilla: king of the monsters, gojira, gravity, Guardians of the Galaxy, Homicide, I Get Wet, i love lucy, in the loop, Inside Llewyn Davis, it's always sunny in philadelphia, It's Complicated, jane eyre, jaws, jenna ipcar, John Carter, john damico, Logan's Run, louie, lucky dragon no. 5, lucky dragon number 5, mikey and nicky, moonrise kingdom, movie joke, movie jokes, movie podcast, mrs doubtfire, Nest of Spies, OSS 117: Cairo, OSS 117: Lost in Rio, Pain & Gain, paranormal activity, popeye, Prisoners, Red River, Rodan, rushmore, Saxondale, seven samurai, Sin Nombre, Slumdog Millionaire, smug film, smug film podcast, smugfilm, Southern Rock Opera, spring breakers, star wars, Surviving Desire, terminator, terminator 2, The Artist, the brown bunny, The Darjeeling Limited, the grand budapest hotel, The Green Lantern, the incredible shrinking man, The Life Aquatic, the lone ranger, The Naked Gun, The Raid 2, the raid: redemption, The Royal Hunt of the Sun, the royal tenenbaums, The Squid and the Whale, The Thick of It, the trip, the wire, the wolf of wall street, To Kill a Mockingbird, True Detective, Trust, V/H/S 2, Veep
Leave a comment
There is a moment in Fargo (I'll never stop talking about Fargo) that makes me die with laughter every single time I watch it. The movie is packed with black comedy and irony and brilliant deadpans (the license plate joke, holy shit) and some basic but perfect physical gags (Jean Lundegaard bursting out of the shower draped in its curtain like a kid in a homemade ghost costume), but I ain't talking abaout all that stuff. I'm talking about the stills above. This moment seems to be more of an editorial in-joke than an actual written joke, but of course you never can tell with the Coen brothers. After Jean's dad and Stan Grossman and Jerry discuss the plot's central ransom over breakfast, Jerry is at the counter. The beaming cashier asks how Jerry's meal was. After he answers rather shortly, he comes back with an affable "How you doin'" and when it cuts back to her, we see her cock her head to the side before it cuts again. All she does is cock her head to the side. No response, no change in expression, just a slight pitch. It's hilarious. It's insanely funny.
Continue reading →
Posted in

Alex's Essays, All Posts
Tagged

15 minute rule, 50/50 rule, airplane, alex hiatt, an american werewolf in london, andrew nichol, breaking bad, cody clarke, coen brothers, compliance, david lynch, ethan coen, fargo, fight club, fright night, from dusk till dawn, get him to the greek, greg deliso, guillermo del toro, hostel, in time, inland empire, iron man, jean lundegaard, joel coen, ki-duk kim, kim ki duk, life is beautiful, life of pi, lords of salem, louis ck, mike stoklasa, moon, night of the comet, oblivion, p.t. anderson, pacific rim, paul thomas anderson, premium rush, pt anderson, roberto benigni, roderick jaynes, sam raimi, saving private ryan, saw, schindler's list, shaun of the dead, slither, smug film, smugfilm, source code, spider-man 3, spiderman 3, spring summer fall winter and spring, stan grossman, stanley kubrick, steven spielberg, stir of echoes, structural humor, texas chainsaw massacre, the burbs, the dark knight, the evil dead, the hangover, the lords of salem, the room, the texas chainsaw massacre, tremors, troll 2, tucker and dale vs. evil, twin peaks, united 93, wild at heart
15 Comments
It's not hard for comedies to slip under the radar. Like any 'genre film', so many are pumped out each year that it's almost impossible to keep track of which ones are good. Unless something gets an alarmingly high rating on Rotten Tomatoes, or was made by people you trust no matter what the Tomatometer says, you probably aren't going to see it. And then you're going to forget it even existed. Here's ten great ones that probably passed you by.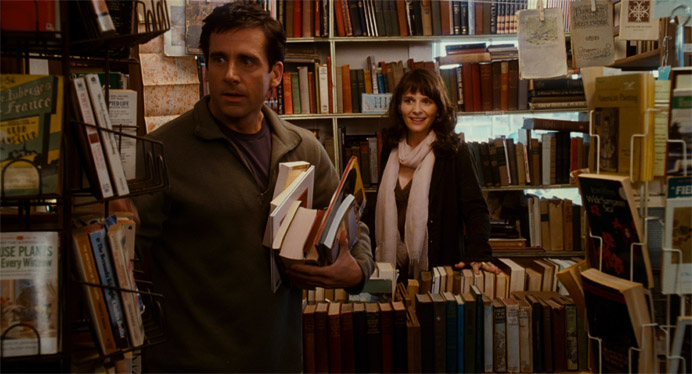 Dan in Real Life (2007) | Dir. Peter Hedges | 98 min. 
Continue reading →
Posted in

All Posts, Cody's Lists
Tagged

10 best comedies, 10 best movies you've never seen, 10 great comedies, 10 most underrated comedies, 10 underrated comedies, 40 year old virgin, adam carolla, adam larson broder, airplane, anthony abrams, best comedies, best comedies you've never seen, best movies you've never seen, big top pee-wee, bob odenkirk, bryan gordon, career opportunities, charles herman-wurmfeld, damsels in distress, dan in real life, david mamet, david steinberg, david wain, david zucker, evan almighty, funniest movies you've never seen, great comedies you've never seen, great movies you've never seen, herbert ross, hot shots, jennifer connelly, jerry zucker, jim abrahams, joe mantegna, john hughes, kids in the hall, little miss sunshine, magnolia, michael showalter, monty python, most underrated comedies, my blue heaven, naked gun, nora ephron, oleanna, paul reubens, paul thomas anderson, pee wee's big adventure, peter hedges, pieces of april, pumpkin, randal kleiser, rick moranis, rotten tomatoes, shel silverstein, smug film, smugfilm, stella, steve carrell, steve martin, team america, ten best movies you've never seen, the 40 year old virgin, the brothers solomon, the hammer, the state, the wrong guy, things change, todd solondz, tomatometer, top secret, underrated comedies, underrated comedy, underrated comedy movies, whit stillman, will arnett, will forte
4 Comments