Tag Archives:
Aladdin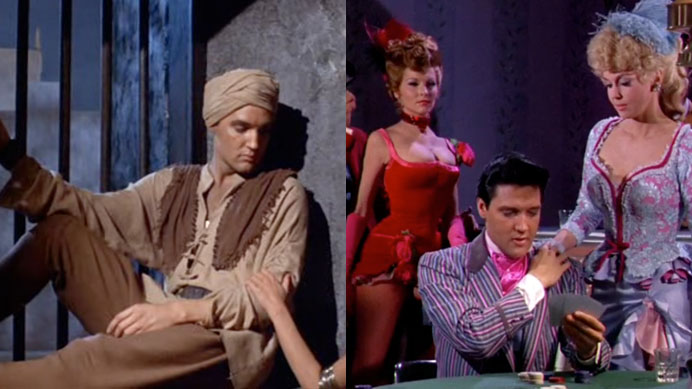 "I don't know how you can manage to watch all these movies," a friend said to me the other day.
"As long as you keep your expectations low and your interest in looking at Elvis' ass in tight pants high, they're not too bad," I said. "They're mostly under an hour and a half, at least."
Posted in

All Posts, Jenna's Reviews
Tagged

Aladdin, Anthony Eisley, arabic elvis, Donna Douglas, Elvis, Elvis Casino, Elvis Gambling, Elvis karate, Elvis movie review, Elvis movie reviews, Elvis musical, Elvis Presley, elvis presley movie review, Elvis riverboat, Fran Jeffries, frankie and johnny, Frankie and Johnny Elvis, Frankie and Johnny review, Gene Kelly, Ghidorah, Gotta Dance, Harry Morgan, Harum Scarum, Harum Scarum review, Jacques Demy, Jay Novello, Jenna Does Elvis, Jenna's Reviews, Mardi Gras Elvis, Mary Ann Mobley, Michael Ansara, middle eastern elvis, Mirage, Modesty Blaise, Nancy Kovack, Naomi Stevens, Nellie Bly, Nellie Bly amusement park, pee wee's big adventure, Philip Reed, ramadan, Sheik of Araby, Stanley Donen, star trek, Sue Ane Langdon, The Bechdel test, Theo Marcuse, Tickle Me, Vincent Canby
2 Comments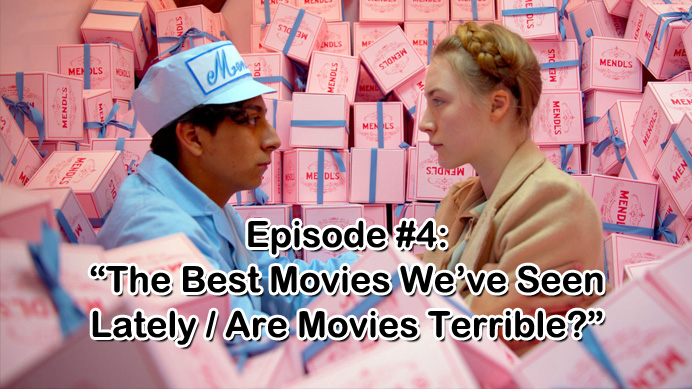 1:06:45 | View on iTunes | Download Mp3
On this episode, I am joined by fellow Smug Film contributors John D'Amico and Jenna Ipcar. We discuss the best movies we've seen lately, new and old. Then, we take a quick break for a movie joke by comedian Anthony Kapfer, and close the show with a few questions from the mailbag, one of which sparks an impassioned rant from John!
If you have a movie-related question you'd like answered on the show, leave it in the comments or email us at Podcast@SmugFilm.com.
If you enjoy the podcast, be sure to subscribe on iTunes, and leave a rating and a comment on there as well. Doing this helps us immensely as far as our ranking on there, which is what allows people to be able to discover us. Word of mouth is always best of all though, so spread the word!
Movie Stuff Referenced in this Episode:
Continue reading →
Posted in

All Posts, Podcast Episodes
Tagged

12 years a slave, A Man Escaped, a serious man, airplane, Aladdin, Alan Partridge at the Races, Alan Partridge: Alpha Papa, amistad, anchorman, Andrew WK, anthony kapfer, battleship, Belly, blade, Bob's Burgers, bottle rocket, buffalo 66, classicscifi, classicscifi.com housebroken clothing, Cleopatra, cody clarke, Daddy Longlegs, Damnation Alley, dog day afternoon, Dr. Doolittle, dredd, Drive-By Truckers, fantastic mr fox, Figures in a Landscape, film joke, film jokes, film podcast, Filthy Gorgeous: The Bob Guccione Story, Game of Thrones, Gary Wilson, Gary Wilson You Think You Really Know Me, Godzilla vs. Hedorah, Godzilla vs. King Ghidorah, godzilla: king of the monsters, gojira, gravity, Guardians of the Galaxy, Homicide, I Get Wet, i love lucy, in the loop, Inside Llewyn Davis, it's always sunny in philadelphia, It's Complicated, jane eyre, jaws, jenna ipcar, John Carter, john damico, Logan's Run, louie, lucky dragon no. 5, lucky dragon number 5, mikey and nicky, moonrise kingdom, movie joke, movie jokes, movie podcast, mrs doubtfire, Nest of Spies, OSS 117: Cairo, OSS 117: Lost in Rio, Pain & Gain, paranormal activity, popeye, Prisoners, Red River, Rodan, rushmore, Saxondale, seven samurai, Sin Nombre, Slumdog Millionaire, smug film, smug film podcast, smugfilm, Southern Rock Opera, spring breakers, star wars, Surviving Desire, terminator, terminator 2, The Artist, the brown bunny, The Darjeeling Limited, the grand budapest hotel, The Green Lantern, the incredible shrinking man, The Life Aquatic, the lone ranger, The Naked Gun, The Raid 2, the raid: redemption, The Royal Hunt of the Sun, the royal tenenbaums, The Squid and the Whale, The Thick of It, the trip, the wire, the wolf of wall street, To Kill a Mockingbird, True Detective, Trust, V/H/S 2, Veep
Leave a comment