Tag Archives:
batman and robin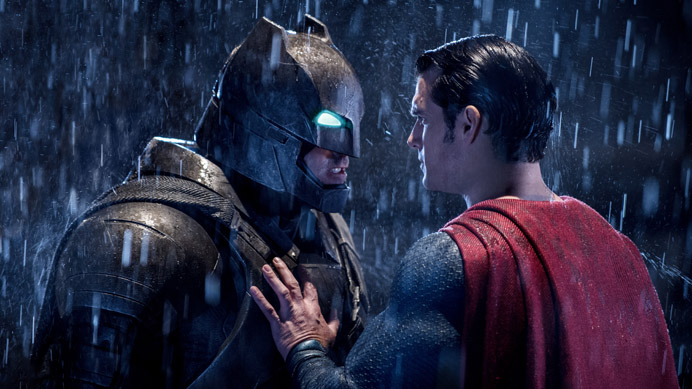 Batman v Superman: Dawn of Justice (2016)
Directed by Zack Snyder
Written by Chris Terrio and David S. Goyer
182 min. ('Ultimate Edition')
151 min. (Theatrical)
Very mild spoilers ahead.
I had no interest in this movie until the bad reviews started rolling in, and rolling in hard. My favorite Batman movie has an 11% on Rotten Tomatoes, so a new one sitting comfortably at 27% with critics seemed like it could be way up my alley.
But then, audiences started digging it. (To date, it currently sits at 65% with them.) And that didn't bode well. 'Divisive' is not what I look for in a superhero movie—'universally-panned' is. This formula doesn't always work out—Catwoman really is that bad—but it has lead me to some gems, such as the modern body horror masterpiece Fantastic Four from last year; Shaquille O'Neal's charming, homegrown-vibed Steel; and of course, the afore-alluded to Batman & Robin, which I loved when I saw as a kid, then instantly hated on after I left the theater because everyone else was hating on it, then finally re-watched a year ago and realized that my initial assessment of it as great was spot-on and I never should've kowtowed to something as philistinic as popular opinion.
Posted in

All Posts, Cody's Reviews
Tagged

batman, batman and robin, batman and robin movie, batman v superman, batman v superman movie review, batman v superman review, blade, blankman, bobby slayton, bruce wayne, calrk kent, catwoman, deadjournal, fantastic four, fred armisen, hulk, iron man, king kong vs. godzilla, nicholas fehn, punisher war zone, shaquille on'eal, steel, steel movie, superman, superman 4, superman 4: the quest for peace, superman 64, superman iv, superman iv: the quest for peace, the dark knight, the phantom, the rocketeer, wonder woman
Leave a comment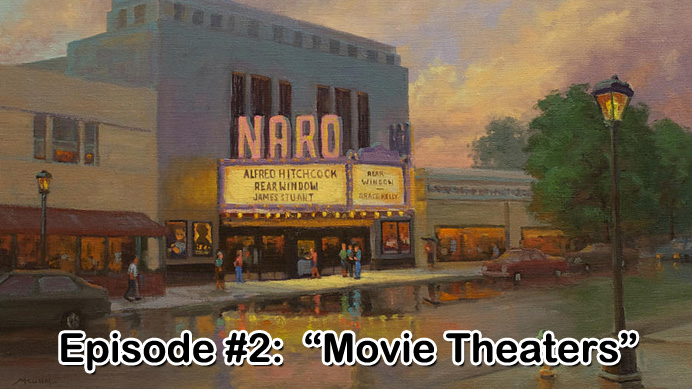 1:11:24 | View on iTunes | Download Mp3
On this episode, I am joined by fellow Smug Film contributors Jenna Ipcar and Ned Martin. We discuss all things movie theaters—from our best and worst movie theater experiences, to the best theaters we've ever been to. As always, we go on tangents along the way, take a quick break for a movie joke by comedian Anthony Kapfer, and close the show with questions from our mailbag.
If you have a question for the show, leave it in the comments or email us at Podcast@SmugFilm.com.
If you enjoy the podcast, be sure to subscribe on iTunes, and leave a rating and a comment on there as well. Doing this helps us immensely as far as our ranking on there, which is what allows people to be able to discover us. Word of mouth is always best of all though, so spread the word!
By the way, the beautiful painting above is by artist Marianne Kuhn, and it is called Naro Cinema Norfolk VA. You can see the full painting and buy prints of it at FineArtAmerica.
Movie Stuff Referenced in this Episode:
Continue reading →
Posted in

All Posts, Podcast Episodes
Tagged

adam mckay, akiva schaffer, alfred hitchcock, andrzej zulawski, anthony hemingway, anthony kapfer, batman and robin, blue velvet, bob saget, boogie nights, bryan singer, catherine hardwicke, charles herman-wurmfeld, chloe pelletier, christopher nolan, cinema podcast, classic monster shirt, classic scifi, classicscifi.com, clerks, clerks 2, cody clarke, dario argento, david gordon green, david lynch, diary of a country priest, dirty work, dog day afternoon, dr. strangelove, eric wareheim, ernest b schoedsack, film podcast, frankenstein shirt, frankenstein shirts, friday the 13th part 3, friday the 13th part iii, gary ross, george lucas, goodfellas, guillermo del toro, hard eight, harry d'abbadie d'arras, hot rod, housebroken clothing, inferno, jacques tati, jenna ipcar, jerry schatzberg, joe dante, joe dante pacific rim, joel schumacher, ken loach, kevin smith, king kong, lee tamahori, magnolia, martin scorsese, merian c. cooper, mike judge, monster shirt, monster shirts, movie joke, movie jokes, movie podcast, naked lunch, naked lunch the simpsons, ned martin, night of the living dead shirt, office space, pacific rim, pacific rim joe dante, panic in needle park, paul thomas anderson, phenomena, playtime, possession, psycho, punch drunk love, raging bull, red tails, rehearsals, rehearsals cody clarke, rick alverson, robert bresson, roland klick, run home slow, scarecrow, scifi shirts, sidney lumet, simpsons, smug film, smug film podcast, smugfilm, smugfilm podcast, snow angels, stanley kubrick, star wars, star wars: the phantom menace, steve miner, superman returns, talladega nights, ted brenner, the cat o nine tails, the comedy, the dark knight, the dark knight trilogy, the edge, the hammer, the hunger games, the phantom menace, the shining, the simpsons, the simpsons naked lunch, the wind that shakes the barley, tim & eric, tim & eric's billion dollar movie, tim and eric, tim heidecker, tony scott, top gun, twilight, ufo shirt, ufo shirts, white star, william a. wellman, wings
Leave a comment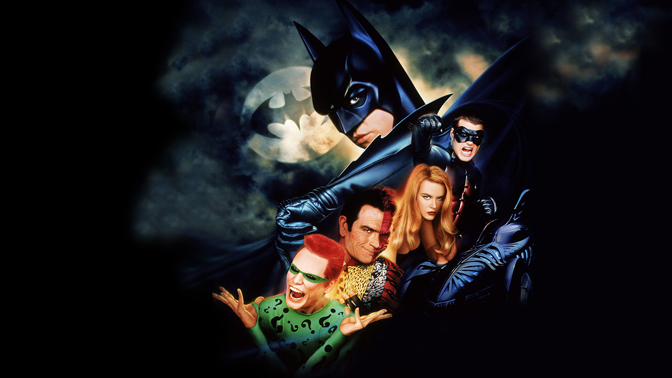 I have never read a comic book in my life.  To the many of you who are now automatically writing off my opinions on the Batman movies, let me please remind you that I'm writing about movies.  I respect comics as an art form, and they have been fodder for some great movies (namely Superman, the Spider-Man trilogy, Ghost World, and that's literally it) but the truth is, I don't really know a thing about comics.  I do love the idea of them, though.  What's not to love?  I like heroes and villains and crazy costumes.
Continue reading →
Posted in

All Posts, Greg's Essays
Tagged

batman, batman and robin, batman and robin 1997, batman and robin movie, batman begins, batman forever, batman forever 1995, batman movies, batman movies list, batman returns, best batman movie, greg deliso, joel schumacher batman, joel schumacher batman and robin, joel schumacher batman forever, michael keaton batman, michael keaton batman returns, review, smug film, smugfilm, the dark knight, the dark knight rises, tim burton batman movies, val kilmer batman and robin, val kilmer batman forever
9 Comments