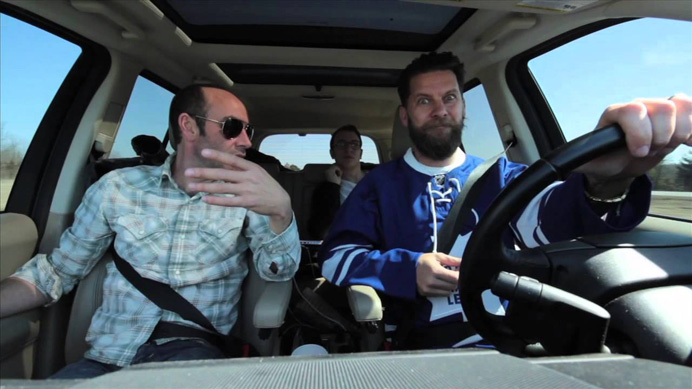 The Brotherhood of the Traveling Rants (2013)
Directed by Steve Durand, Bryan Gaynor, Gavin McInnes
68 min.
Most of the people reading this probably have no idea who Gavin McInnes is. My first introduction to him was through his weird penis. I'm a big fan of Terry Richardson's photography, and many years ago I saw a couple photos by him of some guy with pointy facial hair and a very pointy foreskin*. These photos forever stuck with me, and it wasn't until about a year ago that I saw this mystery man again, on Red Eye with Greg Gutfeld. Turns out the pointy foreskin man is a smart and funny writer and comedian who has a lot of great outside-of-the-box opinions on stuff. And now, with this movie, I've been surprised by him once again—the man has some serious acting and filmmaking chops.
The Brotherhood of the Traveling Rants is one of those sorta-documentaries containing some real scenes and some fake scenes. This kind of gimmick is usually annoying and unsettling, because you never really have a sure foothold, and you spend the duration of the film trying to deduce what's real and what's fake rather than just following the actual story. This film gets that, though. The switch-offs between real and fake here are so goddamn tongue-in-cheek and good spirited that by the end, the whole damn thing approaches transcendence, satisfying both your funny bone and your heartstrings in ways you will never have thought possible from what is essentially a standup comedy film.
Continue reading The Brotherhood of the Traveling Rants: That Weird Penis Guy Made a Great Movie