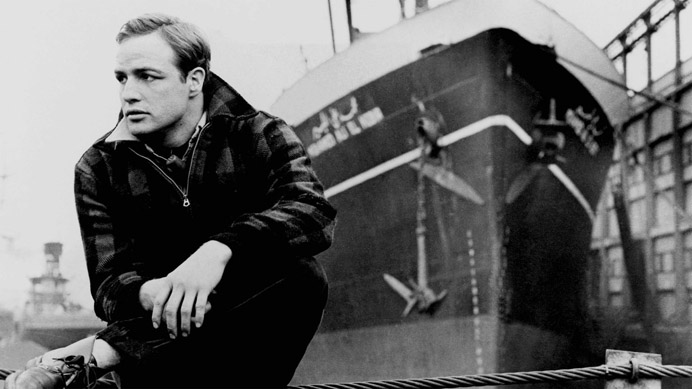 Fuck it right to hell, man. I don't even.
On The Waterfront (1954)
Directed by Elia Kazan
Written by Budd Schulberg
108 min.
Very mild spoilers ahead.
Of the three acts which make up the three act structure, the third act is really the only one which has the ability to fuck you in the ass. You're watching a movie, you're digging it, you're having a good time, you feel safe, and then all of a sudden it's forcing itself into your butt. We've all been there.
A movie is like a penis, basically, and you are like a vagina. When you a watch a movie, you're letting it inside you, and there's a certain degree of trust which goes along with that. 'Don't hurt me, or at least, if you do hurt me, hurt me in an enjoyable way'—that sort of thing. And if a movie tries to fuck your ass in the first act, you can stop it before the tip is barely in and put on some other movie. Same goes for the second act. But when it fucks you in the ass in the third act, you're in shock—it goes in and you can't even believe what's happening and you just have to lay there as it tarnishes the relationship you had built with it up until that point. And then when it's done, you don't know how to feel about it anymore. You remember the good times, sure, but the bad is fresh in your mind.
I had this very experience with On The Waterfront last night, and my booty hole is still twinging with pain.
Continue reading Fuck the Third Act of 'On The Waterfront'