Tag Archives:
david spade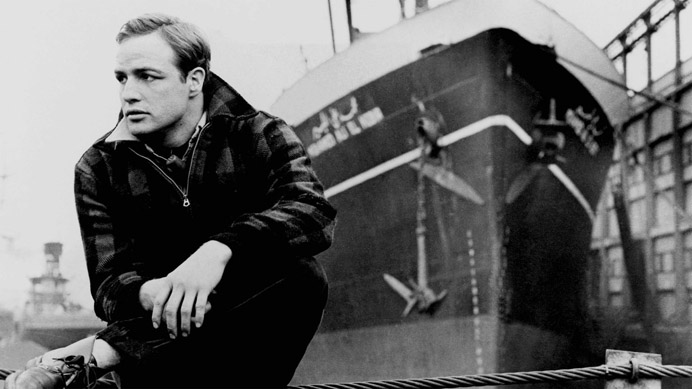 Fuck it right to hell, man. I don't even.
On The Waterfront (1954)
Directed by Elia Kazan
Written by Budd Schulberg
108 min.
Very mild spoilers ahead.
Of the three acts which make up the three act structure, the third act is really the only one which has the ability to fuck you in the ass. You're watching a movie, you're digging it, you're having a good time, you feel safe, and then all of a sudden it's forcing itself into your butt. We've all been there.
A movie is like a penis, basically, and you are like a vagina. When you a watch a movie, you're letting it inside you, and there's a certain degree of trust which goes along with that. 'Don't hurt me, or at least, if you do hurt me, hurt me in an enjoyable way'—that sort of thing. And if a movie tries to fuck your ass in the first act, you can stop it before the tip is barely in and put on some other movie. Same goes for the second act. But when it fucks you in the ass in the third act, you're in shock—it goes in and you can't even believe what's happening and you just have to lay there as it tarnishes the relationship you had built with it up until that point. And then when it's done, you don't know how to feel about it anymore. You remember the good times, sure, but the bad is fresh in your mind.
I had this very experience with On The Waterfront last night, and my booty hole is still twinging with pain.
Continue reading →
Posted in

All Posts, Cody's Reviews
Tagged

adaptation, budd schulberg, cody clarke, david milch, david simon, david spade, deadwood, elia kazan, eva marie saint, ghost dog, kentucky fried movie, leave her to heaven, marlon brando, my cousin vinny, on the waterfront, on the waterfront review, on the waterfront third act, smug film, smugfilm, sweet smell of success, the lords of flatbush, the postman always rings twice, the royal tenenbaums, the wire, tommy boy, treme, written on the wind
Leave a comment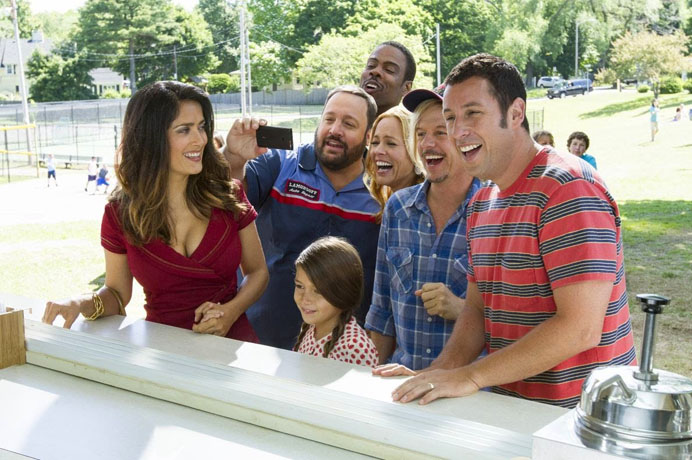 Grown Ups 2 (2013)
Directed by Dennis Dugan
Written by Fred Wolf & Adam Sandler & Tim Herlihy
101 min.
In 2010, Adam Sandler and his band of merry men released Grown Ups, a film that I felt, at the time, wasn't good by any stretch of the imagination. I couldn't understand why they chose the jokes they did, why they acted as if their actions had no real consequence from one scene to the next, and why the characters, when they weren't at their absolute broadest, began to meld into one another to form just one character. I chalked it up to a case of bad movie syndrome.
Catching up with it on television, coming into the film at various points, it slowly began appealing to me. And then one day, while splitting my time between watching it with the sound down and reading, I realized why. The film is like a silent comedy, not like those told through space like in Buster Keaton pictures, or through pathos and character like Charlie Chaplin, but those told through time, like that of the great Mack Sennett and his band of merry men (namely the Keystone Cops). If you watch Grown Ups with the sound turned off while reading a book of jokes, it amounts to the same thing as with sound, except you can always refresh the jokes.
Its sequel, the imaginatively titled Grown Ups 2, is without a doubt obsessed with the idea of space (progressing from Sennett to Keaton). For instance, the film opens with a moose running amuck in Sandler's mansion, which seems to happen only to give us a remarkable (for this day in age) view of the layout of the Sandler's home and personal space.
Continue reading →