Tag Archives:
dredd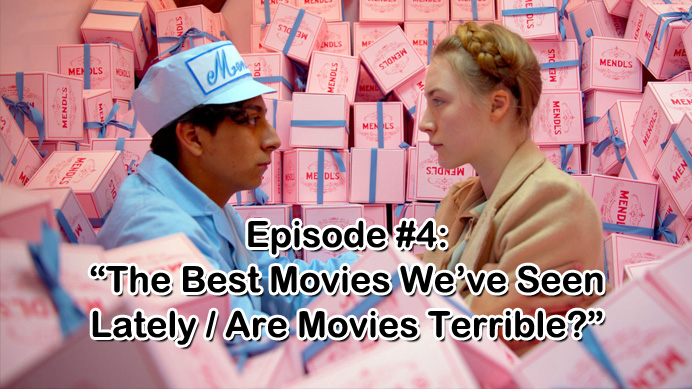 1:06:45 | View on iTunes | Download Mp3
On this episode, I am joined by fellow Smug Film contributors John D'Amico and Jenna Ipcar. We discuss the best movies we've seen lately, new and old. Then, we take a quick break for a movie joke by comedian Anthony Kapfer, and close the show with a few questions from the mailbag, one of which sparks an impassioned rant from John!
If you have a movie-related question you'd like answered on the show, leave it in the comments or email us at Podcast@SmugFilm.com.
If you enjoy the podcast, be sure to subscribe on iTunes, and leave a rating and a comment on there as well. Doing this helps us immensely as far as our ranking on there, which is what allows people to be able to discover us. Word of mouth is always best of all though, so spread the word!
Movie Stuff Referenced in this Episode:
Continue reading →
Posted in

All Posts, Podcast Episodes
Tagged

12 years a slave, A Man Escaped, a serious man, airplane, Aladdin, Alan Partridge at the Races, Alan Partridge: Alpha Papa, amistad, anchorman, Andrew WK, anthony kapfer, battleship, Belly, blade, Bob's Burgers, bottle rocket, buffalo 66, classicscifi, classicscifi.com housebroken clothing, Cleopatra, cody clarke, Daddy Longlegs, Damnation Alley, dog day afternoon, Dr. Doolittle, dredd, Drive-By Truckers, fantastic mr fox, Figures in a Landscape, film joke, film jokes, film podcast, Filthy Gorgeous: The Bob Guccione Story, Game of Thrones, Gary Wilson, Gary Wilson You Think You Really Know Me, Godzilla vs. Hedorah, Godzilla vs. King Ghidorah, godzilla: king of the monsters, gojira, gravity, Guardians of the Galaxy, Homicide, I Get Wet, i love lucy, in the loop, Inside Llewyn Davis, it's always sunny in philadelphia, It's Complicated, jane eyre, jaws, jenna ipcar, John Carter, john damico, Logan's Run, louie, lucky dragon no. 5, lucky dragon number 5, mikey and nicky, moonrise kingdom, movie joke, movie jokes, movie podcast, mrs doubtfire, Nest of Spies, OSS 117: Cairo, OSS 117: Lost in Rio, Pain & Gain, paranormal activity, popeye, Prisoners, Red River, Rodan, rushmore, Saxondale, seven samurai, Sin Nombre, Slumdog Millionaire, smug film, smug film podcast, smugfilm, Southern Rock Opera, spring breakers, star wars, Surviving Desire, terminator, terminator 2, The Artist, the brown bunny, The Darjeeling Limited, the grand budapest hotel, The Green Lantern, the incredible shrinking man, The Life Aquatic, the lone ranger, The Naked Gun, The Raid 2, the raid: redemption, The Royal Hunt of the Sun, the royal tenenbaums, The Squid and the Whale, The Thick of It, the trip, the wire, the wolf of wall street, To Kill a Mockingbird, True Detective, Trust, V/H/S 2, Veep
Leave a comment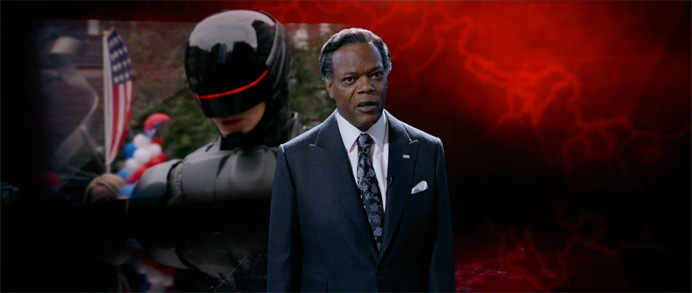 Robocop (2014)
Directed by José Padilha
Screenplay by Joshua Zetumer
117 min.
Very minor spoilers ahead.
When they rolled that screen open to 2.35:1, I knew it wasn't going to be like Verhoeven's. The original Robocop is a minor masterpiece, one of the most cutting satires of the 20th century. It's dingy, clunky, sarcastic, and howling—just like the '80s that spawned it. Our new Robocop—which is, for all practical purposes, the second Robocop remake in recent memory, counting the spectacular Dredd—is none of those things. It's shiny, sleek, and "tactical," as Michael Keaton's character says.
The memorable ultra-violence of the original is gone. In its place, there's a smooth, sanitized finish over everything, which gives it all a sort of uncanny creepiness—a quality best exploited in one of the film's high points, in which we learn just where Alex Murphy ends and Robocop begins.
Continue reading →
Posted in

All Posts, John's Reviews
Tagged

alex murphy, battlestar galactica, blackwater, cattle queen of montana, chopping mall, dredd, fdr, franklin roosevelt, gort, hitler, john damico, jose padilha, joseph mccarthy, joshua zetumer, klaatu, lyndon b. johnson, michael keaton, robert wise, robocop, robocop 2014 review, robocop remake, robocop remake review, robocop review, ronald reagan, the day the earth stood still, the terminator
2 Comments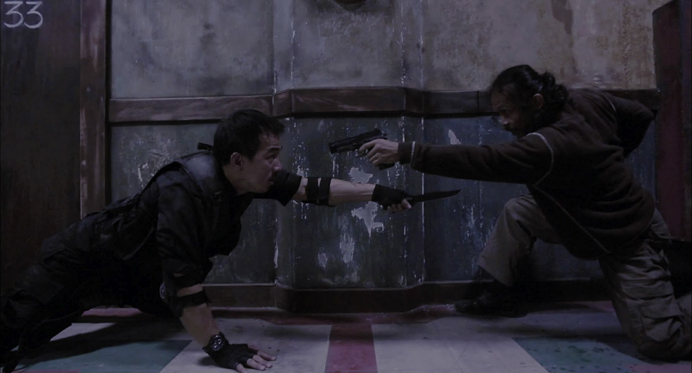 Any recent good overlooked action movies? I liked The Raid but haven't seen much else worth a damn. – John T.
John D'Amico: Short answer: yes. Long answer: yes yes yes yes yes yes yes yes yes.
Editor's Note (12/4/14): We no longer answer movie questions through our advice column. We answer them in the mailbag segment of our podcast. Send them to Cody@SmugFilm.com and we will answer on the show!
Continue reading →
Posted in

Advice, All Posts
Tagged

advice column, battleship, chaser, dredd, film advice, film recommendations, first blood, free movie advice, free movie recommendation, independence day, indiana jones, john damico, movie advice, movie recommendations, oldboy, paul verhoeven, rambo, running scared, the expendables, the good the bad and the weird, the raid, the raid: redemption, undisputed, undisputed 2, undisputed 2: last man standing, undisputed 3, undisputed 3: redemption, undisputed ii: last man standing, undisputed iii: redemption, universal soldier, universal soldier: day of reckoning, universal soldier: regeneration, verhoeven
Leave a comment