Tag Archives:
Jailhouse Rock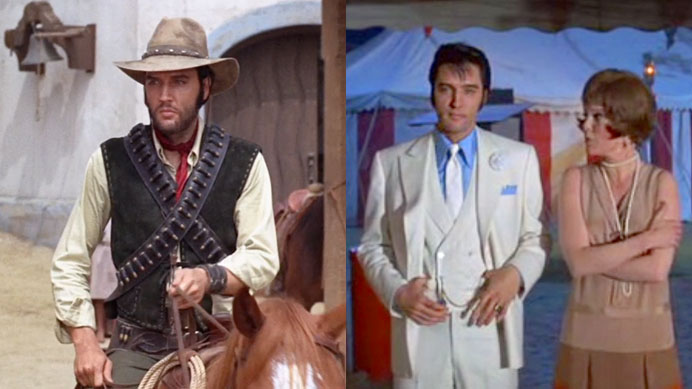 It's the home stretch! After this post, I have only ONE Elvis movie left to go!
I've thus far neglected to really delve into the historical backdrop for these films—however, it is now 1969, and boy have we come a long way. When Elvis' first film came out in 1956, he was a mere 21 years old and had just debuted his "Hound Dog/ Don't Be Cruel" single. Elsewhere in 1956, Norma Jean changed her name to Marilyn Monroe, Eisenhower got his second term, Grace Kelly became a princess, and the Supreme Court declared the Alabama Bus segregation laws illegal. 
Now, in 1969, Nixon has become president, Neil Armstrong has taken one small step for man, Woodstock has burst onto the scene, The Beatles recorded Abbey Road, the Manson murders happened, and Don Draper had a zen moment on a California mountaintop. 
Though the world has changed, Elvis has largely stayed the same—if you judged America solely by Elvis movies, you'd think we never made it past '63. These last ones, however, are real wild cards:
Posted in

All Posts, Jenna's Reviews
Tagged

1956, 1969, Abbey Road, Alabama Bus segregation, Anissa Jones, Anthony Teague, arabic elvis, Barbara Werle, Bearded Elvis, Can-Can dancers, Charles Marquis Warren, Charro!, Chautauqua, Clean Up Your Own Backyard, Clint Eastwood, corruption, Corto Maltese, cowboy elvis, Dabney Coleman, Don Draper, Don't Be Cruel, Eisenhower, Elvis, Elvis Arizona, Elvis Beard, Elvis Beard movie, Elvis movie review, Elvis movie reviews, elvis presley movie review, Elvis Presley movie reviews, Elvis Sideburns, Elvis three-piece suit, Emperor Maximilian, ensemble cast, Gospel Elvis, grace kelly, Hound Dog, Hugo Montenegro, Ina Balin, Jailhouse Rock, James Almanzar, Jenna Does Elvis, Jenna Reviews, Joe, John Carradine, Love Me Tender, Manson Murders, Marilyn Monroe, Marlyn Mason, Mexican Cannon, Moon Landing, murder!, Neil Armstrong, nepotism, Nicole Jaffe, Norma Jean, Pepe Brown, Peter Tewksbury, Refried Elvis: The Rise of the Mexican Counterculture, Richard Nixon, Roger Altman, Saloon, scooby doo, sergio leone, Sheree North, Solomon Sturges, Stay Away, Swing Low Sweet Chariot, TED Talks, the beatles, The Trouble With Girls, The Trouble with Girls (And How To Get Into It), Tony Young, Victor French, Vincent Price, western elvis, Wild West Elvis, woodstock
4 Comments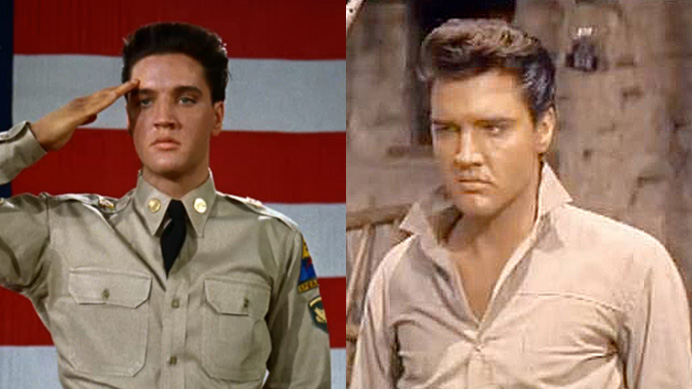 When we last spoke I'd seen King Creole, a movie I greatly enjoyed. After King Creole, Elvis was shipped off to the army, his mother died, he met his future wife Priscilla, and he picked up an unhealthy addiction to barbiturates. Couple that with John Lennon's famous "Elvis died when he went into the army" quote, and it seemed I might be in for a precipitous  drop in quality.
I was feeling optimistic though—the last two were fun, and while none of the films so far has been life-alteringly great, none of it's been unwatchable either. Granted, my tolerance for the unwatchable is notoriously high, but still—so far, this journey has quite honestly been slightly better than anticipated.
Posted in

All Posts, Jenna's Reviews
Tagged

cowboy elvis, cowboys and indians, dog fight, dolores del rio, Elvis, elvis affairs, elvis army, elvis germany, elvis indian, Elvis movie reviews, elvis native american, Elvis Presley, Elvis Presley movie reviews, Elvis review, elvis western, Flaming Star, frank sinatra, frankfort special, G.I. Blues, Jailhouse Rock, Jenna Does Elvis, jenna ipcar, Jenna's Reviews, juliet prowse, King Creole, kiowa elvis, lili taylor, Loving You, river phoenix, smug film, soldier elvis, western elvis, wooden heart
8 Comments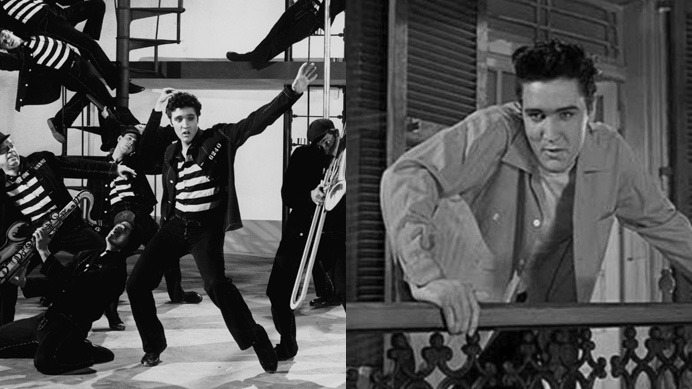 Okay, we've got the fluff out of the way and now we're getting into two of what are hailed as Elvis' greatest films.
When last I saw you, I was young and naïve—I had decided to undertake the project of watching every single film from Elvis' shocking large acting career. Now, four movies in, I would call this the blooming flower period for both Elvis and my Elvis enjoyment. We've got Jailhouse Rock, probably Elvis' most visually recognizable and iconic film—if you've ever seen Elvis in a striped shirt, or dancing on a set that looks like a prison, it's from Jailhouse Rock. Then we have King Creole, which is an Elvis movie you've probably heard of people having seen.
If you're anything like me, you expect both of these to be the most Elvis-y Elvis movies imaginable—full of hips, guitar licks, and sneering lips. But you hold some reservation too, since the first two were such let downs.
So what's the verdict? Well, keep reading and find out:
Posted in

All Posts, Jenna's Reviews
Tagged

carolyn jones, casablanca, dolores hart, elvis club singer, elvis hips, elvis jail, elvis Louisiana, elvis mob, Elvis movie review, Elvis movie reviews, elvis new orleans, Elvis Presley, elvis presley movie review, Elvis Presley movie reviews, Elvis review, Jailhouse Rock, Jenna Does Elvis, jenna ipcar, Jenna's Reviews, King Creole, Loving You, michael curtiz, smug film, trouble, walter matthau
9 Comments