Tag Archives:
kims video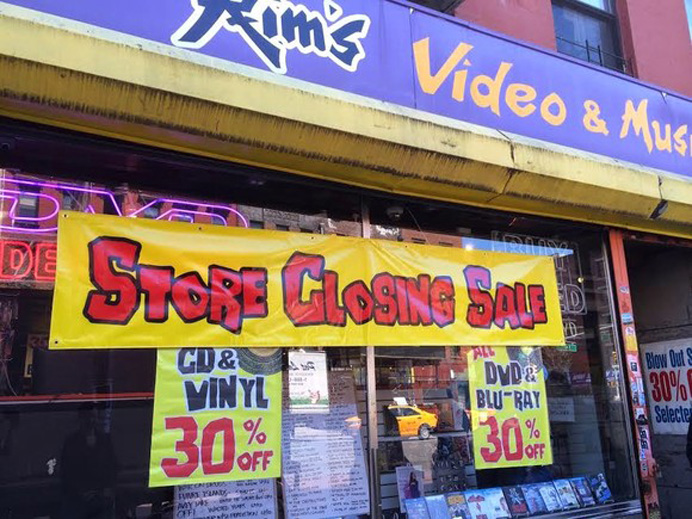 Kim's Video and Music is a famed unofficial landmark of NYC which stocks a wide variety of movies and records from the popular to the impossible-to-find, and has been around in the East Village of Manhattan for almost 30 years, in some form or another. There were five or six locations at one point, but over the last decade or so, they've been disappearing, and now it appears there will soon be none—on April 21st, it was announced that the final location, located on 1st Ave between E 7th street and St. Marks Place, will be closing sometime soon.
This has been sad news for a lot of people—none more so, I'm sure, than the owners and employees who have built and maintained this institution for so long. My heart goes out to them, and they have my deepest sympathies.
However, I've never had much interest in Kim's, and I'd be lying if I said I care at all about its imminent closure. I've lived in this city all my life, but I've been there maybe twice—they're overpriced, and I'm a deal hound. And although Eddie Huang's recent eulogy to the store is brilliant, and does tug on my heart strings somewhat, I honestly don't see this loss as much of a blow to the city I love, or its cinephile inhabitants. There has never been a better time in history to be a film fan, and there have never been more or better "portals", as he so aptly puts it.
Continue reading →
Posted in

All Posts, Cody's Essays
Tagged

book off, cody clarke, eddie huang, eric mitchell, first love 1977, first love 1977 film, first love 1977 movie, jean luc godard, joan darling, joan darling interview, kim's video and music 1st ave, kim's video closing, kims video, riding the bus with my sister, rockets redglare, rockstar, rockstar bollywood, smug film, smugfilm, soundtracker, steve buscemi, the love letter, the way it is, the way it is film, the way it is movie, vincent gallo, yongman kim
4 Comments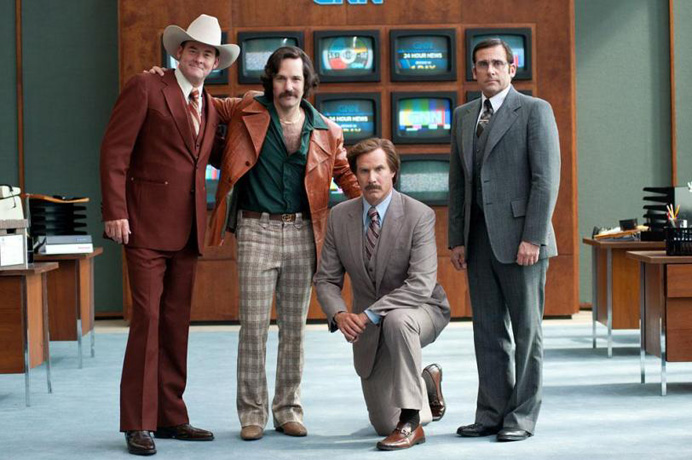 Anchorman 2: The Super-Sized R-Rated Cut (2014)
Directed by Adam McKay
Written by Will Ferrell & Adam McKay
143 min. (24 min. longer than the original cut)
We've all read Greg's great review of Anchorman 2. He breaks the film down on a mechanical level, getting to the heart of it by working through its raw material: its jokes.
It's this raw material which has been replaced in this new version.
This isn't the first time an alternate version of a film has seen theatrical release. Exorcist II and Heaven's Gate were notoriously pulled from theaters and recut. I remember seeing The New World in New York in 2005, and when it got a wide release a few weeks later, it was about 10 minutes shorter. But unlike these films, the reason for Anchorman 2's recutting is not because there was something 'wrong' with the original—the filmmakers here simply wanted to experiment with the possibilities of cinema.
This isn't the first recut of an Anchorman movie. Wake Up, Ron Burgundy is an alternate cut of the first Anchorman, which Greg touched on in his review (and which we saw together after acquiring it from the wonderful and unfortunately long gone Kim's Video of Bleecker Street). It was a direct-to-DVD release, and featured many different jokes, but the main difference was its integration of a completely discarded plot that revolved around a revolutionary terrorist cell robbing banks in San Diego (which was clearly deemed unsatisfactory, and reshot as the Panda Watch section of the original film). The film tries to weave a half-assed narrative out of these scraps, using some leftover jokes as the glue.
The new version of Anchorman 2, however, is not at all different in terms of plot. In fact, beat by beat, it's the same. If you're someone who only half-watches movies, you'd be forgiven by some for not thinking anything was different—but you wouldn't be forgiven by me. The fabric of Anchorman is its jokes, and now, for once, the emperor really does have new clothes.
We may lose a couple great jokes from the original cut, replaced by weaker ones, but these weaker ones often serve as necessary setup for three great new ones that couldn't have fit in otherwise. In any case though, it's futile to compare and rate the jokes. Instead what is important and worthy of discussion is the space these jokes occupy. By this I mean the entire philosophical concept of switching one joke for another.
Continue reading →
Posted in

All Posts, Ned's Essays
Tagged

adam mckay, anchorman 2, anchorman 2 r rated, anchorman 2 recut, coen brothers, exorcist 2, exorcist ii, heaven's gate, kims video, mr. show, ned martin, raising arizona, ron burgundy, sam mcmurray, smug film, smugfilm, star wars, the new world, wake up ron burgundy, will ferrell
Leave a comment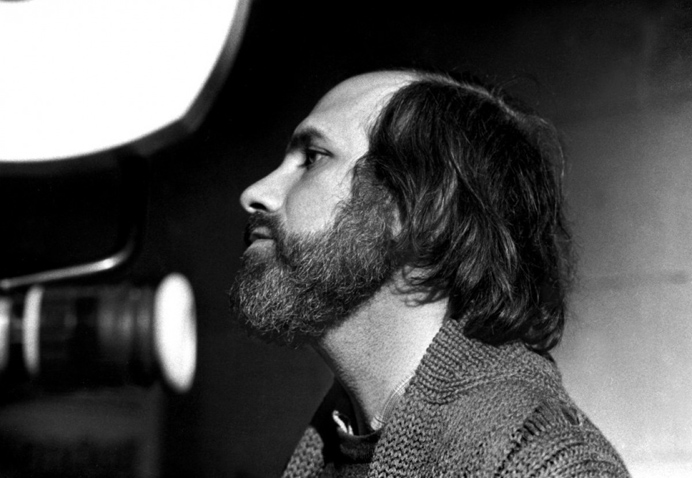 When I was in junior high school, Scarface was the most talked about movie in the hallways.  It was 2000, and those hallways were a reflection of the culture at large.  One time a kid asked me, "Who directed Scarface, Scorsese?"  He had never heard of Brian De Palma.
There's a popular book called Easy Riders, Raging Bulls.  It's a gossipy, oral history of 60s and 70s American movies.  In the back of the book, they summarize the directors integral to the movement and give a filmography for each. Spielberg, Coppola, Scorsese, Lucas, and Malick are featured, but not Brian De Palma—despite being mentioned heavily in the book.  You'd think the guy that gave Robert De Niro his first on-screen appearance (The Wedding Party, 1969) and gave him steady work way before Scorsese ever did, would be important enough to mention.
Continue reading →
Posted in

All Posts, Greg's Essays
Tagged

660124: the story of an ibm card, a hard day's night, adaptation, alfred hitchcock, analyze this, antonioni, apocalypse now, barry sanders, battleship potempkin, be black baby, blow out, blow up, body double, bonfire of the vanities, boogie nights, brazil, brian de palma, brian de palma filmography, brian de palma retrospective, brian depalma, brian depalma filmography, brian depalma retrospective, bruce springsteen, carlitos way, carrie, casualties of war, coppola, courtney cox, danny devito, david koepp, david lynch, dionysus in 69, dr. strangelove, dressed to kill, easy rider, easy riders raging bulls, eraserhead, fangoria, femme fatale, francis for coppola, freaks and geeks, gary sinise, george lucas, get to know your rabbit, goodfellas, greetings, greg deliso, head, help!, hi mom, hitchcock, home movies, icarus, joe montana, joe piscopo, john c. reilly, john carpenter, john lithgow, josh hartnett, jurassic park, jurassic park 2, keith gordon, kims video, king of comedy, kirk douglas, knocked up, kundun, lucas, lynchian, martin scorsese, meet the parents, melanie griffith, michael j fox, mission impossible, mission to mars, obsession, orson wells, p.j. soles, passion, paths of glory, phantom of the paradise, pj soles, pulp fiction, quentin tarantino, rachel mcadams, raising cain, rear window, redacted, rio bravo, robert deniro, robert mckee, sanke eyes, sarah lawrence, scarface, scorsese, sean penn, show me a strong town and i'll show you a strong bank, sisters, smothers brothers, smug film, smugfilm, sopranos, spielberg, split diopter lens, starman, steven spielberg, tarantino, taxi driver, teh fury, the black dahlia, the departed, the godfather, the king of comedy, the lost world, the mission, the thing, the untouchable, the wedding party, tom cruise, tom hanks, touch of evil, william finley, wise guys, woodstock, woton's wake
4 Comments