Tag Archives:
mary tyler moore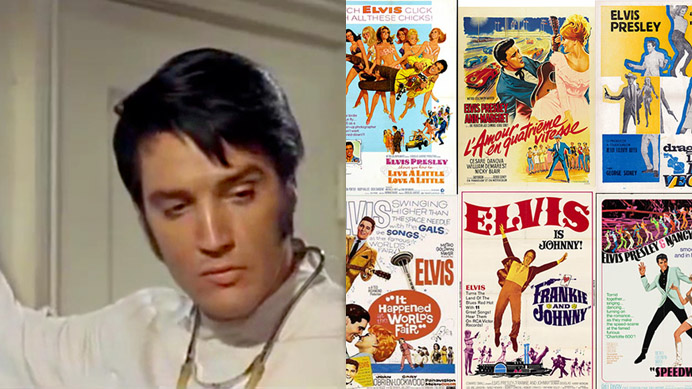 I've done it, guys—I did Elvis! To be specific, I did all 31 Elvis films, two a week, in about four months time. This has been a wild ride, and I thank all of you that have followed me through it.
If you remember, I set out on this journey with merely a passing fascination for Elvis, and a huge ambivalence toward his films. I finish this journey with now a plethora of Elvis film knowledge, an Elvis t-shirt, a copy of both  Peter Guralnick Elvis biographies (Last Train to Memphis and Careless Love: The Unmaking of Elvis Presley) and a small collection of very attractive Elvis JPEGs saved on my desktop. 
I like to think that this project has changed me for the better—I now know what it's like to soar with Elvis at his highest highs, and cringe for him at his lowest lows. And I did genuinely have a lot of fun with these. There's something very watchable about these movies, which I can't say for most crappy '60s films.
Elvis was just fun—he embodied that pure, unfettered, visceral feeling of singing and dancing your heart out. I mean, Elvis made even sequin jumpsuits and shaking your ass look manly—heck, he even made womanizing look like fun for everyone. And his movies, like himself, were equally as unpretentious and easy to digest. While the plots were often inane and the music quality dropped severely throughout, you always came wanted to come back and see what Elvis was up to this time. Some of these are worth sitting through just for that one song, or one performance, or one scene of Elvis kissing three brides on the mouth before he gives them away to their husbands on their wedding day. I now truly understand how Elvis became such a larger-than-life presence—that unachievable ideal that eventually brought Elvis himself to his knees.
But I digress. Lets take one last trip though Elvis film-review-land with his 31st and final film:
Posted in

All Posts, Jenna's Lists, Jenna's Reviews
Tagged

1960s Autism treatment, 1969, Ann-Margret, Ann-Margret Elvis, Barbara McNair, Best Elvis biography, Best Elvis movie, Best Elvis movie list, Bossanova Baby, Careless Love: The Unmaking of Elvis Presley, Change of Habit, Change of Habit review, Complete Elvis Movie Ranking, Complete Elvis Ranking, Dr Elvis, easy rider, Elvis, Elvis attractive, Elvis Autism, Elvis Belt Buckle, Elvis Biography, Elvis Catholic, Elvis doctor, Elvis film retrospective, Elvis Jesus, Elvis JPEG, Elvis movie list, Elvis movie ranking, Elvis movie retrospective, Elvis movie review, Elvis movie reviews, Elvis nuns, Elvis Presley, Elvis Presley Movie list, elvis presley movie review, Elvis Presley movie reviews, Elvis ranking, Elvis retrospective, Elvis sequin jumpsuits, Elvis T-Shirt, Elvis Womanizer, Elvis womanizing, Elvis Zen, Have A Happy, Holding Therapy, Jane Elliot, Jenna Does Elvis, jenna ipcar, Jenna's Reviews, kes, Last Train to Memphis, Lorena Kirk, mary tyler moore, Midnight Cowboy, Nefti Millet, Old McDonald Had A Farm, Peter Guralnick, rage reduction, Robert Emhardt, Rubberneckin', San Juan de Cheguez, Speedway, The King, They Shoot Horses Don't They?, Ultimate Elvis movie list, Ultimate Elvis movie ranking, Ultimate Elvis Presley movie list, Ultimate Elvis Presley movie ranking, Viva Las Vegas, Worst Elvis movie, Worst Elvis movie list, z
12 Comments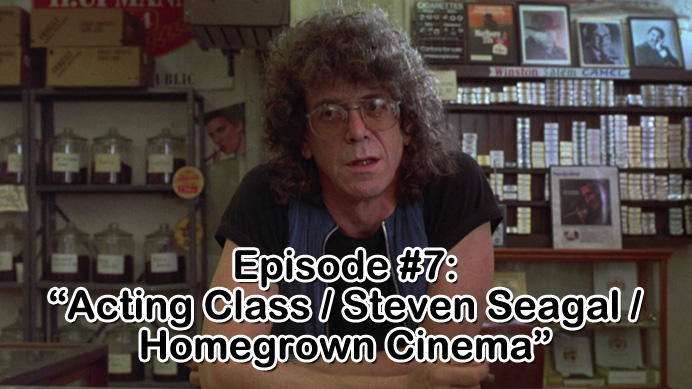 1:22:58 | View on iTunes | Download Mp3
On this episode, I am joined by fellow Smug Film contributors John D'Amico and Jenna Ipcar. We discuss an acting class John took, Jenna's foray into the films of Steven Seagal, and for our main topic, we tackle the idea of homegrown cinema. As always, we go on tangents along the way, take a quick break for a movie joke by comedian Anthony Kapfer, and then close the show with questions from our mailbag.
If you have a movie-related question you'd like answered on the show, leave it in the comments or email us at Podcast@SmugFilm.com.
If you enjoy the podcast, be sure to subscribe on iTunes, and leave a rating and a comment on there as well. Doing this helps us immensely as far as our ranking on there, which is what allows people to be able to discover us. Word of mouth is always best of all though, so spread the word!
Movie Stuff Referenced in this Episode:
Continue reading →
Posted in

All Posts, Podcast Episodes
Tagged

2000 Maniacs, 30 for 30: Muhammed and Larry, 30 rock, above the law, adaptation, annie hall, anthony kapfer, Baghdad Cafe, be kind rewind, Beautiful Girls, Black Swan, blade, Block Party, Blue in the Face, Bored to Death, breaking bad, buffalo 66, clerks, Cobra, cody clarke, Deep Blue Sea, deliverance, Die Hard, do the right thing, dog day afternoon, Drive, excessive force, film podcast, film podcasts, fire down below, first blood, frances ha, Gator, goodfellas, hard to kill, Highball, Homicide, House of Games, Inside Llewyn Davis, Interview with Joan Darling by John D'Amico, jenna ipcar, john damico, justified, Kids, Last Night at the Alamo, Law and Order, Let's Dump Water On A Dead Pig With Maggots, Lethal Weapon, Little Fugitive, louie, Louisiana Story, mad men, mary tyler moore, mash, master and commander, movie podcast, movie podcasts, Mr. Jealousy, My Winnipeg, Naked City, Nebraska, Next Stop Greenwich Village, Night Fever, on deadly ground, out for justice, Pete and Pete, red hook summer, Resident Evil, rocky, Saturday, seinfeld, Serpico, shame, Smoke, Smokey and the Bandit, smug film, smug film podcast, smugfilm, sopranos, speed, Spider Baby, spring breakers, Street Scene, Suddenly, Taking of Pelham 123, Taking of Pelham 123 remake, terminator, the avengers, The Cruise, the dark knight, The Greatest, The Karate Kid: Part III, The Man with the Golden Arm, The Manchurian Candidate, the matrix, The One, The Road Warrior, The Savage Eye, The Squid and the Whale, The Toxic Avenger, The Wanderers, The Warriors, the we and the i, The Whole Shooting Match, twin peaks, Ugly Betty, ugly betty green screen, Vampires, Wake in Fright, White Lightning, wild at heart, Yellowneck
Leave a comment
Joan Darling entered show business as an actress on the New York theater scene in the 1960s, then became a fixture of early 70's television. In 1974, she made the leap from acting to directing and quickly made history as one of the first and most successful women directors in television. She had an instant knack for it—her debut, Mary Hartman, Mary Hartman, a soap opera parody, has become an enduring cult classic for its dark-edged humor and deep understanding of the desperation and sadness of the American home.
Highlights of her career include a Mary Tyler Moore episode, Chuckles Bites the Dust, which, for its deft tightrope-walk between comedy and pathos, TV Guide calls the greatest television episode ever; a classic M*A*S*H episode, The Nurses, which  revolutionized the way the show portrayed women; and a leading role in an episode of The Psychiatrist, directed by a pre-Jaws, pre-Duel Spielberg.
These days, Joan teaches acting and directing classes at the Sundance Filmmakers Lab. She agreed to a phone interview, and in about an hour, I learned more about the arts of acting and directing than I ever thought possible:
Continue reading →
Posted in

All Posts, John's Interviews
Tagged

amazing stories, amazing stories the sitter, amazing stories what if, chuckles bites the dust, clu gulager, dorothy arzner, duel, elaine may, first love 1977, first love film, first love movie, georgette's wedding, golda meir, grant tinker, homeland, hot lips, how to direct the actor, ida lupino, jaws, jim brooks, joan darling, joan darling actress, joan darling director, joan darling interview, john damico, kevin spacey, lesli glatter, louise lasser, magnum p.i., margaret hot lips houlihan, margaret houlihan, marisa tomei, mary hartman, mary hartman mary hartman, mary tyler moore, mash, mash hot lips, mash the nurses, michael moore, mike nichols, my cousin vinny, normal lear, owen marshall, owen marshall: counselor at law, par for the course, play it as it lays, rich man poor man, roger corman, roseanne, scandal, second city, shelley duvall, sid sheinberg, smug film, smugfilm, steven spielberg, sundance filmmakers lab, supermom's daughter, the mary tyler moore show, the nurses, the psychiatrist
4 Comments