Tag Archives:
my cousin vinny
Joan Darling entered show business as an actress on the New York theater scene in the 1960s, then became a fixture of early 70's television. In 1974, she made the leap from acting to directing and quickly made history as one of the first and most successful women directors in television. She had an instant knack for it—her debut, Mary Hartman, Mary Hartman, a soap opera parody, has become an enduring cult classic for its dark-edged humor and deep understanding of the desperation and sadness of the American home.
Highlights of her career include a Mary Tyler Moore episode, Chuckles Bites the Dust, which, for its deft tightrope-walk between comedy and pathos, TV Guide calls the greatest television episode ever; a classic M*A*S*H episode, The Nurses, which  revolutionized the way the show portrayed women; and a leading role in an episode of The Psychiatrist, directed by a pre-Jaws, pre-Duel Spielberg.
These days, Joan teaches acting and directing classes at the Sundance Filmmakers Lab. She agreed to a phone interview, and in about an hour, I learned more about the arts of acting and directing than I ever thought possible:
Continue reading →
Posted in

All Posts, John's Interviews
Tagged

amazing stories, amazing stories the sitter, amazing stories what if, chuckles bites the dust, clu gulager, dorothy arzner, duel, elaine may, first love 1977, first love film, first love movie, georgette's wedding, golda meir, grant tinker, homeland, hot lips, how to direct the actor, ida lupino, jaws, jim brooks, joan darling, joan darling actress, joan darling director, joan darling interview, john damico, kevin spacey, lesli glatter, louise lasser, magnum p.i., margaret hot lips houlihan, margaret houlihan, marisa tomei, mary hartman, mary hartman mary hartman, mary tyler moore, mash, mash hot lips, mash the nurses, michael moore, mike nichols, my cousin vinny, normal lear, owen marshall, owen marshall: counselor at law, par for the course, play it as it lays, rich man poor man, roger corman, roseanne, scandal, second city, shelley duvall, sid sheinberg, smug film, smugfilm, steven spielberg, sundance filmmakers lab, supermom's daughter, the mary tyler moore show, the nurses, the psychiatrist
4 Comments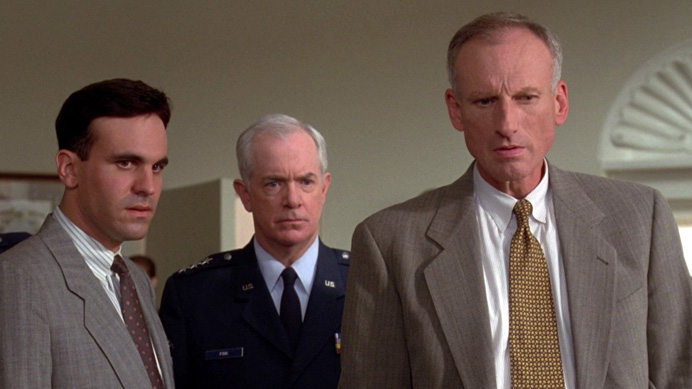 Greg DeLiso: Why are all of these cool people dying?  Harold Ramis right after Philip Seymour Hoffman and Bob Casale from Devo, and now, a guy I'm ashamed to say I did not know the name of.  But, his face, his voice, and his performances were a huge part of my childhood.
Independence Day was a huge theater going experience for me as a kid.  My mom took me one Summer afternoon when I was ten years old, and it was like my The Day the Earth Stood Still or The Blob—a fun excursion into the bigness of movies, the kind of stuff Spielberg and Scorsese talk about from their youth.
Continue reading →
Posted in

All Posts, Cody's Essays, Greg's Essays
Tagged

30 rock, al pacino, austin pendleton, bob casale, bradley whitford, carlitos way, cat's eye, cody clarke, david paymer, devo, greg deliso, harold ramis, independence day, james rebhorn dead, james rebhorn death, james rebhorn eulogy, james rebhorn tribute, jurassic park, little fockers, marisa tomei, martin scorsese, meet the fockers, meet the parents, my cousin vinny, my fellow american, philip seymour hoffman, r.i.p. james rebhorn, rip james rebhorn, s blank check, scent of a woman, seinfeld, shadows and fog, silkwood, sleepwalk with me, smug film, smugfilm, steven spielberg, the blob, the day the earth stood still, the game, the matrix, tom mccarthy
Leave a comment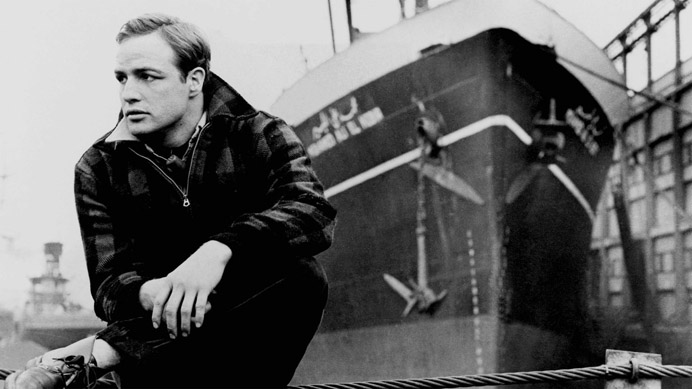 Fuck it right to hell, man. I don't even.
On The Waterfront (1954)
Directed by Elia Kazan
Written by Budd Schulberg
108 min.
Very mild spoilers ahead.
Of the three acts which make up the three act structure, the third act is really the only one which has the ability to fuck you in the ass. You're watching a movie, you're digging it, you're having a good time, you feel safe, and then all of a sudden it's forcing itself into your butt. We've all been there.
A movie is like a penis, basically, and you are like a vagina. When you a watch a movie, you're letting it inside you, and there's a certain degree of trust which goes along with that. 'Don't hurt me, or at least, if you do hurt me, hurt me in an enjoyable way'—that sort of thing. And if a movie tries to fuck your ass in the first act, you can stop it before the tip is barely in and put on some other movie. Same goes for the second act. But when it fucks you in the ass in the third act, you're in shock—it goes in and you can't even believe what's happening and you just have to lay there as it tarnishes the relationship you had built with it up until that point. And then when it's done, you don't know how to feel about it anymore. You remember the good times, sure, but the bad is fresh in your mind.
I had this very experience with On The Waterfront last night, and my booty hole is still twinging with pain.
Continue reading →
Posted in

All Posts, Cody's Reviews
Tagged

adaptation, budd schulberg, cody clarke, david milch, david simon, david spade, deadwood, elia kazan, eva marie saint, ghost dog, kentucky fried movie, leave her to heaven, marlon brando, my cousin vinny, on the waterfront, on the waterfront review, on the waterfront third act, smug film, smugfilm, sweet smell of success, the lords of flatbush, the postman always rings twice, the royal tenenbaums, the wire, tommy boy, treme, written on the wind
Leave a comment