Tag Archives:
netflix longies
If you don't know what Netflix Longies is, go read the first paragraph of Netflix Longies #1. I don't feel like having to write it out again or copy and paste it or whatever. Anyway, here we go: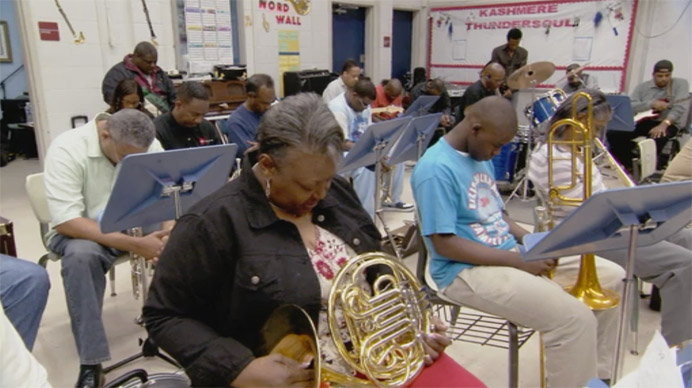 Thunder Soul (2010) | Dir. Mark Landsman | 83 min.
I'm big into soul and R&B and funk and whatnot. Earth Wind & Fire, Frankie Beverly, Blue Magic, The Stylistics, Tavares, The Commodores—the list goes on. That's the kind of music I was raised on, instead of Raffi or Barney or whatever. And there's a channel on Time Warner Cable, in the MusicChoice section, called R&B Classics (channel 608 in NYC) and pretty much every night I'm listening to that while working on my laptop. It's just calming as all hell.
Continue reading →
Posted in

All Posts, Cody's Reviews
Tagged

26 years, a bug's life, ae: apocalypse earth, anthny quinn, antz, barney, batman the movie, blue collar, blue magic, cesar romero, channel 608, children's hospital, chris penn, cody clarke, david gordon green, david wain, dewey bozella, earth wind & fire, earth wind and fire, elizabeth banks, f. murray abraham, frankie beverly, goodfellas, iron eagle, john flynn, jose morales, josh hartnett, leslie h. martinson, mark landsman, marx brothers, michael gambon, michael ian black, michael karbelnikoff, michael showalter, mobsters, netflix, netflix longies, netflix shorties, nicholas sadler, panther mario van peebles, patrick dempsey, paul rudd, paul schrader, quentin tarantino, r&b classics, raffi, raging bull, rolling thunder, seymour cassel, smug film, smugfilm, snakes on a train, tavares, taxi driver, the asylum, the commodores, the dewey bozella story, the room, the stylistics, thunder soul, time warner cable, tom lennon, tommy lee jones, top gun, transmorphers, zeppo
Leave a comment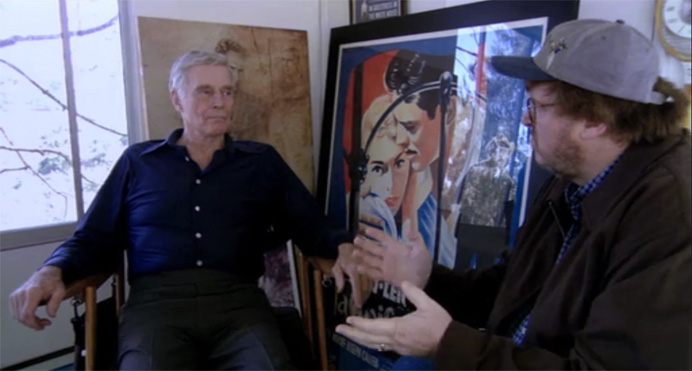 Michael Moore, being repulsive. That was not intended as a dig at his physicality. He'd be repulsive even if he looked like Kat Dennings. Okay, maybe not then, but you get the point.
What is a documentary?
I know that may seem like kind of a ridiculous, pretentious question to ask, especially right off the bat of an essay or whatever, but I don't mean it like that. I'm absolutely serious, and it's an entirely valid question. What the fuck is one? I don't think we really know. I mean, we know 'em when we see 'em I guess. Basically, they're movies about real life. Nothing staged. Except interviews, of course. Interviews are, by their very nature, extremely staged and controlled and can very easily be manipulated by both the interviewer and the editor, but those get a pass, I guess. (As do dramatic reenactments, which can be very misleading, but are thought of as okay for some reason.) I think we can all agree though that documentaries definitely must not have a script that people are following. That's for sure. Well—except of course in the case of a sort of monologue through-line or whatever. The documentarian gets a pass on having a script. Even if it's way subjective. Man, this is getting contradictory. And confusing. And gross.
Continue reading →
Posted in

All Posts, Cody's Essays
Tagged

2016: obama's america, an inconvenient truth, cody clarke rehearsals, documentaries, documentary, foreign parts, frederick wiseman, god hates fags, kevin smith, loose change, michael moore, nancy ivers: 21L, netflix longies, paradise lost, paradise lost trilogy, rehearsals, rehearsals cody clarke, smug film, smugfilm, westboro baptist church, what is a documentary
4 Comments
This is basically the opposite of my Netflix Quickies series. Instead of movies I picked randomly on Netflix Instant that I tried for a few minutes and hated, these are ones I fell in love with and watched all of. So definitely check them out.
By the way, these are all documentaries, because for some reason the only stuff I've given five stars on Netflix lately have been docs. Just been really lucky with them, I guess.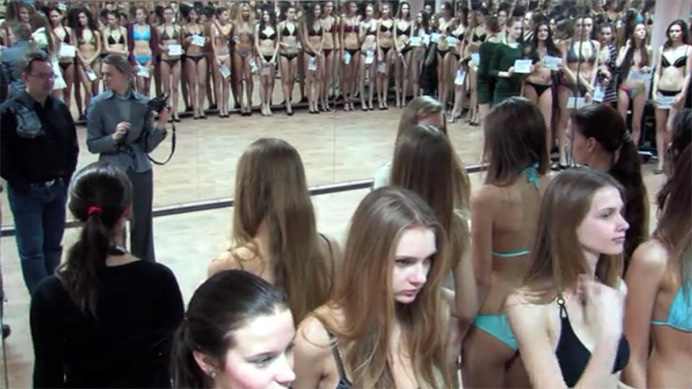 Girl Model (2011)
Directed by David Redmon and Ashley Sabin
78 min.
Continue reading →
Posted in

All Posts, Cody's Reviews
Tagged

ashley sabin, best documentaries netflix, best netflix docs, best netflix documentaries, best netflix movies, borat, david mamet, david redmon, down syndrome doc, down's syndrome, down's syndrome doc, foreign parts, girl model, hoarders, i like killing flies, irn triangle, j.p. sniadeki, kenny shopsin, kumare, lars von trier, lost in trnaslation, monica & david, monica and david, netflix docs, netflix documentaries, netflix longies, netflix quickes, penn & teller, penn & teller's bullshit, penn & teller: bullshit, penn and teller, penn and teller's bullshit, penn and teller: bullshit, phil spector, russian modeling, shopsin, shopsin's, the celebration, thomas vinterberg, verena paravel, vikram gandhi, what to wtach on netflix, willets point
3 Comments