Tag Archives:
p.t. anderson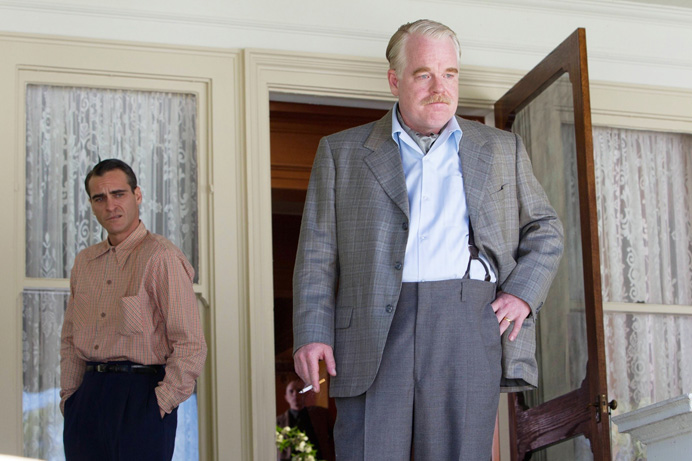 The Master (2012)
Written and Directed by Paul Thomas Anderson
144 min.
Fairly light on spoilers, but see the movie first.
This is a review I've been meaning to write ever since Greg's scathing take. He's completely wrong about the film, but wrong in a Greg way, which is to say, entirely consistent with how he views films, so s'all good—I expect nothing less from him, and love him for it. But, the thought of his take being the only take on the film on this site just isn't right, because it's a great goddamn film. And in the wake of Philip Seymour Hoffman's passing, it's certainly been on my mind, given its central theme of addiction—a theme that has, for some reason, eluded many critics.
The infatuation between Freddie Quell (Phoenix) and Lancaster Dodd (Hoffman) is never outright, hammer-over-the-head explained in The Master, leaving many viewers—and even professional reviewers—to come to the most obvious and tittilating and childish of conclusions: that they are deeply closeted homosexuals in love. Undeniably, there's a degree of homoeroticism to many of their interactions, but to chalk their bond off as mere 'gayness' is to ignore what these two men are truly struggling with, and what brought them together in the first place—alcohol.
Continue reading →
Posted in

All Posts, Cody's Essays, Cody's Reviews
Tagged

cody clarke, p.t. anderson, paul thomas anderson, philip seymour hoffman, philip seymour hoffman dead, philip seymour hoffman death, philip seymour hoffman eulogy, pt anderson, r.i.p. philip seymour hoffman, rip philip seymour hoffman, smug film, smugfilm, the master, the master analysis, the master essay, the master movie, the master review
Leave a comment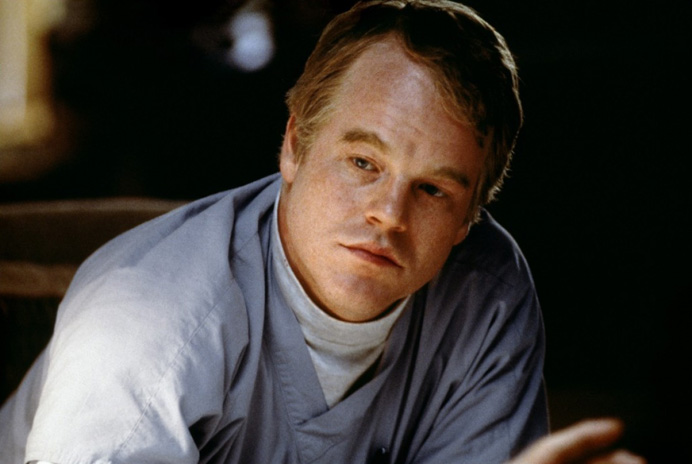 Today we lost one of the absolute best. An actor who put his all in to every role, always giving you your money's worth, never wasting a moment of your time. A virtuoso, with all the adoration one could ever want or need from their peers and from audiences. Just goes to show, you can have it all, and still throw it away.
Addiction is something I've never personally experienced, so I'm by no means an expert. But I do know what it looks like. It looks like the trading of soul gratification for momentary gratification. It looks like an invited wave, grabbing hold of your beach and eroding every castle you've ever built, telling you it's all just sand anyway, so why bother having them. It is evil, and it lies, and it is the ultimate internal resistance. I hope he is finally at peace.
I'd say I 'miss' him, but I never knew his mortal self. I only ever knew his timeless self, which will be here as long as cinema—which is to say, forever. Everything good about this man is immortal. Everything bad, I never encountered, and will never encounter. My heart goes out to his family, who I'm sure have been struggling with his two selves for some time. I hope they are able to find peace as well.
Continue reading →
Posted in

All Posts, Cody's Essays
Tagged

bill murray, chris farley, cody clarke, john candy, magnolia, mike myers, p.t. anderson, paul thomas anderson, philip seymour hoffman, philip seymour hoffman dead, philip seymour hoffman death, philip seymour hoffman eulogy, planes trains and automobilies, r.i.p. philip seymour hoffman, rip philip seymour hoffman, smug film, smugfilm, tommy boy, wayne's world, wes anderson, what about bob, what about bob? david lynch
2 Comments
There is a moment in Fargo (I'll never stop talking about Fargo) that makes me die with laughter every single time I watch it. The movie is packed with black comedy and irony and brilliant deadpans (the license plate joke, holy shit) and some basic but perfect physical gags (Jean Lundegaard bursting out of the shower draped in its curtain like a kid in a homemade ghost costume), but I ain't talking abaout all that stuff. I'm talking about the stills above. This moment seems to be more of an editorial in-joke than an actual written joke, but of course you never can tell with the Coen brothers. After Jean's dad and Stan Grossman and Jerry discuss the plot's central ransom over breakfast, Jerry is at the counter. The beaming cashier asks how Jerry's meal was. After he answers rather shortly, he comes back with an affable "How you doin'" and when it cuts back to her, we see her cock her head to the side before it cuts again. All she does is cock her head to the side. No response, no change in expression, just a slight pitch. It's hilarious. It's insanely funny.
Continue reading →
Posted in

Alex's Essays, All Posts
Tagged

15 minute rule, 50/50 rule, airplane, alex hiatt, an american werewolf in london, andrew nichol, breaking bad, cody clarke, coen brothers, compliance, david lynch, ethan coen, fargo, fight club, fright night, from dusk till dawn, get him to the greek, greg deliso, guillermo del toro, hostel, in time, inland empire, iron man, jean lundegaard, joel coen, ki-duk kim, kim ki duk, life is beautiful, life of pi, lords of salem, louis ck, mike stoklasa, moon, night of the comet, oblivion, p.t. anderson, pacific rim, paul thomas anderson, premium rush, pt anderson, roberto benigni, roderick jaynes, sam raimi, saving private ryan, saw, schindler's list, shaun of the dead, slither, smug film, smugfilm, source code, spider-man 3, spiderman 3, spring summer fall winter and spring, stan grossman, stanley kubrick, steven spielberg, stir of echoes, structural humor, texas chainsaw massacre, the burbs, the dark knight, the evil dead, the hangover, the lords of salem, the room, the texas chainsaw massacre, tremors, troll 2, tucker and dale vs. evil, twin peaks, united 93, wild at heart
15 Comments