Tag Archives:
sergio leone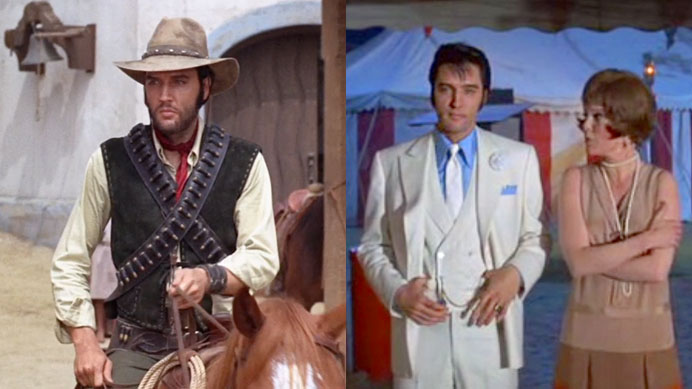 It's the home stretch! After this post, I have only ONE Elvis movie left to go!
I've thus far neglected to really delve into the historical backdrop for these films—however, it is now 1969, and boy have we come a long way. When Elvis' first film came out in 1956, he was a mere 21 years old and had just debuted his "Hound Dog/ Don't Be Cruel" single. Elsewhere in 1956, Norma Jean changed her name to Marilyn Monroe, Eisenhower got his second term, Grace Kelly became a princess, and the Supreme Court declared the Alabama Bus segregation laws illegal. 
Now, in 1969, Nixon has become president, Neil Armstrong has taken one small step for man, Woodstock has burst onto the scene, The Beatles recorded Abbey Road, the Manson murders happened, and Don Draper had a zen moment on a California mountaintop. 
Though the world has changed, Elvis has largely stayed the same—if you judged America solely by Elvis movies, you'd think we never made it past '63. These last ones, however, are real wild cards:
Posted in

All Posts, Jenna's Reviews
Tagged

1956, 1969, Abbey Road, Alabama Bus segregation, Anissa Jones, Anthony Teague, arabic elvis, Barbara Werle, Bearded Elvis, Can-Can dancers, Charles Marquis Warren, Charro!, Chautauqua, Clean Up Your Own Backyard, Clint Eastwood, corruption, Corto Maltese, cowboy elvis, Dabney Coleman, Don Draper, Don't Be Cruel, Eisenhower, Elvis, Elvis Arizona, Elvis Beard, Elvis Beard movie, Elvis movie review, Elvis movie reviews, elvis presley movie review, Elvis Presley movie reviews, Elvis Sideburns, Elvis three-piece suit, Emperor Maximilian, ensemble cast, Gospel Elvis, grace kelly, Hound Dog, Hugo Montenegro, Ina Balin, Jailhouse Rock, James Almanzar, Jenna Does Elvis, Jenna Reviews, Joe, John Carradine, Love Me Tender, Manson Murders, Marilyn Monroe, Marlyn Mason, Mexican Cannon, Moon Landing, murder!, Neil Armstrong, nepotism, Nicole Jaffe, Norma Jean, Pepe Brown, Peter Tewksbury, Refried Elvis: The Rise of the Mexican Counterculture, Richard Nixon, Roger Altman, Saloon, scooby doo, sergio leone, Sheree North, Solomon Sturges, Stay Away, Swing Low Sweet Chariot, TED Talks, the beatles, The Trouble With Girls, The Trouble with Girls (And How To Get Into It), Tony Young, Victor French, Vincent Price, western elvis, Wild West Elvis, woodstock
4 Comments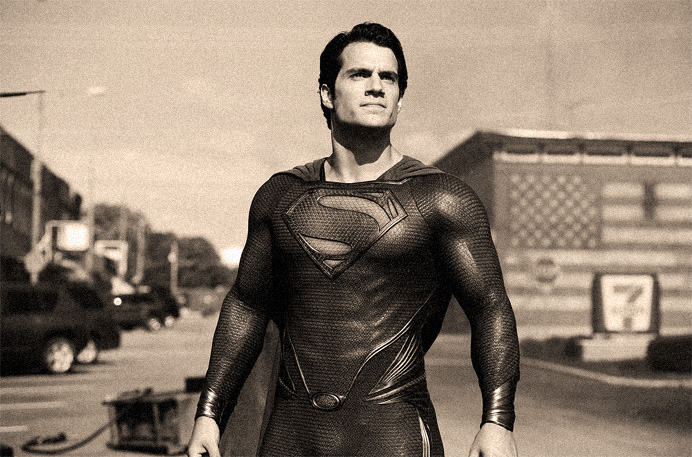 Recently, WB announced their slate of superhero movies through 2019, perpetuating this ridiculous genre for another endless cycle. A lot of very smart people have been persistent in drawing an analogy about this, saying that for its longevity and frivolity, the superhero genre is the new western. As a lover of westerns and a hater of superhero movies, I gotta step in here.
I get the facile rationale—both are 'low' genres that occupy a disproportionately large space in the cinematic marketplace; both are marketed at American adolescent boys; both are concerned with matters of good and evil solved through third act duels. But in the words of Matt Zoller Seitz: "Where's Ford and Leone?"
Posted in

All Posts, John's Essays
Tagged

a man alone, arrow, arrow tv show, bonanza, captain america 2, el cid, fury of achilles, genghis khan, gotham, gotham tv show, henry hathaway, how i met your mother, huge fregonese, hulk, james gunn, john ford, john wayne, king of kings, man with no name, matt zoller seitz, new western, ray milland, roy rogers, sergio leone, super, superhero movies, superhero movies new western, superhero western, superman, superman returns, sword & sandal, sword & sandals, sword and sandal movies, sword and sandals, the raid, to the last man, wagon train, where's ford and leone
Leave a comment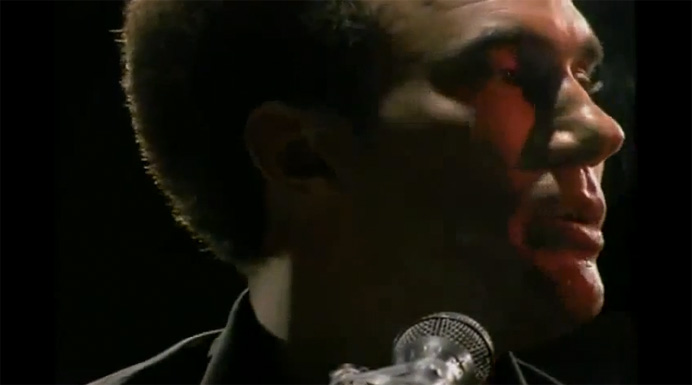 A Huey P. Newton Story (2001)
It's sort of hard to remember now how difficult it used to be to watch movies. You, like I, may have foggy memories of a bygone era when you had to go to movies, or work around their timetables on TV, or cruise through seedy rental houses. But the bad old days are over and I for one have no nostalgia. We're blessed. Hell, I have a hard drive that just a few years ago would've probably been one of the most impressive rare film archives in the state. Our access to previously unavailable or underavailable films is dizzying.
Ubu, The Internet Archive, Dailymotion, The Warner Archive. Use 'em all, love 'em all. But the king of the mountain is still YouTube. There are untold thousands of rare film on YouTube. Let's check a few out:
Continue reading →
Posted in

All Posts, John's Lists
Tagged

10 best movies you've never seen, 10 great movies you've never seen, 84 charlie mopic, 84c mopic, a huey p newton story, a huey p newton story watch online, alan schneider, apocalypse now, best movies you've never seen, best youtube movies, bong joon-hoo, charles burnett, chimes at midnight, citizen kane, cockroach, dailymoton, dan o'bannon, dean stockwell, eadweard muybridge, eadweard muybridge zoopraxographer, eadweard muybridge zoopraxographer watch online, fay andersen, frank perry, great youtube movies, huey p newton story, huey p newton story watch online, incoherence, incoherence episode 1, john damico, john pilger, joon-ho bong, ladybug ladybug, ladybug ladybug movie, memories of murder, morgan fisher, mother, movies you've never seen, nat turner, nat turner a troublesome property, orson welles, orson welles sketchbook, patrick sheane duncan platoon, return of the living dead, return of the living dead workprint, roger guenveur smith, roger gueverner, sergio leone, smug film, smugfilm, snowpiercer, spike lee, the good teh bad and the ugly american cut, the good the bad and the ugly, the good the bad and the ugly the american cut, the good the bad and the ugly the us cut, the host, the internet archive, the orson welles sketchbook, the return of the living dead, the return of the living dead workprint, the warner archive, thom andersen, ubu, vietnam the quiet mutiny, who's afraid of virginia woolf, who's afraid of virginia woolf the original cast recording, youtube movies
4 Comments