Tag Archives:
the wire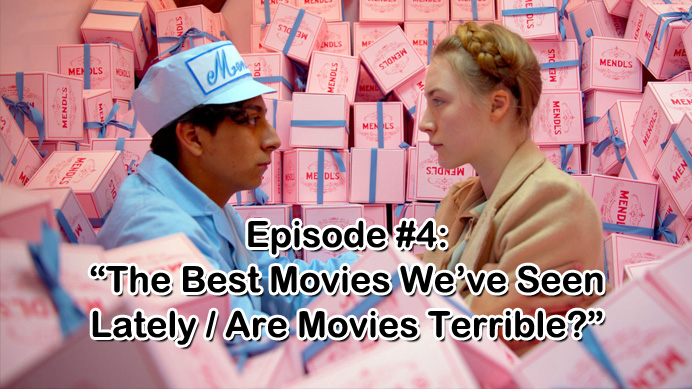 1:06:45 | View on iTunes | Download Mp3
On this episode, I am joined by fellow Smug Film contributors John D'Amico and Jenna Ipcar. We discuss the best movies we've seen lately, new and old. Then, we take a quick break for a movie joke by comedian Anthony Kapfer, and close the show with a few questions from the mailbag, one of which sparks an impassioned rant from John!
If you have a movie-related question you'd like answered on the show, leave it in the comments or email us at Podcast@SmugFilm.com.
If you enjoy the podcast, be sure to subscribe on iTunes, and leave a rating and a comment on there as well. Doing this helps us immensely as far as our ranking on there, which is what allows people to be able to discover us. Word of mouth is always best of all though, so spread the word!
Movie Stuff Referenced in this Episode:
Continue reading →
Posted in

All Posts, Podcast Episodes
Tagged

12 years a slave, A Man Escaped, a serious man, airplane, Aladdin, Alan Partridge at the Races, Alan Partridge: Alpha Papa, amistad, anchorman, Andrew WK, anthony kapfer, battleship, Belly, blade, Bob's Burgers, bottle rocket, buffalo 66, classicscifi, classicscifi.com housebroken clothing, Cleopatra, cody clarke, Daddy Longlegs, Damnation Alley, dog day afternoon, Dr. Doolittle, dredd, Drive-By Truckers, fantastic mr fox, Figures in a Landscape, film joke, film jokes, film podcast, Filthy Gorgeous: The Bob Guccione Story, Game of Thrones, Gary Wilson, Gary Wilson You Think You Really Know Me, Godzilla vs. Hedorah, Godzilla vs. King Ghidorah, godzilla: king of the monsters, gojira, gravity, Guardians of the Galaxy, Homicide, I Get Wet, i love lucy, in the loop, Inside Llewyn Davis, it's always sunny in philadelphia, It's Complicated, jane eyre, jaws, jenna ipcar, John Carter, john damico, Logan's Run, louie, lucky dragon no. 5, lucky dragon number 5, mikey and nicky, moonrise kingdom, movie joke, movie jokes, movie podcast, mrs doubtfire, Nest of Spies, OSS 117: Cairo, OSS 117: Lost in Rio, Pain & Gain, paranormal activity, popeye, Prisoners, Red River, Rodan, rushmore, Saxondale, seven samurai, Sin Nombre, Slumdog Millionaire, smug film, smug film podcast, smugfilm, Southern Rock Opera, spring breakers, star wars, Surviving Desire, terminator, terminator 2, The Artist, the brown bunny, The Darjeeling Limited, the grand budapest hotel, The Green Lantern, the incredible shrinking man, The Life Aquatic, the lone ranger, The Naked Gun, The Raid 2, the raid: redemption, The Royal Hunt of the Sun, the royal tenenbaums, The Squid and the Whale, The Thick of It, the trip, the wire, the wolf of wall street, To Kill a Mockingbird, True Detective, Trust, V/H/S 2, Veep
Leave a comment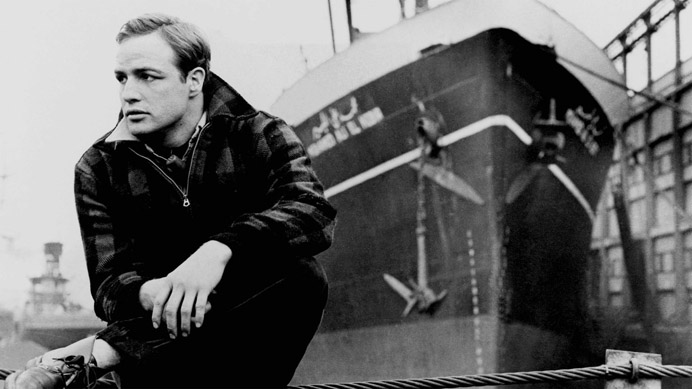 Fuck it right to hell, man. I don't even.
On The Waterfront (1954)
Directed by Elia Kazan
Written by Budd Schulberg
108 min.
Very mild spoilers ahead.
Of the three acts which make up the three act structure, the third act is really the only one which has the ability to fuck you in the ass. You're watching a movie, you're digging it, you're having a good time, you feel safe, and then all of a sudden it's forcing itself into your butt. We've all been there.
A movie is like a penis, basically, and you are like a vagina. When you a watch a movie, you're letting it inside you, and there's a certain degree of trust which goes along with that. 'Don't hurt me, or at least, if you do hurt me, hurt me in an enjoyable way'—that sort of thing. And if a movie tries to fuck your ass in the first act, you can stop it before the tip is barely in and put on some other movie. Same goes for the second act. But when it fucks you in the ass in the third act, you're in shock—it goes in and you can't even believe what's happening and you just have to lay there as it tarnishes the relationship you had built with it up until that point. And then when it's done, you don't know how to feel about it anymore. You remember the good times, sure, but the bad is fresh in your mind.
I had this very experience with On The Waterfront last night, and my booty hole is still twinging with pain.
Continue reading →
Posted in

All Posts, Cody's Reviews
Tagged

adaptation, budd schulberg, cody clarke, david milch, david simon, david spade, deadwood, elia kazan, eva marie saint, ghost dog, kentucky fried movie, leave her to heaven, marlon brando, my cousin vinny, on the waterfront, on the waterfront review, on the waterfront third act, smug film, smugfilm, sweet smell of success, the lords of flatbush, the postman always rings twice, the royal tenenbaums, the wire, tommy boy, treme, written on the wind
Leave a comment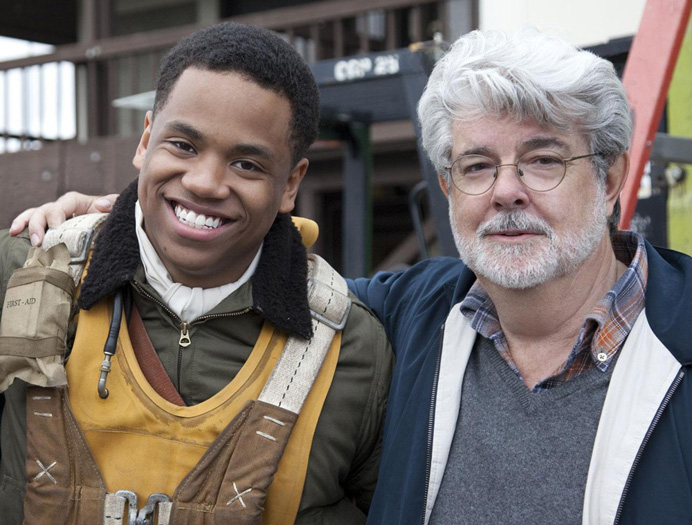 Unlike the Star Wars prequels, here's a plot young kids can actually follow.
Red Tails (2012)
Directed by Anthony Hemingway
Screenplay by John Ridley and Aaron McGruder
125 min.
Right off the bat, I should warn you that Red Tails is not a good movie. At least, not in the traditional sense. It's not even good 'for what it is'. It's just plain bad. But you will have a good time. You'll be laughing at ineptitude in damn near every scene, but, even with all its cheesiness, this movie will touch you on a very deep level—in fact, partly because of its cheesiness. Let me explain.
Continue reading →
Posted in

All Posts, Cody's Reviews
Tagged

aaron mcgruder, anthony hemingway, battlestar galactica, cody clarke, community, eternal sunshine, fringe, hbo on demand, jim carrey, john ridley, matt stone, mr poppers penguins, parks and rec, parks and recreation, red tails, red tails movie, red tails movie review, red tails review, shameless, smug film, smugfilm, the office, the wire, treme, trey parker, true blood, where the wild things are
Leave a comment