Tag Archives:
woodstock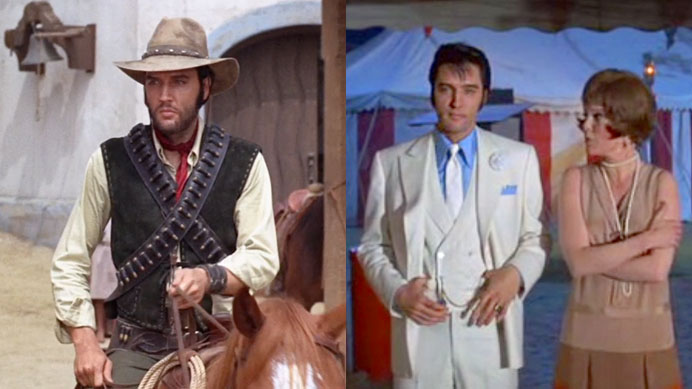 It's the home stretch! After this post, I have only ONE Elvis movie left to go!
I've thus far neglected to really delve into the historical backdrop for these films—however, it is now 1969, and boy have we come a long way. When Elvis' first film came out in 1956, he was a mere 21 years old and had just debuted his "Hound Dog/ Don't Be Cruel" single. Elsewhere in 1956, Norma Jean changed her name to Marilyn Monroe, Eisenhower got his second term, Grace Kelly became a princess, and the Supreme Court declared the Alabama Bus segregation laws illegal. 
Now, in 1969, Nixon has become president, Neil Armstrong has taken one small step for man, Woodstock has burst onto the scene, The Beatles recorded Abbey Road, the Manson murders happened, and Don Draper had a zen moment on a California mountaintop. 
Though the world has changed, Elvis has largely stayed the same—if you judged America solely by Elvis movies, you'd think we never made it past '63. These last ones, however, are real wild cards:
Posted in

All Posts, Jenna's Reviews
Tagged

1956, 1969, Abbey Road, Alabama Bus segregation, Anissa Jones, Anthony Teague, arabic elvis, Barbara Werle, Bearded Elvis, Can-Can dancers, Charles Marquis Warren, Charro!, Chautauqua, Clean Up Your Own Backyard, Clint Eastwood, corruption, Corto Maltese, cowboy elvis, Dabney Coleman, Don Draper, Don't Be Cruel, Eisenhower, Elvis, Elvis Arizona, Elvis Beard, Elvis Beard movie, Elvis movie review, Elvis movie reviews, elvis presley movie review, Elvis Presley movie reviews, Elvis Sideburns, Elvis three-piece suit, Emperor Maximilian, ensemble cast, Gospel Elvis, grace kelly, Hound Dog, Hugo Montenegro, Ina Balin, Jailhouse Rock, James Almanzar, Jenna Does Elvis, Jenna Reviews, Joe, John Carradine, Love Me Tender, Manson Murders, Marilyn Monroe, Marlyn Mason, Mexican Cannon, Moon Landing, murder!, Neil Armstrong, nepotism, Nicole Jaffe, Norma Jean, Pepe Brown, Peter Tewksbury, Refried Elvis: The Rise of the Mexican Counterculture, Richard Nixon, Roger Altman, Saloon, scooby doo, sergio leone, Sheree North, Solomon Sturges, Stay Away, Swing Low Sweet Chariot, TED Talks, the beatles, The Trouble With Girls, The Trouble with Girls (And How To Get Into It), Tony Young, Victor French, Vincent Price, western elvis, Wild West Elvis, woodstock
4 Comments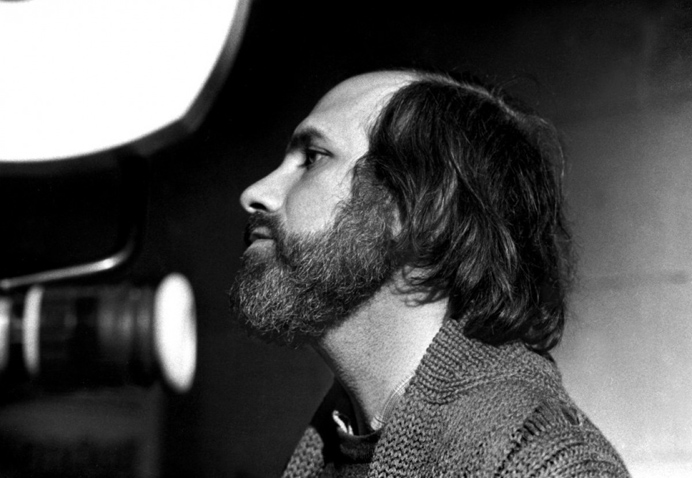 When I was in junior high school, Scarface was the most talked about movie in the hallways.  It was 2000, and those hallways were a reflection of the culture at large.  One time a kid asked me, "Who directed Scarface, Scorsese?"  He had never heard of Brian De Palma.
There's a popular book called Easy Riders, Raging Bulls.  It's a gossipy, oral history of 60s and 70s American movies.  In the back of the book, they summarize the directors integral to the movement and give a filmography for each. Spielberg, Coppola, Scorsese, Lucas, and Malick are featured, but not Brian De Palma—despite being mentioned heavily in the book.  You'd think the guy that gave Robert De Niro his first on-screen appearance (The Wedding Party, 1969) and gave him steady work way before Scorsese ever did, would be important enough to mention.
Continue reading →
Posted in

All Posts, Greg's Essays
Tagged

660124: the story of an ibm card, a hard day's night, adaptation, alfred hitchcock, analyze this, antonioni, apocalypse now, barry sanders, battleship potempkin, be black baby, blow out, blow up, body double, bonfire of the vanities, boogie nights, brazil, brian de palma, brian de palma filmography, brian de palma retrospective, brian depalma, brian depalma filmography, brian depalma retrospective, bruce springsteen, carlitos way, carrie, casualties of war, coppola, courtney cox, danny devito, david koepp, david lynch, dionysus in 69, dr. strangelove, dressed to kill, easy rider, easy riders raging bulls, eraserhead, fangoria, femme fatale, francis for coppola, freaks and geeks, gary sinise, george lucas, get to know your rabbit, goodfellas, greetings, greg deliso, head, help!, hi mom, hitchcock, home movies, icarus, joe montana, joe piscopo, john c. reilly, john carpenter, john lithgow, josh hartnett, jurassic park, jurassic park 2, keith gordon, kims video, king of comedy, kirk douglas, knocked up, kundun, lucas, lynchian, martin scorsese, meet the parents, melanie griffith, michael j fox, mission impossible, mission to mars, obsession, orson wells, p.j. soles, passion, paths of glory, phantom of the paradise, pj soles, pulp fiction, quentin tarantino, rachel mcadams, raising cain, rear window, redacted, rio bravo, robert deniro, robert mckee, sanke eyes, sarah lawrence, scarface, scorsese, sean penn, show me a strong town and i'll show you a strong bank, sisters, smothers brothers, smug film, smugfilm, sopranos, spielberg, split diopter lens, starman, steven spielberg, tarantino, taxi driver, teh fury, the black dahlia, the departed, the godfather, the king of comedy, the lost world, the mission, the thing, the untouchable, the wedding party, tom cruise, tom hanks, touch of evil, william finley, wise guys, woodstock, woton's wake
4 Comments