Tag Archives:
zombie movies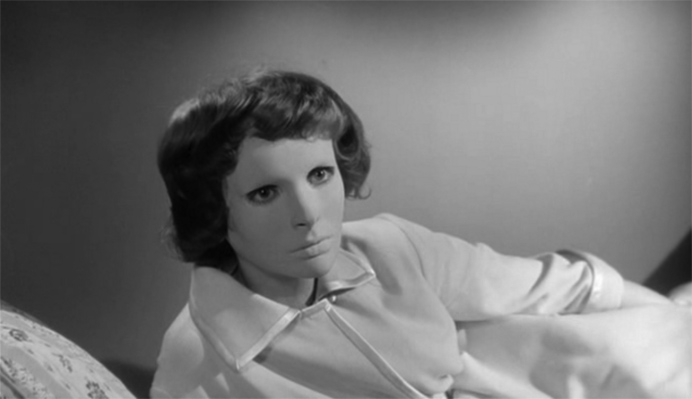 I'd really like to see a truly scary, yet beautifully put together movie with psychological elements and plausibility, but maybe some surrealism as well. Something like Eyes Without a Face or Suspiria. Where the fear is more from the vibe than from the definable foe and allures me so that I can't look away from it even while it's unsettling. — Chloe P.
Editor's Note (12/4/14): We no longer answer movie questions through our advice column. We answer them in the mailbag segment of our podcast. Send them to Cody@SmugFilm.com and we will answer on the show!
Continue reading →
Posted in

Advice, All Posts
Tagged

10 zombie movies, alice, amour, audacious zombie movies, beauty and the beast, begotten, blood of a poet, book off, brothers quay, cache, carl th dreyer, carnival of souls, cody clarke, curtis harrington, e. elias merhige, ed emschwiller, edward hopper, eyes without a face, frank darabont, funny games, ganja and hess, goya, halloween 2, halloween ii, harpya, jan svankmeyer, jean cocteau, joan of arc, john damico, katie holmes, keanu reeves, lemora: a child's tale of the supernatural, maya deren, messiah of evil, michael haneke, night tide, nightmare films, nightmare movies, ordet, plausible horror, plausible horror films, plausible horror movies, psychological horror, psychological horror films, psychological horror movies, queen of blood, raoul servais, repulsion, riding the bullet, rob zombie, roman polanski, sam raimi, silver bullet, smug film, smugfilm, spring breakers, stephen king, street of crocodiles, surreal horror, surreal horror films, surreal horror movies, suspiria, thanatopsis, the gift, the grapes of death, the lords of salem, the seventh continent, the signalman, the white ribbon, thinner, valerie and her week of wonders, vampyr, william cullen bryant, zombie movies
3 Comments
I am quite pleased to announce that this is the 100th Smug Film post! Woo! We began on January 7th, 2013 and we've been cranking 'em out every Monday, Wednesday, and Friday since then—never missing a single day. It's been a lot of work, but it's also been an absolute blast, and we couldn't be prouder of our output thus far.
Chances are, you haven't read every single one of our posts, and that's fine; with so many, it's certainly not expected. But any self-respecting fan of our work should have read the following posts. And if you're completely new here, this list is a great place start: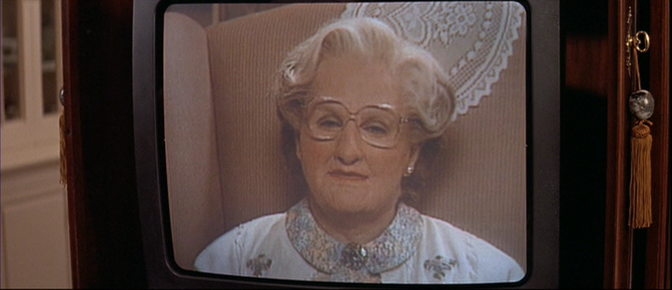 Mrs. Doubtfire Is One Of The Greatest Super Hero Movies Ever Made
Continue reading →
Posted in

All Posts, Cody's Lists
Tagged

advice column, alex hiatt, chelsea marie, cody clarke, george harrison, greg deliso, idea of what a movie is, jenna ipcar, john damico, jurassic park, meek's cutoff, mrs doubtfire, parenthood, robert klingett, roger ebert, roger ebert eulogy, shot context, smug film, smugfilm, stone reader, the blind side, the idea of what a movie is, treasures from the warner archive, warner archive, zombie movies
1 Comment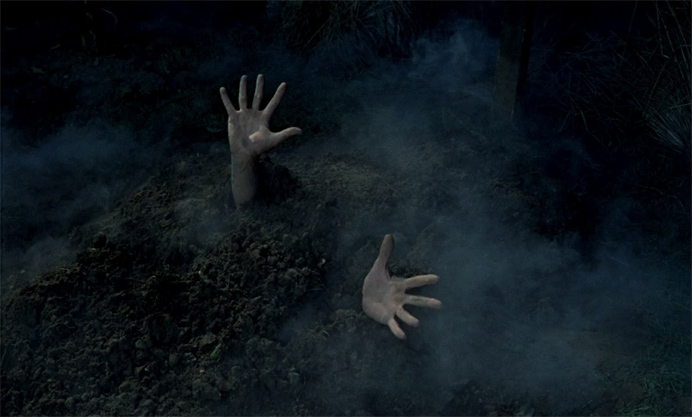 A gorgeous shot from The Plague of the Zombies (1966).
Now that Mad Men's back and I'm watching AMC, I keep seeing ads for The Walking Dead. I really, really, really don't like The Walking Dead.
Even setting aside its dubious social politics, I think it's thoughtless and ugly and boring. It has a routine as codified and rigid as Scooby Doo, but instead of that show's good-natured-if-dull hippyism, it's got nothing but contempt for its characters and audience. It's a death march to samesy gore scenes in which the human body pulls apart as easily as tissue paper full of spaghetti sauce. I'm not impressed, and I resent it.
Continue reading →
Posted in

All Posts, John's Lists
Tagged

10 audacious zombies, 10 best zombie films, 10 best zombie movies, alien, andrew parkinson, best zombie movie, best zombie movies, black christmas, blind dead, bob clark, brian yuzna, bride of re-animator, carnival of souls, criterion, criterion collection, dan o'bannon, danny trejo, dayo f the dead, dead & buried, dead and buried, deathdream, flannery o'conner, gary sherman, george romero, gloria katz, grapes of death, hammer horror, henry portrait of a serial killer, homecoming, i was a teenage zombie, i was a teenage zombie music video, i zombie, i zombie the chronicles of pain, joe dante, john damico, john elias michalakis, john gilling, jorge grau, les revenants, let sleeping corpses lie, levar burton, lucio fulci, mad men, made in u.s.a., made in usa, mariel hemingway, masters of horror, messiah of evil, night of the living dead, pinhead, plague of the zombies, return of the living dead, return of the living dead 3, return of the living dead iii, rise of the zombies, robin campillo, ron shusett, scooby doo, scooter mccrae, shatter dead, smug film, smugfilm, syfy channel original, syfy original, ten best zombie films, ten best zombie movies, the 10 best zombie films, the 10 best zombie movies, the beyond, the deer hunter, the monkey's paw, the plague of the zombies, the walking dead, troma, troma films, vietnam war, willard huyck, zombie movies, zombie movies 2012
5 Comments