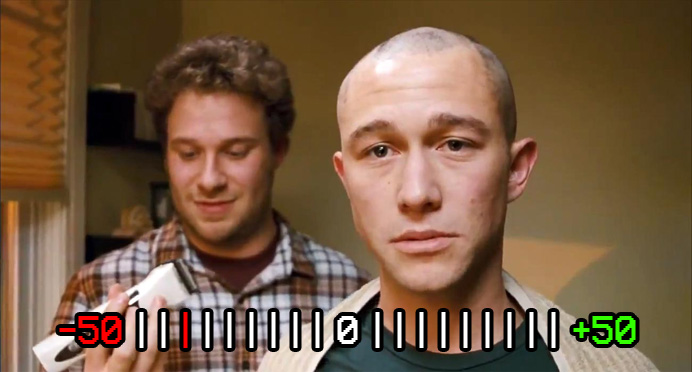 I've tried to write this essay a million times.  In fact, I was trying to write this essay since before Cody and I even started this site.  I'm still not exactly sure why it's been so hard, but I think it has something to do with the inherent difficulty in explaining paradoxes—in this case, the paradox of knowing a movie is gonna bad before you've even seen it, but also knowing that it could, technically, be good, but also knowing that it will be bad.
Every movie is a product on a shelf.  And the job of the people selling the movie is to try to convince you that it'll be good.  But they almost always do a terrible job.  It's not their fault, really.  I mean, how can one capture the depth and complexity of Big in three minutes?  The social security number joke just wouldn't play in the context of a trailer.  So the powers that be are forced to not only tell you the premise, but also give you some universally funny moments that entice you to see it.  This is why the least funny scenes are in the trailer, and why stupid people laugh at these scenes like Pavlov's dogs.

The other problem is that most movies are bad, thus making it much harder for the powers that be to make them appear good.  So, with all of this in mind, it's only fair to assume every movie will be bad before seeing it.  But therein lies a problem: you really can't know it's bad until you see it.  It could be good.  It's like reasonable doubt in a jury case: the movie is innocent until proven guilty, and all movies are created equal, from the new Godard art house shit to Alvin and the Chipmunks 2: The Squeakquel.
This little truth means that everything before you hit the play button should be null and void.  All of your preconceptions and biases must be thrown out the window.  You set your meter to zero, so to speak.  And the once you press play, the needle starts moving.
Imagine a meter calibrated to zero (your neutral starting point) and to the right, the numbers go all the way up to 50 (which would represent the best movie ever made) and to the left they go down to -50 (representing the worst).  The needle moves one point, positively or negatively, every second the movie is on, based on what's happening on screen and whether it's awesome or terrible, and by 50 seconds, you're done.  You should know how bad or good the move is, and whether it's worth keeping on watching, by the first 50 seconds.  (By the way, I came up with this 50/50 rule while bored while watching the movie 50/50, a movie with a -35 rating on my 50/50 scale.)
Because I'm a generous guy, I don't generally turn movies off after 50 seconds, but instead, around the 3-8 minute mark (or if I'm torturing my girlfriend, the 30 min. mark). But that's just because when they're bad I like to test my stamina and make a joke or two.  The 50/50 rule, in its purest form, does work though, and works for two very distinct reasons.  One is that the best movies ever made are wholly good, with no bad points (that's what makes them the best).  And since they are the best, they start with a THIS MOVIE IS GOING TO BE FUCKING AWESOME factor.  My two favorite examples are Back to the Future and Star Wars.  Back to the Future opens with the sound of a ticking clock over black.  A sparkly accent of music highlights the opening fade-in of the title "Steven Spielberg presents" and then the big, colorful, and fun looking Back to the Future title moves on screen and is washed over with light.  Then, the opening shot: a gloriously intimate and meticulous long take that gives you tons of information in a very unique and cool way.  And fuck man, it's awesome.  I'm in.  Now the onus is on the filmmakers to not lose me.  (And of course, they don't.)
Now think of Star Wars.  That prologue looks awesome, but then we're in the blackness of space and the camera tilts down and settles into a beautiful composition.  The music ramps and we see a little spaceship enter frame.  But wait, a giant fucking crazy spaceship flies overhead as if to say 'Fuck you, you thought that was the ship!  Ha!  I'm a movie with fucking balls, and you aren't even ready for me.'
Compare this to the opening of a movie like The Master or Wendy and Lucy—boring shots of water or a car driving or something.  Yup.
The second reason (and this is the most important one) is that a movie's DNA is contained in its first scene, and really, in its first shot, because movies succeed or fail based on their tone, and tone is established immediately.  Said tone is purported in the lighting, color, framing, performance, sound, music, etcetera, of the first shot.  If the movie drops you into a diner with a harsh cut and lots of room tone and in the middle of an ongoing conversation, you're in the hands of an angular filmmaker who wants to get your attention, and he's not afraid to have your attention, because he knows he can sustain it on flash alone (can you guess the movie in talking about!?).  When your movie opens with a girl putting on makeup, you know you're in the hands of someone who insists that you follow them while they show you their collection of 'pretty' (but actually boring) shots.  And yes, I know what you're thinking, what about From Dusk Till Dawn!?!?!?!?  Well, yes, the plot changes, but the tone never does.
Everybody has this absurd notion that you don't experience a movie if you don't finish it.  But that goes against all common sense.  If you bite into a piece of stale bread, you don't finish it.  And if you see the corner of a Jackson Pollock painting, or hear the first verse of a Fun song, you know they suck too.  Why have movies been awarded this unique false respect that they should be finished in order to be understood?  If you can't understand what the movie 'is' in the first few minutes, than you probably don't understand how movies work.  There aren't very many types of stories, maybe about ten in total (they're all laid out beautifully in Blake Snyder's Save the Cat) and if you haven't already seen dozens, if not hundreds, of each story type, then you probably haven't seen that many movies.
By virtue of watching movies, you have also built up your own personal taste, and you can tell in the first few minutes if a movie adheres to it.  Field of Dreams adheres to mine.  The Bourne Supremacy doesn't, so I turn it off.  There's nothing of value to be gained from that really cool scene I missed at the end when blah blah blah happens, because there's a bunch of equally great scenes in a bunch of movies I actually like.  What's the point of watching a crappy movie out of the small hope that something kind of neat happens at minute 42 or whatever?
One more point: a lot of decent stories are ruined by crappy style, or vice versa.  There's nothing too interesting or profound about the story of The Godfather; its classy, polished style is what makes it a 'classic'.  The Bourne movies could have been good, but their style makes them bad.  Suspension of disbelief lets us be okay with the absurdity of some time-traveling teens in a phone booth or a fake-looking computer-generated earth, but that suspension is created by the style.  And if the style is bad, why waste your time?
Ultimately, I don't care what you do with your time.  By all means, finish all the movies you'd like.  But don't get on my case for having the common sense to turn them off.  Because, let's remember folks, this isn't the cancer cure we're talking about.  We're talking about looking at art.  Why waste time looking at art that you don't like?  Maybe you're just a masochist completist who likes to sit through stuff that sucks for literally no reason.  Or, you're my dad, who arbitrarily 'has to know how it ends'.  (But even he couldn't finish The Dark Knight Rises.)