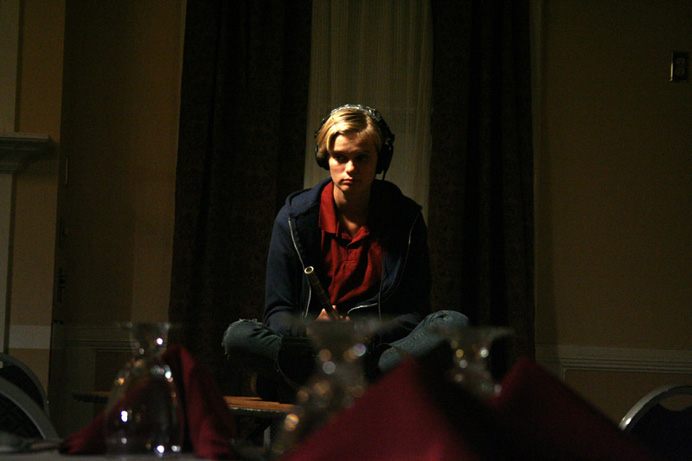 The Innkeepers (2011)
Written & Directed by Ti West
101 min.
Spoilers ahead. But not in the two paragraphs directly below this sentence.
What happened with this one? It really makes no sense how it could be so bad. The House of the Devil, Ti West's film right before this, is pitch-perfect. A modern classic dripping with maturity. Easily one of my favorite horror movies of all time. The Innkeepers, however, is blatantly botched. So much so that it's hard to believe he didn't make it prior to The House of the Devil. How does one go from being the most intelligent horror writer-director around to being a hack in two short years? Did he get hit on the head or something?
I suspect the studio insinuated itself during the writing process, with awful script notes and the like. The thing just plain feels tinkered with and compromised, because the story starts off solid, and where he seemed to be going with it was genius and groundbreaking. And then unfortunately, for whatever reason, knowingly or unknowingly, he veered off onto a well-worn, safe, hackneyed path that robbed it entirely of depth.

I'l spell it out clearly: basically, the dude had the opportunity to make a movie about a girl scared to death by the guy who loves her, and instead made a movie about a girl scared to death by actual ghosts. If you've see the movie, you're high-fiving me through the screen right now, because you know I'm fucking right. But I'll explain, for those of you who haven't seen it.
The movie is about two innkeepers at an old rundown inn. A beautiful nerdy girl and an average nerdy guy. They're the sole employees, and they're friends. The guy is in love with the girl, but she's oblivious. She's one of those twenty-something girls who's basically still 12 years old when it comes to that sort of thing. Also, she has asthma, and carries an inhaler.
They're ghost hunting enthusiasts, and what drew them to working at the inn in the first place is that it's allegedly haunted by the ghost of a woman who hanged herself and then was buried in the basement by the owners. But the inn is closing for good in a week or two, and they still haven't had a sighting or any contact with the ghost.
That night, while the girl is putting out the garbage, she hears weird noises coming from the entrance to the basement. She goes back inside and goes around the house with headphones on, holding a microphone, to try and pick up EVP's. She hears faint voices and some music, and then sees a grand piano start to play itself.
At this point in the film, it's unclear whether or not she's hearing actual ghosts, or if her friend is playing tricks on her. To the audience, I mean. To her, the shits real. But then in the next scene, all mystery/suspense goes out the window because she wakes up in the morning and sees a fucking box-standard CGI ghost in her room (I dunno much about companies that do CGI for movies, but they must just have a folder full of these fuckers that they just tweak slightly and stick into movies) and the ghosts are now proven to be very real, and the movie becomes very boring as a result.
For the rest of the movie, she, and sometimes the guy, are running away from CGI ghosts or whatever. But all these scare beats could have easily been filled by simple, subtle eeriness and stuff moving. Ti West is exceptional at that sort of thing. They should have done that, and thus kept the mystery going as long as possible of whether the guy is just doing this to the girl so she can have the contact with ghosts she's always dreamed of. It would've made the movie way suspenseful.
I really do think there was a draft of this movie where this was the case. Because there are a bunch of great scares here that have nothing to do with CGI ghosts at all. For instance, the first scare is the two of them watching one of those screamer videos on a laptop. Which is fucking brilliant. Ti West, you sometimes-genius fuck, that was lovely. Literally just filming a damn laptop with a screamer video on it. That half the damn audience knows is a screamer video. And scaring the shit out of the half of the audience that doesn't. So beautiful.
And the climax of the film even seems like it was a part of an old, good draft where all the shit I'm suggesting was actually there. What happens is, the girl hides in the basement, and she hears ghosts banging against the doors, and she's in the dark, and the other door towards escape padlocked (by her, earlier in the movie) and she's having an asthma attack, and she's all alone, and she doesn't have her inhaler, and she dies. It's a sad, awful death. And in the next scene, the next morning, the guy who loves her seems genuinely remorseful over the fact that she's dead. Almost like he had something to do with it, and was responsible in some way. But he fucking wasn't. But in a good version of this movie, he was. In a good version of this movie, he went too far trying to give her a memorable experience at the inn before it was gone forever. Because, although he doesn't believe in ghosts, he know that ghosts are the only way he can bond with her. So he does it so they'll have a shared, scary experience. Because he loves her. That's a good movie, right there. You feel bad for him somewhat. Shits deep.
How great would that have been? A fucking ghost movie, full of truly scary subtle ghost scares, but no actual ghosts—plus an actually interesting, human story? Shit woulda been wonderful. And the cast was totally capable. The girl who played the girl is great, and same goes for the guy. They were up to the challenge of something deep. Instead, Ti West made a pointless B movie. I'm serious, there's no actual point to this movie. In my version, there's a point. This one, not so much. The point in this one is literally 'ghosts are scary and real—if you have asthma, always make sure you have your inhaler'. Fuck that shit.
His next film, The Sacrament, has Joe Swanberg in it. Which worries me. I'm worried that the telltale sign of a bad Ti West film is a bad actor-filmmaker having a cameo in it, because Lena Dunham is in The Innkeepers for a scene or two, and The Innkeepers sucked. So maybe this one will be bad because Swanberg is in it. Who knows. I'll still see it, because I love The House of the Devil so much, and I really hope he has another one of those in him. But I definitely will not see it in theaters. Ya done broke my trust, Ti. We should talk some day. I really wanna know what the fuck happened with The Innkeepers—if it was the studios, or your own insecurity, or your own dumbness, or what. Shoot me an email, bruh.
2 1/2 out of 5 Codys.