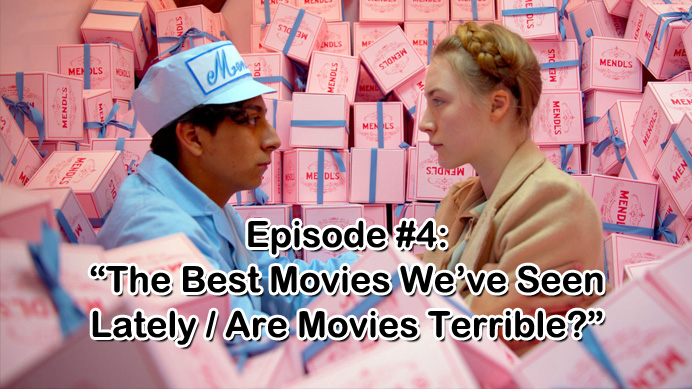 1:06:45 | View on iTunes | Download Mp3
On this episode, I am joined by fellow Smug Film contributors John D'Amico and Jenna Ipcar. We discuss the best movies we've seen lately, new and old. Then, we take a quick break for a movie joke by comedian Anthony Kapfer, and close the show with a few questions from the mailbag, one of which sparks an impassioned rant from John!
If you have a movie-related question you'd like answered on the show, leave it in the comments or email us at Podcast@SmugFilm.com.
If you enjoy the podcast, be sure to subscribe on iTunes, and leave a rating and a comment on there as well. Doing this helps us immensely as far as our ranking on there, which is what allows people to be able to discover us. Word of mouth is always best of all though, so spread the word!
Movie Stuff Referenced in this Episode:

Gojira
Lucky Dragon No. 5
The Incredible Shrinking Man
Godzilla: King of The Monsters
Godzilla vs. Hedorah
Godzilla vs. King Ghidorah
Rodan
The Raid 2
V/H/S 2
Seven Samurai
Dredd
The Raid: Redemption
Terminator
Terminator 2
True Detective (TV)
Jane Eyre
Sin Nombre
Slumdog Millionaire
OSS 117: Lost in Rio
OSS 117: Cairo, Nest of Spies
Airplane
The Naked Gun
The Artist
The Wolf of Wall Street
The Grand Budapest Hotel
The Royal Tenenbaums
Moonrise Kingdom
Bottle Rocket
The Life Aquatic
The Darjeeling Limited
A Man Escaped
Trust
Surviving Desire
Mikey and Nicky
The Brown Bunny
Buffalo '66
Red River
Homicide (TV)
The Wire (TV)
The Squid and the Whale
Daddy Longlegs
Rushmore
Fantastic Mr. Fox
Filthy Gorgeous: The Bob Guccione Story
The Royal Hunt of the Sun
Jaws
Figures in a Landscape
Alan Partridge: Alpha Papa
Alan Partridge at the Races
In the Loop
The Thick of It (TV)
Veep (TV)
Anchorman
Dog Day Afternoon
Saxondale
The Trip
I Love Lucy (TV)
Bob's Burgers (TV)
Louie (TV)
It's Always Sunny in Philadelphia (TV)
A Serious Man
Inside Llewyn Davis
Mrs. Doubtfire
Blade
Game of Thrones (TV)
Aladdin
Popeye
Battleship
John Carter
The Lone Ranger
The Lone Ranger (TV)
The Green Lantern
Gravity
Spring Breakers
12 Years a Slave
Paranormal Activity
Pain & Gain
Amistad
Prisoners
Guardians of the Galaxy
To Kill a Mockingbird
Cleopatra
Dr. Doolittle
Star Wars
Logan's Run
Damnation Alley
It's Complicated
Drive-By Truckers – Southern Rock Opera (Music)
Gary Wilson – You Think You Really Know Me (Music)
Andrew W.K. – I Get Wet (Music)
Belly
Some of the above links go to Amazon, and if, after you click the link there, you purchase something, anything, we receive a monetary kickback from them, at no extra cost to you. This is a great and very simple way to support the show, and our entire site.

This episode is sponsored by ClassicSciFi.com, who has teamed up with Housebroken Clothing to bring you the ultimate in classic science fiction inspired apparel. All shirts are hand-printed here in the USA. Everyone loves the luxurious feel of these shirts. The prints are light weight with soft inks, making them the perfect combination of style and comfort. Each shirt is unique and meticulously cared for during production. They are then inspected, approved and signed by the artist himself. All this, plus free shipping!
If you would like to sponsor an episode of our podcast, you can do so for just ten dollars. What a sponsorship means is that, at the beginning of one of our episodes, we will plug your product, blog, website, movie, or literally anything you want (so long as it's legal). We will also plug it on the episode's blog post, much like I did directly above this paragraph. If interested, drop me a line at Cody@SmugFilm.com.