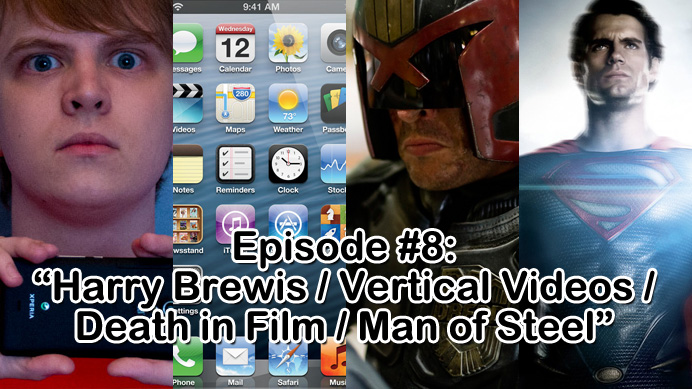 1:09:44 | View on iTunes | Download Mp3
On this episode, I am joined by fellow Smug Film contributors John D'Amico and Harry Brewis. We discuss the merits of vertical videos, death in film, Man of Steel, and much more! We also introduce a new segment called 'Old, New, Borrowed, Blue', and as always, take a quick break for a movie joke by comedian Anthony Kapfer, and then close the show with questions from our mailbag.
If you have a movie-related question you'd like answered on the show, leave it in the comments or email us at Podcast@SmugFilm.com.
If you enjoy the podcast, be sure to subscribe on iTunes, and leave a rating and a comment on there as well. Doing this helps us immensely as far as our ranking on there, which is what allows people to be able to discover us. Word of mouth is always best of all though, so spread the word!
Movie Stuff Referenced in this Episode:

Chocolat
The Man Who Fell to Earth
Sleep Furiously
15/05/11 Abandoned Grain Elevator
Leaving Las Vegas
Digital Filmmaking by Mike Figgis
Dawn of the Dead (Remake)
28 Days Later
Top Gear
Jeff Who Lives at Home
Melancholia
Anti-Christ
Captain America: The First Avenger
The Avengers
Thor
Captain America: The Winter Soldier
Thor 2
Independence Day
Commando
Lethal Weapon
Die Hard
Dredd
The Girl Next Door
Frozen
Open Water
127 Hours
Salo
Jurassic Park
300
Watchmen
Man of Steel
The Bank Dick
It's a Gift
Fatal Glass of Beer
Krapp's Last Tape by Samuel Beckett
Under the Skin
Phase Four
Some Like it Hot
Bus Stop
The Misfits
Don Jon
Her
Scoop
Lucy
Haywire
Transcendence
Transcendent Man
Night Catches Us
The Wire (TV)
Panther
A Huey P. Newton Story
Metropolis
Superman: The Movie
The Sentry
The Adventures of Superman
Batman: The Dark Knight Returns
Superman vs. The Elite
Field of Dreams
Terminator 2
War of the Worlds
Hancock
Sucker Punch
Freddy Got Fingered
Apocalypse Now
Immortals
Jaws
Spring, Summer, Fall, Winter, and Spring
Citizen Kane
F For Fake
The Tree of Life
Days of Heaven
To the Wonder
Gerry
Elephant
Last Days
The Thin Red Line
Badlands
The Dion Brothers

This episode is sponsored by ClassicSciFi.com, who has teamed up with Housebroken Clothing to bring you the ultimate in classic science fiction inspired apparel. All shirts are hand-printed here in the USA. Everyone loves the luxurious feel of these shirts. The prints are light weight with soft inks, making them the perfect combination of style and comfort. Each shirt is unique and meticulously cared for during production. They are then inspected, approved and signed by the artist himself. All this, plus free shipping!
If you would like to sponsor an episode of our podcast, you can do so for just ten dollars. What a sponsorship means is that, at the beginning of one of our episodes, we will plug your product, blog, website, movie, or literally anything you want (so long as it's legal). We will also plug it on the episode's blog post, much like I did directly above this paragraph. If interested, drop me a line at Cody@SmugFilm.com.