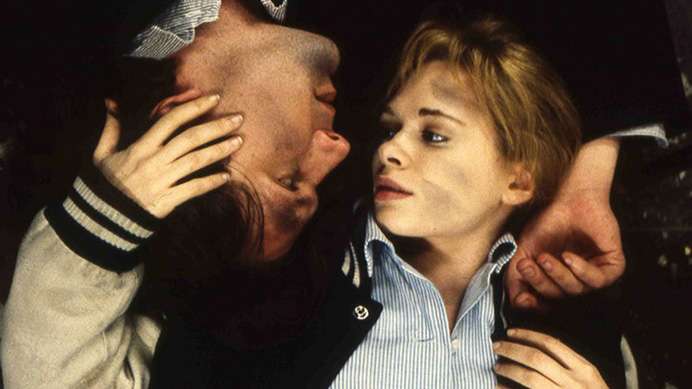 Tried to order this movie for my girlfriend, ended up with the most frustrating online shopping experience of my life.
6/19/13 Edit: This article was originally titled 'How Half.com Screwed Me Over'. That was back when Half.com hadn't refunded me. Finally, they did refund me. It was a long ordeal though, as you'll see. I'm glad they finally made things right, but I will be an extremely cautious user of the site from now on. (I will of course never buy from get_importcds again, and you shouldn't either.)
I've bought and sold hundreds of movies at Half.com, and I've been an eBay member since 1999, and a Half.com user since eBay purchased it in 2000 or so. I have a 100% positive feedback rating. I'm basically their ideal user. And yet, they have decided to screw me over when I needed them most.

On May 3rd, I purchased the Hal Hartley movie Trust on blu-ray from the Half.com seller get_importcds. Being that they had a 99.4% positive feedback rating, I figured they were fine to do business with. In retrospect, I should've looked at their actual feedback. They average about 200+ negative and 200+ neutral feedbacks a month. Granted, they also average tens of thousands of positive feedbacks a month, but if you look at the comments on their negative and neutral feedback, its quite clear their customer service is abysmal. If I had looked at that, I would not have purchased from them.
On May 11th, I received a package in the mail from them. It contained not Trust, but Rocky Horror Picture Show on blu-ray. The packing slip was ripped from a DeepDiscount.com purchase, and there was no information on it that had anything to do with me. Annoying, but no big deal—I've been sent a wrong item by sellers once or twice before, and the sellers I've dealt with have been extremely apologetic and made things right. I contacted get_importcds immediately:
For some reason I was sent The Rocky Horror Picture Show on blu-ray instead of what I ordered, which was the movie Trust on blu-ray. There must have been some mixup. What should I do? Please send me the correct blu-ray!
On May 14th, they wrote me back:
We sincerely apologize for the confusion. Please send the faulty/wrong Item for a refund (we do not send out replacements) using the attached return label. Please include the packing slip or a printout of your original order. In no case can we process returns without a correct order number. As soon as our returns department received your order they will initiate a refund. The time in which your order is refunded will depend on how soon the postal service delivers the item to us. -MP
Attached was an RMA with instructions. I printed it out, followed the instructions, included the weird packing slip I received as well as a printout of my order, and on May 16th, mailed the package and got my stamped RMA receipt proving I sent the item back. (This stamped receipt, I assumed at the time would be worth a damn. Apparently it isn't. But I'll get to that later.)
On May 29th, I contacted the seller to see if they had received my return:
Mailed it out with everything you requested on May 16th. Have you received it yet?
After six days with no response, I checked out their feedback and saw that I was not the only one of their customers who had received wrong items from them and returned the wrong item and then they never indicated they received it, and never refunded the purchase. I became worried, and on June 4th, decided to file a Buyer Protection claim with Half.com to protect myself from this seller. In my claim, I explained everything that had transpired in detail, and that it seemed I was most likely being swindled. On the same day, I received a completely stock and unhelpful response:
Hello [my username],
We're contacting you about the claim you filed on Half.com for the following purchase:
Item –
Transaction number – (These were completely blank)
We're happy to tell you that you can return the item to the seller and receive a refund, as long as the item is still in the same condition that you received it. Here's what to do: To receive a refund, you'll need to return the item to the seller within 7 days. Please send it by US Postal Service using Delivery Confirmation. Send the item to: [Seller's address] To track the package online, go to: http://www.usps.com/shipping/trackandconfirm.htm Once you've confirmed that the seller has received the item, please reply to this email with the Delivery Confirmation or tracking number. We'll issue you a refund for the: – Purchase price of the item – Original shipping cost – Up to $2.99 for return shipping —Note— You can file only one Buyer Protection Claim per month on Half.com. To read our full Buyer Protection Policy, go to: http://pages.half.ebay.com/help/policy/guarantee_p.html We hope we've explained everything clearly. Please let us know if you need any more information.
Sincerely,
Half.com Customer Support
The robot or human clearly hadn't read my claim at all. None of this information pertained to what I had explained in detail. I replied, to clarify what had happened:
As I stated in my claim, I already returned the item last month, using the seller's RMA. It's been three weeks, and they still haven't marked it as received or refunded me. According to their negative feedback, they've done this to people before. Here is my receipt: [Photo of official Post Office stamped receipt]
Here was their response:
Hello [my username],
We're contacting you about the following Half.com transaction:
Item – Trust (Blu-ray Disc, 2013) (Blu-ray Disc, 2013)
Transaction number – [my transaction number]
When you filed a claim, you stated that you received an item which was not as described and it was returned back before instructed. We would like to resolve your concern and issue a refund on your seller's behalf. Please reply to this email and provide the tracking information of the returned item. Once we receive your reply together with the tracking information, we can further continue with the claim process. Please reply as soon as possible. If we don't hear from you within 7 days, your claim will be closed. We appreciate your cooperation and look forward to hearing back from you. Sincerely, Half.com Customer Support
Again, this person was not understanding what I had said. I did not return it before instructed. I returned it how the seller instructed me to. I replied again, clarifying everything once more, and especially clarifying the fact that I did not send this back before the seller instructed. Here was their response:
Hello [my user name],
We're contacting you about the claim you filed on Half.com for the following purchase:
Item –
Transaction number – (Both blank)
We're sorry to tell you that your request for a refund was denied because we didn't receive a reply from you to let us know you returned the item to the seller. If you don't want to keep this item, you may want to consider selling it on Half.com. To learn more about the Half.com Buyer Protection policy, go to: http://pages.half.ebay.com/help/policy/guarantee_p.html?helpsection=guarantee_p We're sorry if this wasn't the answer you were hoping for. We hope your Half.com purchases go more smoothly in the future.
Sincerely,
Half.com Customer Support
A completely stock, robot answer that had nothing to do with what I said. And now my claim had been denied. The seller had won. I decided to go read the fine print of the Half.com Buyer Protection Policy. What I learned was shocking.
Now that my claim was denied (for a reason that made no sense) I could not refile a claim on this transaction. Furthermore, buyers are limited to one claim per month, and a total of three claims ever. Screwed over twice in one month by a seller? Half.com doesn't care. Screwed over more than three times ever? Half.com doesn't care. Also, don't even think about going to your credit card company to dispute the charge from a seller who screwed you over. If Half.com finds out you did that, they can terminate your account. Think I'm making all this up? Read it for yourself.
At that point I had no idea what the hell to do. But I had to at least try contacting Half.com again. I went through their customer support, instead of filing another claim, and explained absolutely everything that had happened up until this point. This was my reply:
In your message, I gathered that you have returned the item "Trust" as instructed by the seller however, you still haven't received your refund for the item. I know how it feels to be in this situation. I'll be more than willing to assist you with this.
I've reviewed several factors regarding this case, and this is to inform you that in order for us to move forward and refund your account for this return, we need to have a proof that the item was "Delivered" to the seller.
As stated in our previous e-mails, a tracking number that shows with a status as "Delivered" is important to be sent to us so that we can verify the delivery of this item.
Please note that "Postal Receipt" do not show as sufficient proof that the item was "Delivered". Hence, it only shows the item was shipped.
At this point, since you're unable to provide us with the tracking number on this package, we strongly encourage you to contact the shipping carrier used in shipping this item so that you can get further details regarding your shipped item's whereabouts. I also suggest that you get in touch with the seller and ask them if they have received your package so that we can move forward with your claim. You may also ask them to e-mail us confirming that this item was already received so that we can go ahead and refund this transaction.
You can contact a seller by clicking the "Contact Seller" link under your transaction in your account.
Here are the steps to contact your seller: [removed for brevity]
In this e-mail, I have advised you to contact the shipping carrier used in shipping this item so that you can provide us with your delivery confirmation/tracking number for this return.
I see that you have been a part of Half.com since August 1999. Thank you for continuing to do business with us over the years. Your loyalty is very much appreciated!
Thank you for choosing Half.com.
Sincerely,
Reda O.
A thoughtful, human response. Finally. It's impossible to track a USPS package without a tracking number, so I wouldn't be able to do that, but I figured if I contacted the seller again, and there was no response, perhaps Half.com would get the hint that this is a seller who is uncooperative and swindling not just me, but many other people in the exact same way. Here was my reply to Reda:
Reda,
Thanks for getting back to me. I will contact the seller again (I already contacted them on May 29th to see if they have received the package, and got no response) but I want to point out that this seller has a history of screwing over other people. I chose this seller to buy from because they had a high % of positive feedback (99.4% positive) but that number is apparently deceptive. When I went to their actual feedback, after I had sent the item back, I saw that in the past year they have had over 2,000 negative feedbacks, and over 2,000 neutral feedbacks. They have 158 just for June alone. That's within just the past six days. And many of them have experienced the exact same problem I experienced: buyer received wrong item, contacted seller, seller sent an RMA, buyer followed the instructions of the RMA and sent it back, seller claims to have never received the return.
It seems to me that this seller is taking advantage of the system. They have found a loophole where they have buyers return items with no tracking number, and then claim they never received it. I don't think Half.com should allow sellers to give RMA's with no tracking number. And Half.com should penalize sellers who do such a thing. Buyers are just trying to do the right thing. They're just trying to return the wrong item and get their money back. And it seems a shame that sellers (I'm not saying all sellers, but sellers like get_importcds) can take advantage of them through this loophole.
So, like I said, I will contact them, but I don't expect to hear back from them. Because plenty of others have experienced the same poor experience with this seller.
Thank you for listening to my case and understanding my frustration with this seller.
– Cody
And here's what I sent to the seller that same day:
On May 16th, I sent back this wrong item using the RMA you sent me on May 14th. It is now June 6th. I contacted you on May 29th seeing if you received it. You have not replied. Have you received this return yet? I'm still awaiting my refund.
After five days with no reply (from the seller or from Reda) I emailed Reda again:
Reda,
It has been five days and I haven't heard back from the seller. This is the second time I have contacted them.  The first time was May 29th. They are avoiding me and ripping me off. I did exactly what they asked of me as far as returning the incorrect item, and it doesn't look like they will ever admit to receiving my return, or give me my refund for sending me the wrong item. You tell me that I need tracking to receive a refund through Half.com, and if that is that case then sellers should not be allowed to do returns without some form of tracking. All I did was follow what was asked of me by the seller, and now I've been ripped off. If Half.com will not refund me, I will be closing my account with Half.com and eBay.com for good. I have been a member and buyer and seller since 1999. I have a 100% perfect feedback rating. For you to side with a seller who has over 150 negative feedbacks between June 1st and June 6th, instead of me, is absolutely absurd.
Please do the right thing. I have done nothing wrong, and I am out $17.41 simply for following the return instructions that the seller sent me. Make this right. If you do not, then 'Buyer Protection' is a lie.
Best,
Cody
It's been six days I sent that, and there has been no reply from Reda or the seller. And negative feedback keeps pouring into this seller's account daily, with no repercussion whatsoever. I contacted Half.com last night detailing every single thing that has happened once more and explaining the severity of the situation. I doubt I will hear back from them. We'll see.
I have no idea what to do here. I can contact my credit card company (who I am in perfect standing with) and try to get reimbursed that way, but I run the risk of Half.com terminating my Half.com/eBay account. At this point though, I'm not sure I even want my account anymore. After this abysmal customer service from both the seller and Half.com, why would I ever want to use them again?
I'll update this post when something else happens with this ridiculousness. Sorry there's no happy ending here. And sorry this isn't really a traditional Smug Film post. But since the lot of you, I'm sure, buy movies off the internet, please take heed and be careful. And whatever you do, don't buy from get_importcds.
6/19/13 Update: Last night, I decided to file a claim with my credit card company. They were extremely helpful and the process was smooth and they promised I'd be refunded in about a week. Then, this morning, I get this from Half.com:
I apologize for the delay in responding to your email.
After reviewing your message, I gather that the item was returned to the seller and has not received any refund even after filing a buyer protection claim. I am in the position to explain the situation but I have deeper sense of commitment in trying to resolve this issue. The communications that transpired in the past only proves how patient you are in trying to resolve the issue at hand. I understand that you have followed every action that we have required but eventually what was promised was not fulfilled. I can not blame if you feel that closing your account is the best solution. For a promise given but was denied eventually can trigger a resigned faith.
You did the right thing by contacting the seller in trying to resolve this case. You were asked to return the item; however, you don't have any tracking information.
According to our Half.com Buyer Return Policy, you can return an item with the seller approval or the approval from us. It is also stated that you must return the item within 7 days from the instruction date and a tracking/delivery confirmation number must be provided by the buyer in order for us to confirm that the item was successfully delivered and was shipped within the allotted timeframe. A full refund may not be issued if tracking/delivery confirmation cannot be provided by the buyer.
In this case, since the item was returned without a tracking number, we have no way of confirming that the item was received by the seller. As mentioned in our previous emails, a tracking number showing the delivery of the item is necessary for us to close the claim in your favor.
As I look into your account, I noticed that you have been a member of our community since August 1999 and as a courtesy, I have issued a refund to your account. This is our way of telling you that we value your membership.
The $17.41 was sent to your Visa ending with XXXX. The credit will appear in your Half.com account in 24 hours and on your credit card statement within the next 7 days.
If you need additional information about this refund, please contact your credit card company directly.
Moving forward, if you have been instructed to return an item, please make sure to obtain a tracking number to avoid the same kind of situation in the future. Please take time to read our Buyer Protection Policy:
http://pages.half.ebay.com/help/policy/guarantee_p.html
In this email, I have explained why your claim was denied and have informed you that I have refunded the transaction as a courtesy. I also provided you some tips on how you can avoid the same in the future. Your understanding is greatly appreciated.
Thank you for choosing Half.com.
Sincerely,
Clarina S.
Finally! My damn refund! So I cancelled my claim with my credit card company. And ordered the damn movie off Amazon.com instead. So glad to finally be done with this. But maybe it was all worth it for this sentence:
"For a promise given but was denied eventually can trigger a resigned faith." — Clarina S.