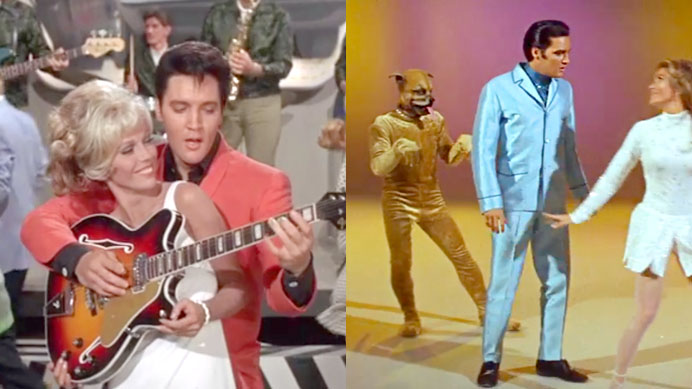 Wow guys, this is really winding down. I have only five more Elvis movies left, and my heart is feeling a bit heavy.
Now we're getting into 1968, better known as the year Elvis released his '68 Comeback Special and blew away the entire world by not just for looking spectacular in an all black leather outfit, but for performing actually good music. If you haven't watched the comeback special, I highly recommend it—this is Elvis live for the first time since 1960, and boy does he bring it. But, just before Elvis got his groove back, two movies came out before it that year: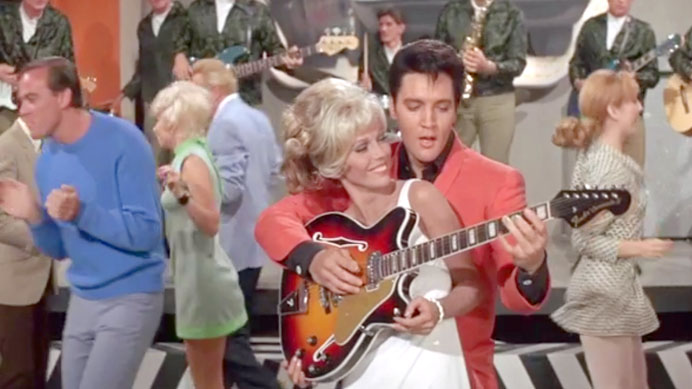 Speedway (1968) | 94 min.
Steve Grayson (Elvis Presley) is a super generous NASCAR driver who made the mistake of hiring his best friend since childhood, Kenny (Bill Bixby) as his manager. Steve's killing it on the tracks, raking in the dough and spreading the wealth around to beautiful ladies and downtrodden strangers. Kenny, on the other hand, spends his time trying to trick women into staying the night, gambling, and all around mismanaging Steve's fortunes. This comes to light of course after Steve is mysteriously called into the IRS, just after he buys an entire family a brand new car and pays for a depressive waitress' entire wedding (to which he shows up wearing white!). 
At the IRS, R.W. Hepworth (Gale Gordon) informs Steve that he owes $150,000 in back taxes and that the government is now seizing all incoming funds until he pays them back—also, that mysterious woman who's been following him around this whole time is Susan Jacks (Nancy Sinatra) an IRS agent assigned to keep tabs on Steve and his earnings. Steve is livid at Kenny and at Susan—the latter whom he's been attempting to court to no avail.  
When everything of Steve's gets repossessed, including the car for the family and the furniture bought for the waitress, Steve storms up to Susan's hotel room and pushes his way in. An entire scene in which Steve is just hardcore manhandling Susan takes place; even the people in the movie boo and hiss him as he does shit like punch through her hotel door (and hit a guy on the other side) and threaten to beat her in public. He eventually drags her into the closed hotel bar, where they kiss and sing a song. (They're in love you guys, duh.)
Meanwhile, Steve keeps trying his best to race and win so he can pay off his debts legally. Susan realizes that Steve isn't a tax-evading creep and is actually super generous and law-abiding. Kenny, the corrupter, on the other hand, somehow just gets off scot-free. The movie ends with a big NASCAR crash that causes Steve to lose his lead and wind up in third place. Susan congratulates him and tells him all his prize money is going to the government. (Hooray.)
Frustration, thy name is Elvis films. These formulaic ones always seem to have good music, a good plot, or good actors, but never all three at the same time (and rarely two out of three). Speedway is a rarity in that it has good music and fairly good actors—the bizarre, no-fun, adult-life, pay-your-taxes plot, however, is pretty joyless. Without Bill Bixby and Nancy Sinatra, this movie could have easily been one of Elvis' worst.  
Bixby kills it as the loser best friend. While most of his jokes fall flat—specifically, the uh, sexual assault ones—he otherwise has great comic timing. Plus, he has some fly ass suits. (Shout out to that powder blue slim-cut mod number, Bill.)
Nancy Sinatra is fun in a cameo way, though her acting is mostly stiff and her voice has never been thrilling (yeah, I said it). And her on-screen romance with Elvis is pretty forced—even the characters say to each other, David Wain style, "Why are we doing this?" "I don't know. I don't know" and then make out furiously. But somehow in the end I kind of liked her—I guess it was her no-nonsense attitude and her ability to initially resist Elvis' charms. (Side note: I'd really like to know how Frank Sinatra felt about having one of his old flames stolen by Elvis through G.I. Blues, and now his daughter making out with him in this one.)
Elvis is back to looking to be in fairly prime condition. He's slimmed out again, and looks well rested. His hips are swinging, and he's wearing color-pop outfits and beautifully tailored suits. The sideburns are growing back, and his hair is getting tousled again and—I'll refrain. Elvis is in prime Elvis™ mode in this one, performing in iconic outfits at crazy '60s clubs full of car-shaped tables and women dancing in cages on a zigzag stage. 
Overall, Speedway is actually a pleasant send off for the Elvis formula films. Fun in the right ways, great swinging '60s sets, good supporting cast, stupid plot, and solid music choices. Oh, and also a buncha NASCAR crashes, and a ton of old NASCAR drivers. I have no knowledge or interest in that aspect, but I can imagine it would be a fairly high selling point for people who care.
Best Song:  My favorite is "Let Yourself Go," which boasts a nutso, swinging '60s set and Elvis seducing every woman in the place with his hips—seriously, what more do you want? This is the epitome of all Elvis branded merchandise. Though, at its worst, Speedway has a song about paying your taxes, choreographed as a complete ripoff–uh, I mean homage– of/to a How To Succeed In Business Without Really Trying number.
2 1/2 out of 5 Stars,
4 out of 5 Elvises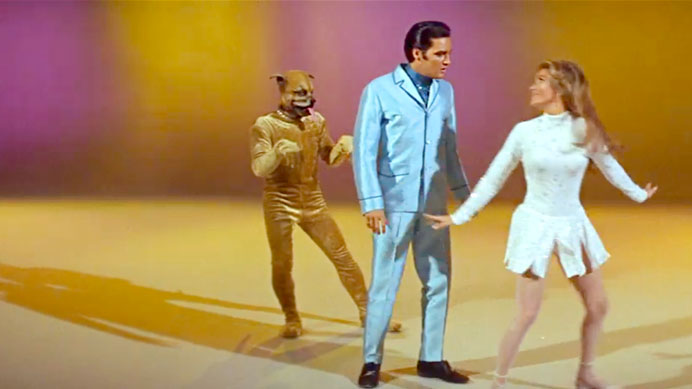 Live A Little, Love A Little (1968) | 90 min.
Boy, there's quite the stark contrast between the badassery of the Elvis comeback special, and the mediocre films that came out right before it.
Greg Nolan (Presley) is a photographer who we first meet driving a dune buggy like a complete maniac on and off road. He parks it on the beach, where a mysterious woman (Michele Carey) notices him and sends her huge great dane Albert to go investigate. She walks over to Greg, tells him her name is Alice, and asks him if he'd like to make love to her. Greg replies 'uh, no.' She sics her dog on him (a good approach) and he runs into the water to save himself.
After several hours of standing in the water, she eventually lets him get out and brings him into her beach bungalow. Incensed, shivering and feverish, he is forced to stay the night. Alice drugs him and he wakes up three days later with a really pathetic excuse for a beard. Some kid wanders into her house asking for Sally, and Greg gets confused. Meanwhile, Alice/Sally tells Greg she's married to a man named Harry Baby, who died, but can't tell him how. Greg gets fed up and leaves.
Showing up to his job at the newspaper, he gets fired immediately. A brawl ensues, and eventually he manages to get back home. He finds his home occupied by a strange woman, and his landlady says a Mrs. Baby moved all of his stuff out. Greg storms back to Mrs. Crazy's house, meets Harry (Dick Sargent) who is neither dead nor married to this woman whom he knows as Bernice. Greg ends up sleeping on her couch with no place to go and subsequently has the trippiest dream ever. He wakes up in a cold sweat—this nameless woman is nuts, and he needs to get the hell out.
He goes for two job interviews in the same building by telling the front desk that "Greg is here with the truth" (What's the truth? "The truth is I need a job") and manages to land both jobs. One is with a Playboy-knockoff office run by Mike Lansdown (Don Porter) and the other is some sort of high-end fashion office run by Mr. Penlow (Rudy Vallee! Speaking of How To Succeed…). When he comes home, Bernice has rented Greg a new swanky apartment for himself and moved all of his stuff again. He's impressed, but also a bit disturbed.
The rest of the film revolves around Greg covertly running from job to job, while trying to kind of date Bernice, but Harry keeps showing up as a third wheel. Eventually, he punches Harry in the face and tells Bernice to leave, then goes to the Playboy mansion for a party, but Bernice is there. He tries to bring a date home, but Bernice is there again. She then fakes hitting her head, scares the date away, and gets Greg to take care of her. 
His bosses find out he has two jobs, the fancy one fires him, and the Playboy one doubles his pay for his craftiness. Greg goes home and makes love to Bernice, but she runs away the next day. He finds her on the beach and she confesses her love for him. The last shot of the movie is the dog grimacing in what I can only imagine is disgust.
None of this movie made any sense. We've traded in the cliché '60s formula for formless mess, it seems. Elvis is no longer bound by his chains of the forced song every 15 minutes or his old PG-rated good-boy morals, but unfortunately, the scripts seem to have gotten dumber. The title sequence says the film was based on a novel called "Kiss My Firm But Pliant Lips", which, uh, I think says all you need to know about the quality of the writing.
I wish this had been more like Play Misty For Me—more of a real horror movie instead of the bland half-assed musical comedy it is. Bernice is definitely crazy, but they never explain why. Michele Carey could have pulled off horror too, but instead she's told to play the cutely coy and manipulative sexpot, and that's basically all she does. I was waiting for somebody to show up and say she was escaped from a mental institution— now that would have been a great plot twist. Then this could have been a movie about how just because somebody suffers from mental illness, doesn't mean they're not deserving or capable of love. Alas, they just went for the 'She's kooky! It drives men wild!' approach. Snore. Just unappealing all around.
Elvis looks like he's having fun though. The sideburns are back, he gets to drive around crazily, he's shooting on location throughout Hollywood and Malibu, and he can't seem to keep a straight face around Michele Carey. I think this is also the first time Elvis actually has implied sex on screen with one of his leading ladies, so, he's probably just thrilled to be making a movie that's geared towards adults– even if it's an incomprehensible one.
Martin Luther King Jr. was assassinated during production of this film and Elvis was reportedly devastated by the news. The superb Elvis song "If I Can Dream" was written for him, to which Elvis replied upon hearing it for the first time: "I'm never going to sing another song I don't believe in. I'm never going to make another picture I don't believe in." Fingers crossed that's true for your last three films, buddy.
Best Song: "A Little Less Conversation" is by far the best song in the entire movie, and the staging of it is terrible! How are you going to turn one of Elvis' funkiest songs into a bland stand-around-by-the-pool number?
On the other end, you have "Edge of Reality," which is just truly, truly terrible. Actually, it reminded me of that Viva Las Vegas performance, except this time, it's an actual fever-dream, complete with morphing women of different colors, and a man in a terrifying dog suit.
1 out of 5 Stars,
1 1/2 out of 5 Elvises


Back to Jenna Does Elvis #13 | Forward to Jenna Does Elvis #15