Tag Archives:
james merendino interview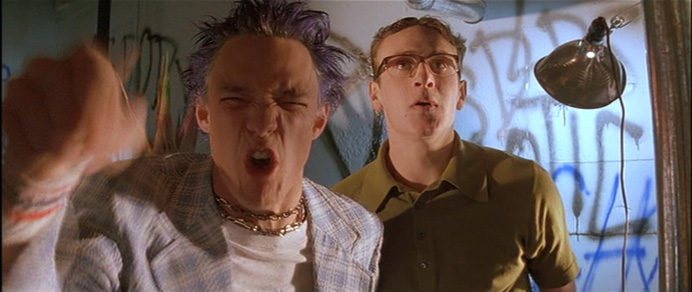 SLC Punk (1998)
Written & Directed by James Merendino
97 min.
I could never identify the groups in my high school.  We certainly had some jocks, potheads, and even a few hanger-on goths.  But punks, I don't know.  We had a kid with a mohawk; he was a fucking asshole.  And we had a bunch of kids who loved punk music—a lot of them had safety pins in their clothes and dyed hair, but they seemed to really like some band called AFI, which I always thought was the American Film Institute.  By the time I was in high school, punk music had completely soaked into the mainstream and everybody had heard of Pennywise and Bad Religion.  It was in vogue to go see Henry Rollins do his spoken word shows in Ann Arbor, and if you were really cool, you already liked Bad Brains and Minor Threat.
I didn't care about any of that stuff and I was tired of every local band sounding like Green Day.  I was like the James Duval character in SLC Punk—the social diplomat.  I could be friends with anybody.  I was too busy getting into movies and figuring out my own depression to bother committing to some specific clique.  Plus, the fashion of punk seemed so childish to me.  It's music; I don't wear it, I listen to it.  But that being said, we didn't have nazis or rednecks either.  Well, everywhere has rednecks, but our punks didn't beat them with bats.  Our punks were nice kids (except for that mohawked loser) and they got good grades and loved their parents.  They went to Michigan State University and were proud to do so.
Continue reading →
Posted in

All Posts, Greg's Interviews, Greg's Reviews
Tagged

afi, alvy singer, american film institute, annie hall, bad brains, christopher mcdonald, devon sawa, go, green day, greg deliso, henry rollins, james duval, james merendino, james merendino interview, jason segel, matthew lillard, michael a goorjian, minor threat, prozac nation, pulp fiction, rushmore, salt lake city, slc punk 2, slc punk 2 punks dead, slc punk interview, slc punk sequel, smug film, smugfilm, star wars, stevo, taxi driver, the wizard, three o'clock high, til schwieger, trainspotting, tremors
4 Comments