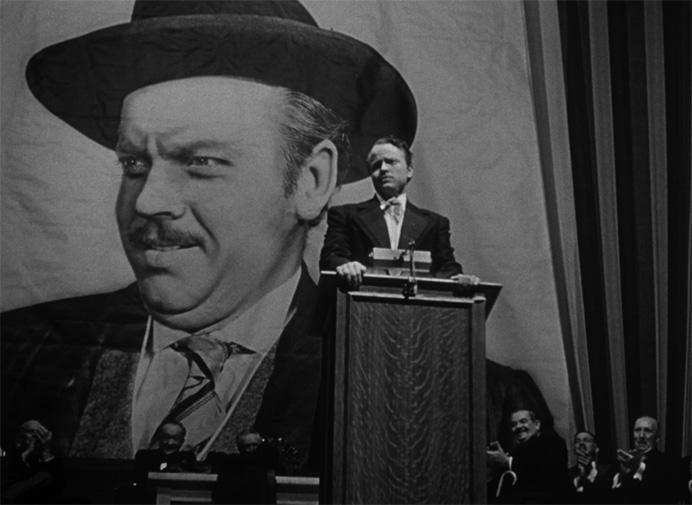 The cinematic powers-that-be tend to decree that Citizen Kane is the best movie ever made, or sometimes Raging Bull.  I don't have a problem with that appraisal.  It's fun.  Lists are fun—they expose people to cool movies they may not have heard of, and cause debates over who's the most badass horror villain from the 80s, or what the best movies for libertarians are.
However, what is annoying is that whenever these movie freemasons decide that Vertigo is the third-best movie of all time or something, it causes all the opinion-scavenging cinephiles-in-training to rant their little hearts out about how The Rules of the Game or whatever really deserves to be ranked third-best. These lists also do a good job of tricking people into thinking The Godfather is artistically superior to Back to the Future, which is ridiculous.

I like Citizen Kane and Raging Bull.  But I'm okay with admitting that they aren't great movies.  They're beautiful exercises in the tools of filmmaking, but that's about it.  I love movies, so I can appreciate the use of animal sounds and quick reverse cuts in a boxing match, and matted effects shots in fake newsreels, but the movies I think are the best movies ever made also utilize all sorts of clever tricks—and when they do, it's to move the story forward and affect you emotionally, not merely impress you with flash. That's what makes them the best, to me.
When the AFI says Citizen Kane is the best movie ever made, they're using the same criteria that the girl down the street uses when she says The Notebook is her favorite movie: they like it.  The reason the AFI likes Citizen Kane more than any other movie is because they understand all the cinematic tricks and the historical context.  The reason the girl likes The Notebook is because it uses cinematography, dialogue, story structure, performance, and a bunch of other things to effectively tug at her heart strings.  So who is 'more right'?  Neither.  How could they be, and who the fuck cares?
People separate their personal favorite from what they think is the best for absolutely no reason.  If something is your favorite, then you should think it's the best, and vice versa.  You like something because it does things better than other things.  If it didn't, you'd like those other things more.  Which is why there's no such thing as a 'guilty pleasure'—you either like something or you don't.  If you like something stupid, then you're stupid, and hiding behind the term 'guilty pleasure' just means you're smart enough to be embarrassed by your own stupidity.
Do me a favor for a second and imagine a world where the notion of 'best' does not exist, the AFI never makes a 100 Best Movies Ever Made list, and no critic gives any thumbs up or awards any stars.  What then?  Is the world of art lost, awash in a sea of unranked oblivion where nobody knows what to like?  No, because movies would still exist, and you'd still like them or not like them (and you might even be more sure about which ones you really like verses the ones you're merely supposed to like).
If we study all of the variables you could use to determine some sort of objective 'best', then Citizen Kane is actually a miserable failure.  It's only really triumphant in one category, and the weakest one at that: being thought of as the best by the most film geeks.  It didn't do the most money at the box office, it's not the most played on television or the most screened, it doesn't sit atop the IMDb Top 250 list, and it's not even in "Rick's Picks" at my local Family Video.
So why do movie geeks love it so much?  Well, frankly, because it's good.  Like I said, it's not a bad movie.  It's a technical achievement way ahead of it's time.  It was made in an era when movies were basically just bad plays put on film.  Citizen Kane said fuck all that and actually used the camera to express things.  It utilized clever staging and lens choices to express the drama that was happening on the page.  This method of filmmaking wouldn't really be put back into practice until the mid 70's, when directors influenced by Citizen Kane were coming of age, and that certainly adds to its mystique.  It's been said that although the first Velvet Underground record didn't sell that many copies, everyone who bought one started a band.  That's kinda similar to what happened with Citizen Kane.  And so, in a very pure way, with genuine love and affection, critics, filmmakers, and movie geeks like to champion it.
But let's take a movie like Tremors.  I think Tremors is better than Citizen Kane on every level (and not just because it's in color, which certainly doesn't hurt).  According to many people out there, I'm wrong for thinking that.  And they mean 'wrong' literally.  Which is insane.  They've defined themselves so zealously with a certain intellectual identity that they've lost their grip on all logic.  Deep down, they probably don't actually think Citizen Kane is the best movie ever made (aka, their favorite—in fact they probably get more enjoyment out of Tremors) but getting them to admit this is damn near impossible.
Whatever your favorite thing is, it's the best thing ever made, to you.  And that little 'to you' at the end makes you right and wrong all at once, and the entire conversation moot.  The AFI's list has an implied 'to us' after it, as do Roger Ebert and Leonard Maltin's reviews.
Ultimately, peoples criteria and understanding of the word 'good' has become completely perverted.  People think that 'good' in art denotes some kind of larger cultural context, as if the opinion of millions of faceless people out in the world have anything to do with their own taste or understanding of art.  This causes people to break movies into two categories: 'good' movies and 'entertaining' movies.
How much a movie entertains you and how good it is are exactly the same idea, though.  If the show Seinfeld is not entertaining to you, then it's not a good show, end of story.  You can admit that it is a solid technical achievement, or that it is popular, because those things have an objectivity to them.  Popularity can be measured by viewership and DVD sales, ratings, etc., and technical level (albeit somewhat subjective) can be judged by film format, composition, resolution, etc.  But goodness has no way of being measured.  The fact that all of your friends like Seinfeld can't make the jokes funny to you, and so if you call the show good, you're perverting the word; in fact, you're lying.
The classic thing people love to say is 'it's a good movie, but I couldn't watch it every day'.  Well, if it's so good, why not?  The reason isn't that it's so moving that it interrupts your entire life by plunging you into a week-long introspective journey, it's that the movie is fucking boring but you feel obligated to say it's good anyway.  The Shawshank Redemption, Forrest Gump, The Postman, these are long, deep movies, but I could watch them every day because they're good.  Good and entertaining is exactly the same thing. I hate to break it to you, but if you were so moved by a movie that you were plunged into an 'introspective journey', all that actually happened was you were entertained, very effectively, by a piece of art. (A piece of art belonging to the same form as Alvin and the Chipmunks 2: The Squeakquel.) Being moved deeply by Fellini's Satyricon doesn't make you deep, it makes you shallow for being moved by such crappy shit.  Back to the Future is one of the best movies ever made because its goodness, its entertainment value, is achieved by way of pure artistic hard work and craftsmanship.  It is a more well thought out, better conceived, better constructed, and therefore much more entertaining piece of art than The Godfather.  Entertainment and high art are exactly the same thing.
When people go to mediocre movies like Transformers and The Hangover in order to 'turn off their brains' and 'be entertained', they're presupposing that a film needs to be stupid in order to be entertaining.  But a movie being stupid is not a sign of entertainment, and more importantly, a movie being entertaining is not a sign of dumbness—in fact, it's a mark of transcendence necessary to a movie's goodness.  The best movies ever made (Ghostbusters, Back to the Future, and Indiana Jones, et al.) are entertaining and smart and smartly made, so much so that they negate the need for most other movies.  Bad art is so flashy and and homogenized that it has successfully tricked intellectuals into thinking you have to be boring and mindless in order to be smart.  Just look at Upstream Color or Blue Valentine.  How ironic is it that to be smart you have to be stupid, and vice versa?
Most movies aren't good.  This is because making a good movie is very difficult, and it should be.  Good art shouldn't be easy.  If everything was good, being good would lose all meaning and it wouldn't be special.  And at that point, you've killed art.  (And not by criticizing it, which the intellectual elite like to say 'kills art', when really they mean they're not smart enough to figure out why something is good so they don't even want to know.)
So, now that I've explained how 'best' works, I will list the ten best movies ever made, in order. I'm not going to talk about them at all because I really should write an entire essay devoted to each one, which I will do at some point:
1. Signs (2002)
2. American Movie: The Making of Northwestern (1999)
3. Back to the Future (1985) / Back to the Future: Part II (1989)
4. Raising Arizona (1987)
5. The King of Kong: A Fistful of Quarters (2007)
6. Paradise Lost: The Child Murders at Robin Hood Hills (1996) / Paradise Lost 2: Revelations (2000)
7. Field of Dreams (1989)
8. The 'Burbs (1989)
9. Raiders of the Lost Ark (1981) / The Temple of Doom (1984) / The Last Crusade (1989)
10. Small Town Ecstasy (2002)
Bonus ones:
11. Stone Reader (2002)
12. Ghostbusters (1984) 9/12/13 Edit: This wasn't originally on the list, but after much consideration, I've decided it deserves to be.
13. The Shawshank Redemption (1994)
14. Comedian (2002)
15. Tremors (1990)
16. When Harry Met Sally… (1989)
Damn, 1989 was a good fuckin' year for movies.