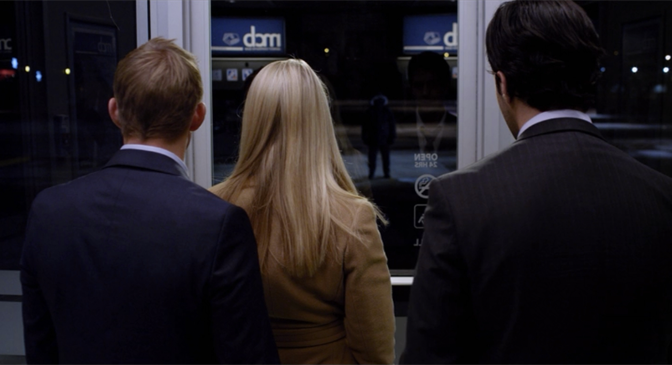 ATM (2012)
Directed by David Brooks
Written by Chris Sparling
90 min.
Warning: This review contains spoilers, but it doesn't matter, because this movie sucks.
In ATM, a guy parks his car about a hundred yards from an ATM for no reason.  I guess just to make his friend walk really far in the freezing cold.  What an asshole.  Then, a few minutes later, after a bunch of stupid devices have conveniently put all three of our main characters in a glass-enclosed ATM together, they're afraid to exit because they see a guy 25 feet away wearing a coat. I'm not kidding.  They live in New York City, yet they're afraid of a guy, I guess, because he's wearing a coat.  It literally just looks like he's waiting for them to leave so he can use the ATM.  But then, to prove their illogical suspicions were actually correct, the coat guy suddenly murders a guy walking a dog.   As it turns out, the coat guy is a weird murderer who stakes out people at ATMs.

I generally strive to deconstruct and explain what makes a movie work and what I like or don't like about it.  In the case of ATM, I have to blatantly say that it's the stupidest movie I've ever seen.  The devices used to get from point A to B (and the characters' reactions to said devices) are completely fucking illogical.
ATM falls under the genre of 'A Bunch of Dudes Stuck in a Room and They Don't Know Why'.  Examples of this genre include Devil, Saw, Cube, Exam, and Predators.  The concept is fairly cool, because movies are supposed to take us places we could never possibly be, and no human being will ever wake up in a jumpsuit in a plain white room with four other people.  But the buck stops there because it's an inherently flawed genre.
The only point to watching any of these movies is to find out the answer to a single question: Why the fuck are they in this goddamn room?  But the answer to this question is always stupid and unsatisfying (or in the case of ATM, so fucking stupid you won't even believe it) because these movies are driven by a premise rather than by character arcs.
Climaxes and resolutions are only ever satisfying when a hero truly achieves a goal.  This goal may be obvious and overblown (like Luke blowing up the death star) or internal and subtle (like Ray Kinsella reconnecting with his Dad.)  Both work because these are three-dimensional characters going through a transformation.
The characters in 'roomies' (my nickname for these stuck-in-a-room movies) are all hollow, one-dimensional archetypes.  They are impossible to care about, and spend most of the film sounding like a broken record, yelling variations of "why are we in this fucking room!?"  Their only 'transformation' is that at the beginning, they don't know why they are in the room, and at the end, they do know why.  Assuming they live to the end.
If you're in the mood to laugh at something that makes no sense and you can't believe exists, watch ATM.  And, if you can think of other terrible 'roomies', leave them in the comments.  I'd love to see them all.
0 out of 1 stars.