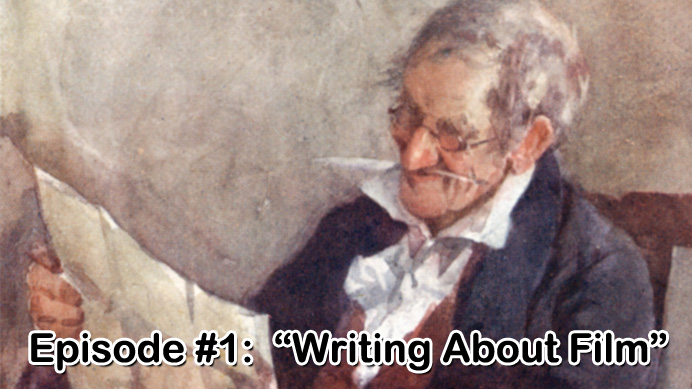 1:07:12 | View on iTunes | Download Mp3
This is the very first episode of the Smug Film podcast! On this episode, I am joined by fellow Smug Film contributors John D'Amico and Jenna Ipcar. We discuss Matt Zoller Seitz' article, Please, Critics, Write About the Filmmaking, and what we believe the duties of a film reviewer are. We also go on tangents—from Russian cinema to the ideal usage of DSLR cameras—and to close, we answer questions from our mailbag. Be sure to listen to the very end of the episode for a movie joke by comedian Anthony Kapfer!
If you have a question for the show, leave it in the comments or email us at Podcast@SmugFilm.com.
If you enjoy the podcast, be sure to subscribe on iTunes, and leave a rating and a comment on there as well. Doing this helps us immensely as far as our ranking on there, which is what allows people to be able to discover us. Word of mouth is always best of all though, so spread the word!
Movie Stuff Referenced in this Episode:

Please, Critics, Write About the Filmmaking by Matt Zoller Seitz
George Lucas on Akira Kurosawa
Film As Film: Understanding and Judging Movies by V.F. Perkins
Comedy's Greatest Era by James Agee
The New York Times' 1915 Review of Birth of a Nation
Battleship Potemkin Dir. Sergei Eisenstein
Frankenstein (Picador Books)
The Maltese Falcon (Picador Books)
Kagemusha by Akira Kurosawa
Suntory Whiskey Commercial with Kurosawa and Coppola
12 Years a Slave Dir. Steve McQueen
Hunger Dir. Steve McQueen
Shame Dir. Steve McQueen
Lincoln Dir. Steven Spielberg
Shadows of Forgotten Ancestors Dir. Sergei Parajanov
The Wolf of Wall Street Dir. Martin Scorsese
Bring It On Dir. Peyton Reed
Schooled: The Price of College Sports Dirs. Ross Finkel, Trevor Martin, Jonathan Paley
Dear Zachary Dir. Kurt Kuenne
Eraserhead Dir. David Lynch
Manos: The Hands of Fate Dir. Harold P. Warren
The Brig Dir. Jonas Mekas
Walden Dir. Jonas Mekas
Digital Filmmaking by Mike Figgis
28 Days Later Dir. Danny Boyle
The Exorcist Dir. William Friedkin
Paranormal Activity Dir. Oren Peli
Paranormal Activity 3 Dirs. Henry Joost, Ariel Schulman
Jurassic Park Dir. Steven Spielberg
Frozen Dirs. Chris Buck, Jennifer Lee
Toy Story 3 Dir. Lee Unkrich
Transformers 3 Dir. Michael Bay
Ivan's Childhood Dir. Andrei Tarkovsky
Stalker Dir. Andrei Tarkovsky
Solaris Dir. Andrei Tarkovsky
Shredder Dir. Cody Clarke
Jaws Dir. Steven Spielberg
Empire of the Sun Dir. Steven Spielberg
Some of the above links go to Amazon, and if, after you click the link there, you purchase something, anything, we receive a monetary kickback from them, at no extra cost to you. This is a great and very simple way to support the show, and our entire site.

This episode is sponsored by Kurochka Clothing, makers of t-shirts, tote bags, and other cool things inspired by Russian and Ukrainian culture—pre-Putin, of course! They're also currently working on a cookbook that will be filled with Russian recipes, food-related history, literature, and beautiful illustrations. Check out their stuff at KurochkaClothing.com, or Facebook.com/KurochkaClothing.
If you would like to sponsor an episode of our podcast, you can do so for just ten dollars. What a sponsorship means is that, at the beginning of one of our episodes, we will plug your product, blog, website, movie, or literally anything you want (so long as it's legal). We will also plug it on the episode's blog post, much like I did directly above this paragraph. If interested, drop me a line at Cody@SmugFilm.com.