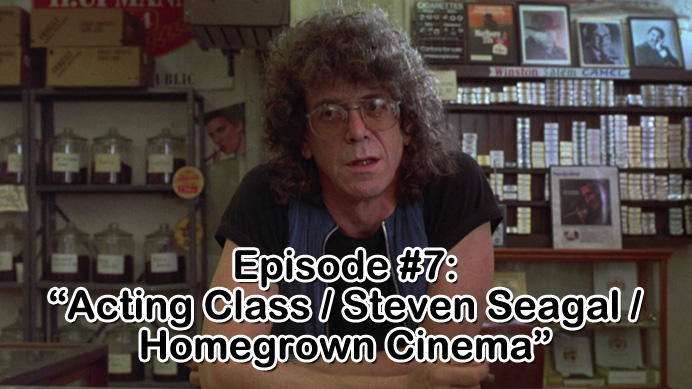 1:22:58 | View on iTunes | Download Mp3
On this episode, I am joined by fellow Smug Film contributors John D'Amico and Jenna Ipcar. We discuss an acting class John took, Jenna's foray into the films of Steven Seagal, and for our main topic, we tackle the idea of homegrown cinema. As always, we go on tangents along the way, take a quick break for a movie joke by comedian Anthony Kapfer, and then close the show with questions from our mailbag.
If you have a movie-related question you'd like answered on the show, leave it in the comments or email us at Podcast@SmugFilm.com.
If you enjoy the podcast, be sure to subscribe on iTunes, and leave a rating and a comment on there as well. Doing this helps us immensely as far as our ranking on there, which is what allows people to be able to discover us. Word of mouth is always best of all though, so spread the word!
Movie Stuff Referenced in this Episode:

Interview with Joan Darling by John D'Amico
M*A*S*H
Mary Tyler Moore
Above The Law
Fire Down Below
Cobra
House of Games
Rocky
Terminator
The Road Warrior
Lethal Weapon
Die Hard
The Dark Knight
Drive
Speed
The Matrix
The One
Blade
Hard to Kill
Out for Justice
On Deadly Ground
Nebraska
White Lightning
Gator
Smokey and the Bandit
Let's Dump Water On A Dead Pig With Maggots
Deliverance
Louisiana Story
2000 Maniacs
Spider Baby
Yellowneck
Spring Breakers
Adaptation
Little Fugitive
The Savage Eye
Shame
Dog Day Afternoon
Blue in the Face
Highball
Smoke
Clerks
The Wanderers
The Warriors
Next Stop Greenwich Village
Inside Llewyn Davis
The Avengers
Law and Order
Ugly Betty
Master and Commander
Green Screen Examples: Ugly Betty, et al.
Louie
Seinfeld
Do the Right Thing
Street Scene
Red Hook Summer
My Winnipeg
Saturday Night Fever
Buffalo '66
Last Night at the Alamo
The Whole Shooting Match
Wake in Fright
First Blood
Baghdad Cafe
Twin Peaks
Homicide
Naked City (TV Series)
Beautiful Girls
Pete and Pete
The We and the I
Kids
Block Party
Be Kind Rewind
The Toxic Avenger
Annie Hall
The Squid and the Whale
Mr. Jealousy
Frances Ha
Goodfellas
Sopranos
Serpico
Taking of Pelham 1 2 3
Taking of Pelham 1 2 3 (Remake)
Black Swan
The Cruise
The Manchurian Candidate
The Man with the Golden Arm
Suddenly
Resident Evil
Justified
Mad Men
Deep Blue Sea
30 Rock
Breaking Bad
Bored to Death
The Greatest
30 for 30: Muhammed and Larry
Excessive Force
Vampires
The Karate Kid: Part III
Wild at Heart

This episode is sponsored by Kurochka Clothing, makers of t-shirts, tote bags, and other cool things inspired by Russian and Ukrainian culture—pre-Putin, of course! They're also currently working on a cookbook that will be filled with Russian recipes, food-related history, literature, and beautiful illustrations. Check out their stuff at KurochkaClothing.com, or Facebook.com/KurochkaClothing.
If you would like to sponsor an episode of our podcast, you can do so for just ten dollars. What a sponsorship means is that, at the beginning of one of our episodes, we will plug your product, blog, website, movie, or literally anything you want (so long as it's legal). We will also plug it on the episode's blog post, much like I did directly above this paragraph. If interested, drop me a line at Cody@SmugFilm.com.