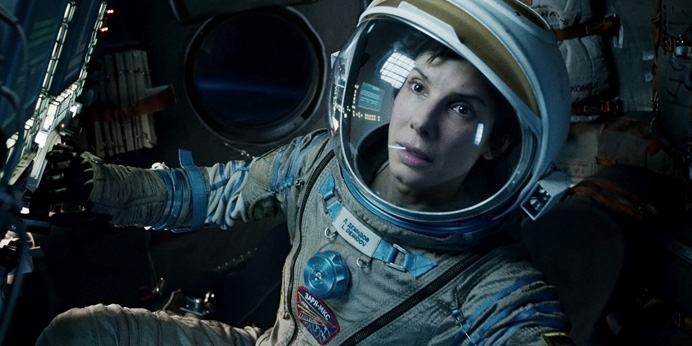 Gravity (2013)
Directed by Alfonso Cuarón
Written by Alfonso Cuarón & Jonás Cuarón
90 min.
Mild spoilers ahead.
Wow. I guess the moon really is made out of cheese.
That was my immediate thought at the end of this movie, as a sea of applause erupted in the theater, or more accurately, an archipelago of applause. In its sparseness, I knew that I was not the only one who felt this way, which was a relief, because after the damn-near unanimous praise this thing had been receiving as of late, I fully expected the hive mind crowd to suddenly and collectively smell my distaste and crawl over the seats, and each other, to come rip me apart limb from limb. Instead, I merely had to endure the requisite long line to exit the theater, and then the long line down the countless escalators leading back to Earth, during which everyone seemed unusually quiet, stuck in their own minds, trying to process their feelings. Not in the way that occurs after a Haneke film or something; this was different. It seemed as though many, including myself, were wondering if they'd seen the same movie that the professional critics and faceless fanboys online had seen.

For the record, I watched this movie in allegedly the best possible way: 'An IMAX 3D Experience'. I had a great seat, my glasses were on my head properly, and I didn't fall asleep or get up once. Ideal viewing conditions. And I didn't go into the theater with a chip on my shoulder either. Did I expect it to fully live up to its hype? Of course not. That's a pretty rare thing for a movie to be able to do. But at the very least, I expected a pretty good movie that would dazzle me here and there. I didn't get that. What I got was a distractingly flawed movie that I don't care to ever see again.
The most blatant of its bothersome aspects is that it's in 3D, which cheapens the whole experience. Although 3D technology has progressed in leaps and bounds since I was a kid, it's still a junky, clunky ride. As such, it's suitable for films that are aware of this. The sillier the entertainment, the easier and more fun it is to just roll with the silly glasses and silly visual tricks. I had a much better time at The Final Destination 3D than Avatar 3D, because the former knew its shit stank and embraced it, whereas the latter seemed in denial.
The big reason why 3D is crappy is that it produces a diorama-like effect, where elements in the 'foreground' appear paper thin and flat. Ironically, a lot of the visual effects in 2001: A Space Odyssey were accomplished in a way similar to this, with flat still images on cels placed over other images, yet you'd never know it unless you really looked closely—whereas nowadays, film effects aren't done that way, yet because of 3D technology, they look as though they are, or rather, how one would imagine effects done utilizing that method might look. So stupid.
Gravity is, I think, supposed to be a suspenseful, visceral film. But how am I supposed to take this ride seriously with ridiculous shit like a 3D CGI tear drifting towards me? That's the kinda thing that would be a gag in a Stephen Chow film, but here, it's supposed to be a touching moment. Give me a break. If you really wanna touch me ( ;-* xoxo Cody@SmugFilm.com <3 <3 <3 ) for one thing, have it be 2D, and two, have it be something not everyone catches immediately—don't have it be the only thing in focus or whatever. Just have it happen, and then a few seconds later people will notice it on their own and be all 'what's that floating thing? oh shit that's a tear!' It'd be a perfect little organic moment. 3D ruins moments like these by insisting you notice these things immediately, and notice them for a long ass time, since it's the only element in the 'foreground' and the glasses are forcing you to look at it for as long as it's chillin there.
But enough about 3D. There are plenty of other reasons to dislike this movie. For instance, how misogynistic it is. Before you roll your eyes at me, hear me out. I damn near never call a movie misogynistic. I hate armchair critics who basically lump art into two categories: feminist or misogynistic. But I really don't know what other word to use to describe this movie other than 'misogynistic'. Have I said misogynistic enough in this paragraph? Misogynistic! There, that was one more. Dammit, now I want miso soup.
Here are the reasons why this movie is [that word I just used to death in the last paragraph]. First off, Sandra Bullock's character shouldn't be in space, period. She's unqualified, unprofessional, emotionally unstable, and apparently, even has some domestic problems back home on our planet. All of this stuff would come up in a standard background check and lead to her not being hired for such a high stress job, yet, for some unknown reason, they did hire her. And now that she's got the job, let's stone her for her sins of being a distracted, unqualified woman with a traumatic past! She basically gets pelted by bits of space crap the whole damn movie—at least, when she isn't being tentacle-raped by loose cables and shit. I'm not making this up. There's a part where they twist around her loins and shit as she writhes or whatever. Credit where credit is due, Gravity; you've created a new genre—Space Rape. I'm hyperbolizing of course, but not that much. See the movie. I could totally see Trey Parker and Matt Stone having the same reaction I did, and doing a South Park episode addressing this aspect satirically.
When our female protagonist is not being used as a rag doll by a perverted, malevolent solar system, she's scantily clad, reading manuals she can't make sense of, pressing random buttons, or just giving up and crying and waiting for a deus ex machina. This movie has a pretty nihilistic-melodramatic view of life, with no real heroism, just people overcoming or not overcoming difficulties completely due to random chance. You classically see this a lot in made-for-TV movies, but it has also pervaded gritty indies for the past decade or more. This, pretty much as a rule, makes for annoying, one-dimensional acting.
In contrast to Bullock's Lifetime-esque characterization and performance, George Clooney seems straight out of Team America here—brash and headstrong and smarmy as the day is long, almost to the point of self parody. In his scenes with Bullock, she is basically the Straight Man for him to bounce off of, but there's nothing endearing to the pairing. The chemistry is totally off, almost as though two characters from completely different movie universes crossed over and came together randomly. There's no wisdom they can give each other that would be beneficial or even be applicable to their respective universes, which makes their arc together pretty useless.
I'm probably a dick for caring about that kinda stuff though, because 'it's not about the plot, man, it's about the visuals!' I will concede that visuals on display here are undeniably impressive on a technical level, and that the one thing I thought would definitely bug me, the superimposed heads, actually didn't bug me one bit and looked pretty much fine (at least in theaters; it could be grating at home). But as great as a lot of the visuals may be, I didn't enjoy the flow of them. I'm a stickler for visual storytelling, i.e., the use of images, and the juxtaposition of them, to tell a story. There isn't really much of that going on here, or at least, much of it going on in a way that is up my alley. This is a purely aesthetic, subjective thing though; others might feel absorbed by the swirling, frenetic camera moves. Different strokes, different folks. That said, I do think that if I had seeing this in an Omnimax theater in 2D, the image filling the entire domed screen, I probably would've adored the visuals.
I don't understand why people haven't been taking issue with the audio, though. The very first thing they tell you in this movie, on a title card, is that there's no sound in space. Well, there may not be any sound in space, but there sure is a hell of a lot of score. You'd swear the cosmos has its own philharmonic orchestra. If you're gonna spend time warning people right as this movie starts that it's going to sound a bit differently than most space movies but just bear with it, why go the score-heavy route? It's just confusing. And unnecessary, too. Nobody who liked this movie would've given it shit for not having a score. In fact, they would've appreciated the 100% commitment to realistic sound. As it stands currently, its feet are in two opposing schools of sound design, and both legs are wobbly.
Alright, that's about all I feel like talking about. There's more stuff that bugged me about it, but I'm exhausted just thinking back to watching it. Movies I can't stand have that effect on me; I almost don't even want to write about them, because in order to do so I have to relive the frustration somewhat. For some people, writing about a movie they didn't like is fun, because it's an excuse to get to dis a thing. For me, it's draining.
Next week, I'll go back to talking about movies I think are dope.
2 out of 5 Codys.