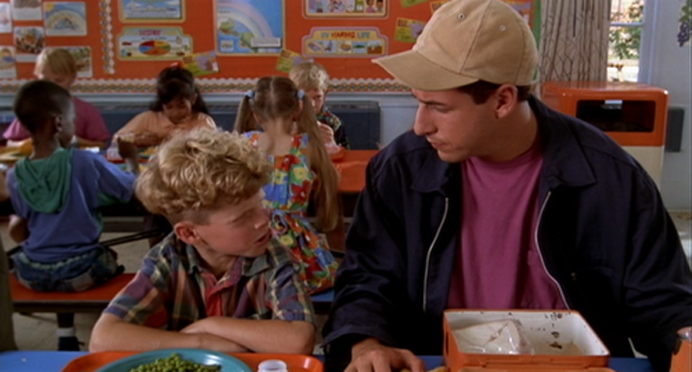 John,
I've been interested in movies for as long as I can remember.  The story I tell is that Jurassic Park started it all.  It certainly didn't hurt, but movies had definitely been on my mind for way longer than that.  And my parents and grandparents were both movie buffs, so when the AFI released their ill-conceived 100 Best Movies of the First 100 Years of Movies, it was the talk of our family for an entire Thanksgiving dinner.  I was ten or twelve at the time.  By the time I was fifteen, I had seen 92 of the movies listed.

There's no such thing as a good movie or a bad movie.  There are only movies.  'Good' and 'bad', 'best' and 'worst', are just subjective values imposed by people.  Because of this, adding 'to me' at the end of every sentence about what you think of a movie is wholly unnecessary.  'Raging Bull is a bad movie to me'.  See what I mean?  It's redundant, because 'Raging Bull is a bad movie' is already an opinion. It's not an argument, fact, or really anything of any importance.  It's just a thought and a feeling, written down.
When I was in my teens, I was put upon, and felt disconnected from the social scene in my junior high school.  My response was to start reading Stanley Kubrick and Martin Scorsese books.  For a certain sect of nerds, intellectualism becomes a form of armor against a world that doesn't understand them.  I lived this for at least five years.  I know exactly how it feels to beat my intellectual chest and prove how much better I am than everyone else by being 'more aware'.  'You guys might have girlfriends, but have you seen A Clockwork Orange!?'
But truly liking something has nothing to do with what anybody else ever said about it, from your best friend to Roger Ebert.  I love Signs.  It's the best movie ever made.  I say it that way, instead of saying it's my favorite movie of all time, because it is the best movie ever made, and it wouldn't be my favorite if it wasn't.  The point here is that me saying Signs is the best movie ever made has exactly as much value as anyone saying Citizen Kane or Raging Bull is.  There is literally no difference.  Citizen Kane's goodness has not been measured in a lab; it has been agreed upon by a very small portion of a population.  I'm tickled that Roger Ebert likes Signs.  I'm tickled when anybody likes Signs (I'll jump at any opportunity to be able to say "he has more strike outs than any two players" and have people know what I'm talking about).  But ultimately, their opinion of it means nothing to me.  It doesn't make me like Signs any more or less.
Speaking in absolutes about movies (or art in general) is not only okay, it should be expected.  Not speaking in absolutes makes no sense.  Roger Ebert never says, 'to me, I think Martin Scorsese is one of the best living filmmakers.'  If he did, he'd be boring.  He states his opinion as fact because it's so painfully obvious that it is only a mere opinion.  That's all it ever could be.
My favorite movies are all the best movies ever made.  What does the historical relevance of Hitchcock have to do with how good or bad his movies are?  The answer is nothing.  Psycho is a decent movie.  It's not better than Tremors in any way, regardless of its influence, legacy, etcetera.  I could get into the myriad technical and aesthetic reasons why Tremors is better than Psycho, but it's not important.  It's not the point.
The point is that if your favorite movies are not the movies you consider to be the best movies ever made, then I don't understand you at all.  What reason would anybody ever have to like something based on what other people think, its historical relevance, or really any other reason than just fucking liking it?
If someone really thinks Citizen Kane and Casablanca are the best movies ever made, that's great! I'm excited to hear about it.  But it doesn't make me like them any more or less. The fact that any of this needs to be explained is a little comical to me.  But apparently, when you say 'I don't like movies from the twenties and thirties' people are like 'whoa whoa wait wait, you must not like movies!  What about Buster Keaton, he's a genius, blah blah blah'.  Well, okay, but what's your point?  I've seen it, I get it, some of it's kinda neat, but it's not as good as Clueless.  For many obvious reasons.
People often get confused about entertainment and art.  Art is entertainment.  It's only entertainment.  Art does not cure cancer or pay your phone bill. It moves you to laughter and tears.  It inspires, evokes and touches.  It's a beautiful thing. But it's entertainment.  Many things can be entertaining: a clever joke, a well-written line, a color, a camera movement, etcetera, into infinity.  What I find entertaining is well-constructed art that effects me deeply.  Wet Hot American Summer does that a lot better than The Godfather.  The reason being that Wet Hot American Summer is way more artistically advanced.  Adding the politically correct caveat of "to me" would be boring and unnecessary.  Of course it's my opinion. how could it not be? It's not an argument.  It's not an argument because it would be a fool's venture to try to convince you to like Wet Hot American Summer.  You liking it is your decision.  And that's beautiful.
My original piece was a hyperbolic, reductive essay full of jocular half-truths.  Obviously.  How anyone missed that is beyond me.  As someone who loves movies, I certainly love all movies from any era.  I even love that kooky movie Empire.  You filmed the Empire State Building for nine hours? I'm down!
I have seen thousands and thousands of movies, and I like about 100 of them.  I love about 50 of those, and about 25 are beyond sacred.  The rest are just kind of okay.  Movies aren't that good.  And as a movie lover, that's interesting to me.  My vision of a great movie is extremely narrow.  Not because I'm bitter, cynical, jaded, or closed-minded, but because I have a very specific idea of what a movie 'is'.  And it's an important idea to me.  It's an idea that I study and deconstruct every time I watch a movie, and especially every time I turn a movie off after five minutes.
My narrow idea of what a movie is was born out of my obsessive movie watching (movies from every era, genre, and country).  Because, again, the more movies you watch the worse they get and the more spectacular a diamond in the rough becomes.  Entire decades become trivial when the styles of the time run together.  Michael Bay is no different than the action directors that preceded him.  Deconstructing each one individually would certainly be an interesting and fun endeavor, but doing it in one essay would be nearly impossible.  Especially if that's not what the essay is about.  Some of you out there basically admitted 'I saw that you insulted Raging Bull and I knew nothing else you said mattered'.  I appreciate you telling everyone that you're simply biased.  It's a strange bias, sure, but it's a lot more concise than a bunch of nonsense about me being angry or stupid for not liking some movie from the 40's.
John, here's the first paragraph from your rebuttal:
There's a film writer I like named Marya Gates who once tackled the idea that "old movies" aren't worthwhile. In a short video overview of film history from inception to the present day, she concluded that "if you don't love all of it, I don't understand how you can watch any of it."
My question to you is, when, in The Idea of What a Movie Is, did I ever say I don't love all of it?  All I said was that I don't like most of it.  Because most of it sucks. But I love movies, and I love the ever-changing idea, throughout history, of what a movie is.  And the goal of my essay was to discuss that.  You and your cohorts appear to have overlooked the entire point, and meat, of my essay, simply because you were offended that someone could have the audacity to not like something that you all have deemed important.
There's not much to comment on in your rebuttal.  It's mostly just a bunch of "I like old movies, that makes me cooler!" and "You MUST be a stupid and/or angry because you don't like old movies!".  It's such a nonsensical stance that I can't really speak on it.
But to answer your question: Why do I write about movies?  I suspect I write about them for the same reason anyone does. I like them.  I like the idea of them.  Why do you?
– Greg
P.S. Donkey Kong IS the best game ever made. You Suck!
P.P.S.  To bring things all back to the first paragraph, the following is a correction to the AFI list of best movies ever made.  I'm only listing twelve (not counting sequels) because there's only about 50 worthy of listing anyway.  These are the most artistically advanced movies ever made.  They are better than The Godfather, Casablanca, Citizen Kane, Raging Bull and every movie made before 1975.
Signs
American Movie
Raising Arizona
Back to the Future (1, 2)
Paradise Lost (1, 2)
The King of Kong
Field of Dreams
The 'Burbs
Indiana Jones (1, 2, 3)
Comedian
Tremors
Ghostbusters