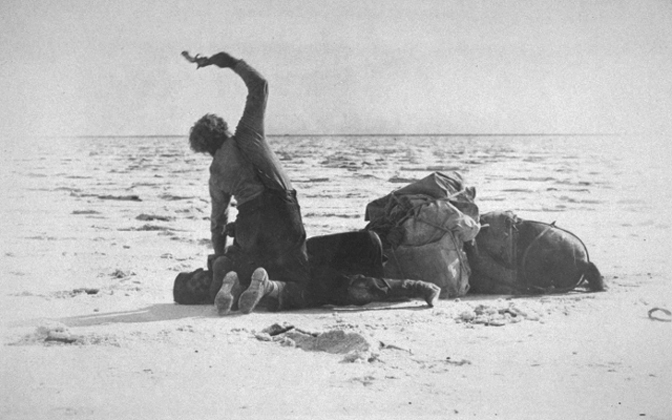 Greed (1924) | Directed by Erich von Stroheim
Greg,
There's a film writer I like named Marya Gates who once tackled the idea that "old movies" aren't worthwhile. In a short video overview of film history from inception to the present day, she concluded that "if you don't love all of it, I don't understand how you can watch any of it."
This, to me, is the only valid way of viewing movies. Dismissive negativity is the cheapest commodity in the world and the culture of holding yourself in smug superiority over what you're viewing seems only to grow in the echo chamber of the internet, full as it is of teenagers and self-proclaimed cynics who cling to their assumptions and prejudices as an essential and valuable part of themselves, not recognizing that those qualities are our greatest failings. So, I'm baffled by your piece The Idea of What a Movie Is.

Its whole argument smacks of a basic unfamiliarity with film. For example, the idea of older films as "melodramatic overacting filmed in front of a flimsy set," a common complaint from those whose only interaction with classic cinema is parody, a complaint which displays an ignorance of naturalistic acting in films like A Woman of Paris, A Streetcar Named Desire, Marty, and Who's Afraid of Virginia Woolf, as well as an ignorance of the absolute glut of pre-New Hollywood location-shot films like Greed, Fort Apache, Speedy, Cairo Station, The Lineup, or even literally thousands of low-budget movies like Carnival of Souls. This is frankly shocking and inexcusable obliviousness and/or callowness from someone who is presenting himself as an educated film viewer. This is basic, basic, basic, day-one minute-one stuff.
But beyond that, your argument falls apart on a structural level; the very core of it is basically capricious. "12 Angry Men is an exception" to your 1975 line in the sand because… why? It is a great film, for sure, but it's hardly a singular one. What sets it apart from the television play version of the same story, or Hitchcock's 1930 Murder!, which has a very similar courtroom sequence? Or Compulsion, or Anatomy of a Murder, or any of the dozens of similarly shot, similarly acted, similarly written, similarly edited films from the same era? What of director Sidney Lumet's other work? Does The Hill (shot on location in 1965, by the way) not count because he just suddenly lost his knack? Or how about The Grapes of Wrath and The Ox-Bow Incident in which Henry Fonda plays very similar roles? Or the dozens of other films Lee J. Cobb performed his slouching naturalist New York School acting in, which is a concept that, to you, apparently didn't exist before the 1970s—one of these Lee J. Cobb films being 1960's Exodus, which also starred Paul Newman and Sal Mineo, two of the masters of modern acting.
And what is wrong with melodrama? Why are you so childishly afraid of something being unrealistic? Do the heavy shadows in Rick's cafe in Casablanca destroy you on some level, and if so, what about the hard formalism of your beloved Signs which is fundamentally structured in replica of Hitchcock's Vertigo-era style? It is ridiculous to me that someone can love Signs but scowl at the thousands of films Signs designed itself to be like.
Your argument makes no sense on any level. It's arbitrary and has no concept of the history it's dismissing. You've also said earlier that you shut off any film that doesn't immediately impress you. It seems to me that you approach films from a place of anger, as a person who doesn't enjoy or empathize with them in any way. There's nothing inherently wrong with not liking movies, I guess, but my question is: why do you write about them? Why do you spend your hours theorizing about a medium that you have nothing but competitive ('impress me in five minutes or I shut you off') contempt for? There are plenty of other ways to spend your time. Like Marya said: "if you don't love all of it, I don't understand how you can watch any of it." I also don't understand, then, why you want to write about any of it.
Marya starts her tour of film history with the Lumière Brothers's legendary Arrival of a Train at a Station. This is that film everyone's seen in every documentary about movies, the French short in which a old-time steam locomotive pulls up to the camera. Everybody knows the story about how when this film was first screened, audiences ducked out of the way of the oncoming train. This is generally called "the first movie ever made," even though that's not true—it wasn't released until 1896 when in fact filmmaking began in 1890.
But we remember this train movie very vividly, and it's appropriate that we think of it as the birth of movies, because it's a perfect metaphor for the potential of filmmaking—it crashes through barriers and seems for a half an instant to enter our world. The Lumière Brothers, for the first time in the entire history of the human species, got a visceral sensory reaction from the replaying of a moment lost to time.
That's the core of motion pictures, and it's something we're so accustomed to that it's worth considering again: Filmmakers demolish time and rebuild it in their own image.
Filmmakers demolish time and rebuild it in their own image.
Filmmakers demolish time and rebuild it in their own image.
Old films are not "boring"—you are. Film is a communication medium like the telephone and the letter, and so every film, even the bad ones—hell, especially the bad ones—is a message across time and space. Each and every second of film is an instance of time and space put in an aquarium and preserved to play out over and over again for as long as we do the upkeep to keep the footage alive (support your local film preservationists). Every last movie represents a victory against the muting of time. As long as we preserve our films, we will always know more about the world from 1890 on than we can ever know about the entire steppe of human time before that year.
This is a magical, amazing, impossible, fantastic, wonderful, beautiful, dizzying, brilliant thing. Faulkner often wrote with heartbreak about the inflexibility of time—movies are the one realm in which we have claimed a victory against time. We can replay, reverse, speed up, slow down, cut down, loop, and even eliminate time entirely. When you put on a film from, say, 1941, you have destroyed 72 years. You have destroyed age, and you have for a brief moment, destroyed death.
For this reason, the lion's share of films only get better as they age, and they become both a meditation on the world and an invitation to a world utterly inaccessible otherwise. That's an extraordinary experience. It's something that has happened once, arguably twice, ever—first with the written word and now, tentatively, with the internet. And you and I are lucky enough to be alive during the first gasping breaths of movies, an art only a century and change old. We are in a period in which the art of filmmaking is reshaping the very way we interact with and understand the world we live in. I don't believe in ghosts, but I believe that in 1890 we invented ghosts. And I believe that this is one of the most amazing things to ever happen in all of humankind. And I believe that I'm impossibly lucky to be around to witness it. I feel sorry for you for not experiencing that as well.
John D'Amico writes about film regularly at Shot Context.