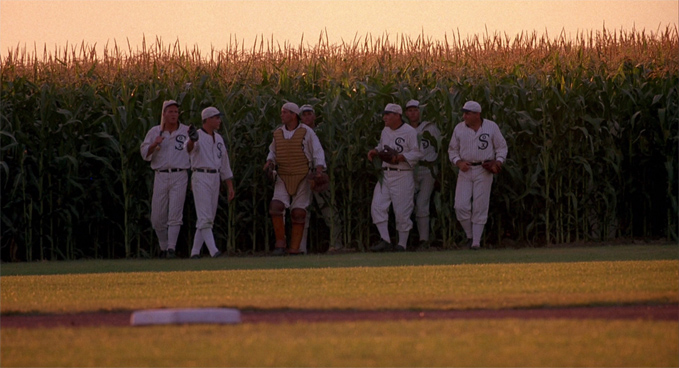 A movie.
Just a Bunch of Footage
Security camera footage is not a movie, but screened at a film festival with a name like 'Big Brother's Kung Fu Grip' (or some artsy crap) it is.  Andy Warhol filming the Empire State Building for nine hours is a movie—the video the real estate agent showed you of the interior of the house on Maple is not.  It's all about context and intention.

Since art is subjective, people make up their own definitions.  Many people do not consider Andy Warhol's Empire a movie.  Since I'm a science guy, I'll say this—you can't technically say that about it, but I get the impulse.  You can't say it because art is a word with a definition and you can't just go all willy-nilly and make up your own.  However, what's happening when someone says 'Empire isn't a movie' is that they think it's such a bad movie that it can't even be considered a movie.  I agree with that.  So from now on, keep in mind that when I say something is "not a movie", that's what I mean.
Raging Bull is not a movie.  It's a bunch of footage of a guy walking around—mostly he's mean.  No attempt is made to explain why he's mean or why we should care about him or anyone around him.  Hence, a bunch of footage.  It's pretty footage though.  Footage with an attitude, one might say, which is why people like it.  Well, not people.  Movie geeks.  I'm one of them, so I should know (a movie geek that is, not somebody who likes Raging Bull). Raging Bull is boring, especially to the layperson who isn't concerned with pretty pictures, sound design, and editing techniques.  Being a movie geek, I love that junk, but it doesn't make it a good movie.
Field of Dreams is a movie.  The difference being, Raging Bull is celebrated merely for being 'beautifully photographed' whereas Field of Dreams is celebrated for making Dads cry.  If you went outside, closed your eyes, and randomly snapped one hundred pictures, you'd end up with a couple pretty pictures, but you wouldn't make your Dad cry (I hope).  The irony here is that Field of Dreams also has pretty pictures and great sound design and editing.  It's just that in Field of Dreams, those things add up to a singular idea that makes you cry—not sit there, ambivalent.  A movie is the result, not the ingredients.
Field of Dreams is advanced filmmaking. It uses the tools of cinema to express rather than impress.  And that's what separates the big boys from the adolescent jerk offs that make 'stylistic' movies.
It's all relative though.  Some of the people who love Raging Bull, those who force themselves to think it has a story (a series of hollow, dramatic moments is not a story) probably don't consider Field of Dreams to be a 'movie', because they have a black heart, and believe it to be Hollywood fluff (or whatever generic, cliché criticism an intellectual makes).
There are some movies that are supposed to be just a bunch of footage.  For example, Microcosmos, Genesis, the Qatsi trilogy, Baraka, Cody's film Rehearsals, and the aforementioned Empire.  Some are good, like Microcosmos, and some are crappy, like Empire.  It gets boring for me when the 'footage' technique is applied to what is supposedly a narrative.  Is Raging Bull supposed to be a story or an atmospheric exploration?  Well, I don't know, because it doesn't do either convincingly.  Since it has events happening in an order—chronologically, that is—we're lead to believe it's a story.  But those events happen without purpose or meaning, and are instead just artfully executed.  The layperson snores, the movie geek applauds, and I say pick one method and go with it.
But I guess it all just depends on what your idea of a movie is.
The First Movie
The notion of 'what a movie is' is not static.  When movies started, they were literal.  Which is why I love the word movie—because it's so stupid.  A movie is literally a picture that moves.  "Movie" is what people in the 1900's thought sounded neat, because they had no brains.  In the first few years of movies, the idea of what a movie is was a shot of a guy sneezing or a train coming into a station.  Then some genius figured out that it might be a good idea to shoot something that made you want to keep watching—you know, like a story. They say that guy was Thomas Edison.  Then another genius came along and figured out that rather than just pointing the camera at everything that was happening, you could isolate certain areas of what was happening and edit them next to other things. They say that guy was a racist named W.D. Griffith.  Then it took about 70 years for movies to really become what we understand them to be today.
In the "golden age" of movies (according to Wikipedia it's between 1917 and 1960, but I've always thought it to be considered around 1935-1955, namely 1939) the idea of what a movie is was melodramatic overacting filmed in front of a flimsy set—basically a play photographed.  If a scene took place outside, it looked awful.  Then, in Italy, they decided to shoot those scenes outside and make them look good!  Go figure.  They call this the 'Italian Neorealist Movement'.  It helped, I guess.
But the idea of what a movie is didn't really happen until about 1975.  Jaws is sort of the first movie.  And not just because it's the first blockbuster. (We could go on and on about whether that ruined everything or whatever, but who cares.)  Jaws is sort of the first movie because it's one of the first times a movie feels like a movie, like where things are happening and you care about them and it's executed in an interesting and effective way.  The only two examples of this before 1975 are 12 Angry Men and Inherit the Wind, with Citizen Kane as an honorable mention.  Everything else before '75 pretty much sucks.
Movies like Easy Rider aren't good, but they helped.  They helped pave the way for movies like Jaws, which sounds insane but there's a whole litany of film history that plays into it that I won't bore you with now.  It's outlined in A Decade Under the Influence and Easy Riders, Raging Bulls, two books/documentaries about cocaine.
A year after Jaws came Rocky.  The first actual movie ever.  The movie that defined the idea of what a movie is.
Rocky is the first time a movie truly 100% felt like a movie.  It's a straightforward, linear story that you follow to its natural conclusion.  See, movies like All About Eve or Vertigo or whatever suck because they're boring.  They don't even try not to be.  They don't look like anybody tried at all.  And it's not just that they're dated, although that certainly doesn't help.  They do have stories (I guess) but they lack the understanding of how movies can properly execute a story.  Which is why they just look like filmed plays.
Rocky was made for five cents, and incidentally, like Jaws, that's the best thing that ever happened to it.  The limitations of Rocky make it feel real.  When Rocky is being told "up yours, creepo'' I believe he's really on the street with that girl, because he is.  This kind of realism did exist before, but it's the story part that didn't.  So ultimately, Stallone and Avildsen were kind of the first people in history with a real idea of what a movie is.
What Year Did That Come Out?
Once Rocky opened the gate, movies became movies and stayed movies until around 1999.  In 2000, everyone's brains fell out again and movies lost their chance of being good again.  Similar to the 50's, movies devolved back into static, phony-looking, glossy, melodramatic messes where actors over-emoted sappy dialogue on claustrophobic sets that all had a 'look' (which just means they were tinted green or desaturated in post to 'enhance the mood' or something.)
We're still in that era and I hope it ends soon.  David Wain is currently the only good filmmaker, although Inglourious Basterds was Tarantino's best movie, by far.  And Moneyball and Looper were both pleasant surprises.
The idea here is that decades are really genres.  You know what I mean when I say '80's movie', and you know I don't actually mean a movie that came out between 1980-1989.  Wet Hot American Summer is an 80's movie, albeit a send up of one.
Super 8 desperately wanted to be an 80's movie, and I guess it was.  It wanted to be one so hard that it couldn't even remember what genre it was supposed to be.  But an A for effort.
Try to think of movies that came out in the wrong decade. It's a fun exercise!  And try to think of movies that want to be in another decade, too.  Like the fonts Tarantino uses (a bunch of decades) or The Sitter (the 80's—fuck that piece of shit movie) or Kevin Smith's Cop Out (which strives so hard to be an 80s movie, even using Harold Faltermeyer for the score).
I'm surprised they haven't dug up Tangerine Dream with all these 80's movies coming out lately.  Although I guess Noah Baumbach did that, by using pieces of score from Three O'Clock High in his 80's period movie The Squid and the Whale—perhaps the most bizarre, visibly earnest repurposing of any score ever.
Back to the Future, an 80's movie, wanted to be timeless so bad that they tried picking the most accessible, universal song to open their movie with—which, ironically, and perhaps partly due to the popularity of that movie, is now the most dated song of all time.  But hey, you can't win em all.
The truth is though, movies aren't good.  Sometimes they accidentally are, and a lot of times it's all because of their 'era genre'.  I suspect that the Indiana Jones trilogy is good because of the limitations and popular styles of the time.  Not necessarily more so than the talent of the filmmakers, but maybe.  It's a bizarre chicken or the egg situation.  See, Spielberg and Lucas trail-blazed that era.  They famously came of age in the first generation of filmmakers to be influenced by movies rather than other art forms.  Whereas Hitchcock and John Ford grew up with literature and plays, Spielberg and Lucas grew up with Hitchcock and Ford.  And they spun straw into gold.
What you have to consider is the fact that the limitations of the time had perfectly aligned with the frontier of imagination—which spawned Indiana Jones, one of the greatest movies ever made.  However, if you look at the fourth installment, released in 2008, it becomes evident that had Lucas and Spielberg been able to do what they fully wanted to do back then, the movies would've sucked.  Either that, or they've lost their minds. I'm willing to accept either explanation.  However, remember, Jaws is good partly by accident—the shark not working, etc.  Now, the shark not working does not negate the fact that Spielberg has proved his filmmaking prowess time and again with an overload of amazing moments in Jaws and his other movies. So, it's not as simple as whoops, the shark doesn't work, oh hey, it's good now.  But you see what I'm driving at.
The relative goodness of a movie is often mired by what was popular at the time.  Had Ghostbusters been made today, it would have been full of constant references to dildos and asshats or something, and it would be all glossy and fake looking.  And the scary moments wouldn't be effective.
The best example of this is the Terminator series.  Each installment feels exactly like the era it was released, and each one suffers or succeeds relative to its era.
Terminator (1984)  A fresh, foreboding thriller with well-defined characters.  Its superficial trappings reek of the 80's so obviously that I won't bore you with the minute details, but basically, the score, the sex scene, the lightning effects, the way the cops act, etc.  It's a little boring and outlandish, but its style is compelling and it's clearly trying to create an interesting world.
Terminator 2: Judgement Day (1991)  The superficial trappings spell 90's all the way—the obligatory use of Bad to the Bone, the cool factor added to Schwarzenegger, the haircut on Edward Furlong, the practical, clean blue light in the night scenes. And the story and it's structure feel very 90's: we've come further than the 80's, there's a little more pizzazz, way more spectacle to the action, and everything is a little less boring because of it.  The action is heightened but not yet masturbatory.  It feels cool and necessary somehow, because the obligatory action beats are filmed in such a way that they keeps you invested.
Terminator 3: Rise of the Machines (2003)  Completely forgettable.  Um, it has a hot girl and a truck chase.  That's about it.  I don't even want to talk about it.
Terminator: Salvation (2009)  Here's where the era thing becomes most apparent.  This movie blows because of its era.  The entire thing is tinted some glossy, desaturated, pukey-grey color.  The reason is that the movie is about a stark future where humans live in a desolate desert of their own creation, constantly at war with machines.  All very 1984, Devo, minus the fun and sardonic political satire.  The problem here is that the first two are about that too, but they didn't need to be tinted some weird color to express it—the story did that.  This time we are made to look at puke because the director wants to put us in some kind of mood, and since the writers didn't supply it, he figured tinting the screen would help.
And just as much a sign of the times is the bland, overcomplicated, low-stakes story. In the first two, the idea is simple—a badass killer is hunting our hero, and someone has been assigned to protect her.  Through this we are given all of the political and social commentary we need.  The fourth one is about a guy who's a robot but doesn't know it yet or something, and a kid who fights robots because that's what ya do in the future I guess.  Nothing really matters and the climax that they clumsily arrive at is uneventful because there doesn't appear to be any real difficulty in achieving it—'it' being whatever they were trying to do. I forget. Something to do with Skynet or something.
Auteur Theory, or, One Dude's Idea of What a Movie Is
What I like best are movies without era.  Signs and Raising Arizona are the best examples.  These movies are about universal ideas, with a clear story, artfully executed by people with a strong grasp of how movies work.  Their style is a reflection and expression of their story, rather than an alignment with the status quo.
Movies without an era often come from writer-directors.  I think this is because, by default, they're creating something original.  And also by default they're creating something for themselves.  Their idea of execution is tied to their idea of the story, with no room for misinterpretation.  It's not surprising that the Coen Brothers meticulously spends three weeks with an artist storyboarding every shot in their entire movie.  This not only saves money, it also ensures that the movie is designed to their liking.  It gives them their distinctive tone.  The study of this (a director's distinctiveness) is known as 'auteur theory'.
Auteurs can circumvent era or fall victim to it.  It's always sad to see a director succumb to the style of the time.  Look no further than Tim Burton, who's early work captured a rustic exuberance that was wholly original, but who's later work embraced the glossy nonsense of modern Hollywood.
Alternatively, a filmmaker who has been able to successfully adapt is Sam Raimi. The simple charm of Evil Dead evolved nicely into the Hollywood scope of the Spiderman trilogy.
Auteur theory is why I like the bad movies the Coen Brothers have made,  and why other people even force themselves to actually think those movies are good.  No Country For Old Men isn't good, but it's a Coen Brothers movie.  It's fun to see what's in their brain every few years, even if it's boring (try cutting out Tommy Lee Jones).  As Kevin Pollak puts it on his ever-brilliant chat show, The Kevin Pollak Chat Show, 'it's when an artist achieves the status of that his work can only be compared to the rest of his work'.
In that sense, like era being genre, directors are genres too.  Spielberg is families, Cameron is imagination, Tarantino is whatever movies he's currently obsessed with, De Palma is Hitchcock.  Similar to era, people are always trying to make movies like other people.  De Palma makes better Hitchcock movies than Hitchcock.  With Super 8, Abrams wasn't only trying to make an 80's movie, he was trying to make a Spielberg movie.  A lot of folks try to make Woody Allen movies. I don't know why, since Woody  himself barely makes any good Woody Allen movies (but when he does they sure are great).
I think ultimately a movie should be whatever it is.  That's a stupid thing to say, but what I mean is, the story will tell you what it should be.  Most movies shouldn't be what they are.  Most movies shouldn't exist in the first place.
Raging Bull probably doesn't need to exist.  The script is just fodder for Scorsese to aimlessly show how good he is at creating tone.  He is awesome,  sure.  I mean, he uses slow motion in the middle of a scene—I could go on forever about that but I'll save it for another post.
Field of Dreams existing is pretty cool.  It's about a guy who's searching for purpose in life and finds it when a magic voice tells him to build a baseball field in his corn crop.  He does so because this is a movie, and what ensues is a fun journey about not taking for granted the most important thing in life: family.  The movie itself is beautifully constructed—each shot builds upon the previous, never relying on coverage.  The visuals, sounds, music, performances, and dialogue all work together and help each other create a symbiotic rhythm that doesn't keep us in awe at the cinematography, but instead melts over us and lets us enjoy the story.  The beauty is invisible, not insisted upon us.  It's informed by the story—the one we're following, not waiting for.  This is my idea of what a movie is.  And it's what only about 92 other movies are.  The rest are just a bunch of junk.
So I guess what I'm saying is, in the summer of 1989, Phil Alden Robinson had a great idea of what a movie should be.  But it wasn't an 'idea' at all—it was a movie.