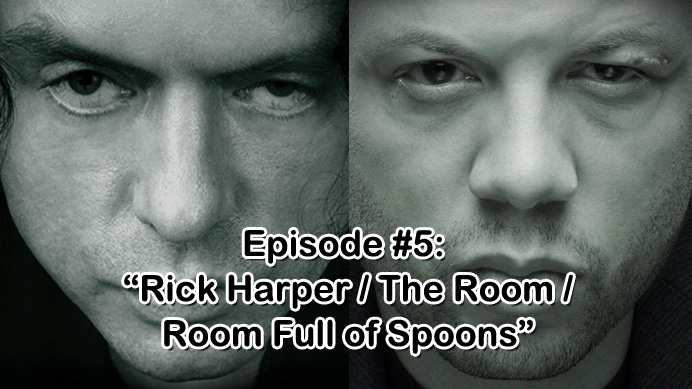 51:18 | View on iTunes | Download Mp3
On this episode, Jenna Ipcar and I are joined by Rick Harper, producer and director of the upcoming documentary on the cult film The Room, Room Full of Spoons. We discuss both films, his personal experiences with Tommy Wiseau and Greg Sestero, and answer some questions from mailbag. This episode also contains a free DVD giveaway, so be sure to listen! Five lucky listeners will each win a DVD of The Room. The instructions on how to win are in the episode.
If you have a movie-related question you'd like answered on the show, leave it in the comments or email us at Podcast@SmugFilm.com.
If you enjoy the podcast, be sure to subscribe on iTunes, and leave a rating and a comment on there as well. Doing this helps us immensely as far as our ranking on there, which is what allows people to be able to discover us. Word of mouth is always best of all though, so spread the word!
Movie Stuff Referenced in this Episode:

Birdemic: Shock and Terror
Dogville
Citizen Kane
Cleopatra
The Godfather
The Godfather: Part II
Casablanca
Goodfellas
Resident Evil
Raisin in the Sun
Samurai Cop
Troll 2
Magnolia
Eternal Sunshine of the Spotless Mind
Scott Pilgrim vs. The World
Mother, May I Sleep With Danger?
John Carter
Pacific Rim
Fast and Furious 6
Pacific Heights
Joe's Apartment
The Big Hit
Honeymoon in Vegas
The Disaster Artist by Greg Sestero
Tommy Wiseau Meets Justin Long
Some of the above links go to Amazon, and if, after you click the link there, you purchase something, anything, we receive a monetary kickback from them, at no extra cost to you. This is a great and very simple way to support the show, and our entire site.

This episode is sponsored by Kurochka Clothing, makers of t-shirts, tote bags, and other cool things inspired by Russian and Ukrainian culture—pre-Putin, of course! They're also currently working on a cookbook that will be filled with Russian recipes, food-related history, literature, and beautiful illustrations. Check out their stuff at KurochkaClothing.com, or Facebook.com/KurochkaClothing.
If you would like to sponsor an episode of our podcast, you can do so for just ten dollars. What a sponsorship means is that, at the beginning of one of our episodes, we will plug your product, blog, website, movie, or literally anything you want (so long as it's legal). We will also plug it on the episode's blog post, much like I did directly above this paragraph. If interested, drop me a line at Cody@SmugFilm.com.