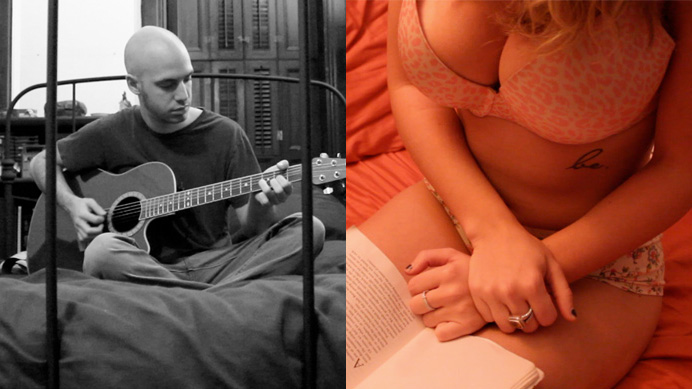 Hey everybody. It's your ol' pal Cody Clarke, editor-in-chief and weekly critic at this here Smug Film. We've built a bit of a relationship, y'all and I, over the year-and-a-month that this site's been in existence. I feel the love from you coming here and reading all our stuff, and I hope you feel the love right back from me. We've got a great thing between us, you shadowy blips on the views counter and myself. Sometimes I wish you'd participate more with comments and stuff, but s'all good—you read, you enjoy, and that's what matters most of all.
Because we don't exactly talk much—like I said, totally fine, no worries—you might not know that I'm not just a pontificator on all things film—I'm a maker of them as well. I've made two feature-length films to date—Shredder and Rehearsals. Ya boy Harry Brewis reviewed the former on here not too long ago, and ya girl Chloe Pelletier reviewed the latter. These films mean a lot to them, and mean a lot to a bunch of other people. But as of yet, they remain unseen by most.

It's hard getting your movie seen. Unless you or your work has some notoriety behind it, it's like it doesn't exist. Gone are the days of the late 80's and early 90's where making an independent film was cool and impressive. Nowadays, anyone can make them, and so saying you made a movie is like saying you drew a picture on a piece of paper with a sharpie. Don't get me wrong, the democratization of filmmaking is a wonderful thing—I'm just saying that distribution hasn't really caught up. We're missing the necessary platform for the best low-budget indie stuff to see the light of day, and because of this, it's as though the indie film revolution we're in the midst of—where people are able to shoot feature films for the cost of a DSLR—isn't even happening. A tree falling in the woods and whatnot.
Festivals have been dropping the ball on finding new and interesting talent for a while now. And so we don't know who our Jim Jarmusch, our Spike Lee, our Richard Linklater, our Kevin Smith is of this new wave—they're in their rooms, their beautiful little films on their laptops, collecting festival rejections in their inboxes. At one point, I thought Netflix might be the one to step up to the plate and be a showcase, but they've clearly veered away from that, their sights entirely set on being a TV network. It seemed like all hope was lost, but as of late, new kids on the block have arrived—small, but full of promise and purpose. It is through one of these such new kids, IndieFlix, that you can now watch my films for free, streaming in HD.
I like these guys a lot. Getting my films on there was a painless and simple process, and they were helpful every step of the way. You can tell they genuinely care about independent film, and just want to get movies out there. Their royalty system is very fair too—basically, for every minute you watch of one of my films, I make a couple cents—and if they have a particularly good month, I made more cents that month. Pretty cool.
Sign up for a completely free 30-day trial, which you cancel at any time, by clicking the box below. It takes like a minute to signup, and once you do, you can check out Shredder and Rehearsals by clicking the links underneath. Be sure to read their synopses on the site before you watch them, so you know what their basic gist is and whatnot.
Enjoy!