Tag Archives:
superman returns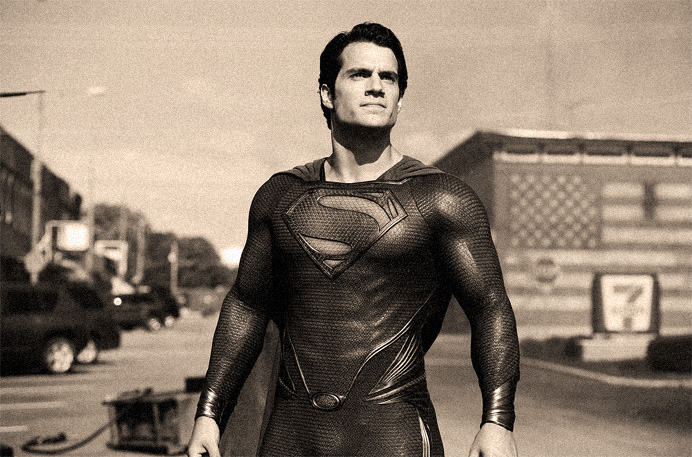 Recently, WB announced their slate of superhero movies through 2019, perpetuating this ridiculous genre for another endless cycle. A lot of very smart people have been persistent in drawing an analogy about this, saying that for its longevity and frivolity, the superhero genre is the new western. As a lover of westerns and a hater of superhero movies, I gotta step in here.
I get the facile rationale—both are 'low' genres that occupy a disproportionately large space in the cinematic marketplace; both are marketed at American adolescent boys; both are concerned with matters of good and evil solved through third act duels. But in the words of Matt Zoller Seitz: "Where's Ford and Leone?"
Posted in

All Posts, John's Essays
Tagged

a man alone, arrow, arrow tv show, bonanza, captain america 2, el cid, fury of achilles, genghis khan, gotham, gotham tv show, henry hathaway, how i met your mother, huge fregonese, hulk, james gunn, john ford, john wayne, king of kings, man with no name, matt zoller seitz, new western, ray milland, roy rogers, sergio leone, super, superhero movies, superhero movies new western, superhero western, superman, superman returns, sword & sandal, sword & sandals, sword and sandal movies, sword and sandals, the raid, to the last man, wagon train, where's ford and leone
Leave a comment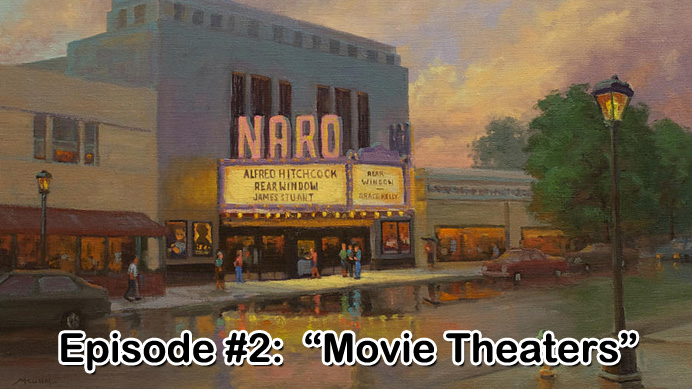 1:11:24 | View on iTunes | Download Mp3
On this episode, I am joined by fellow Smug Film contributors Jenna Ipcar and Ned Martin. We discuss all things movie theaters—from our best and worst movie theater experiences, to the best theaters we've ever been to. As always, we go on tangents along the way, take a quick break for a movie joke by comedian Anthony Kapfer, and close the show with questions from our mailbag.
If you have a question for the show, leave it in the comments or email us at Podcast@SmugFilm.com.
If you enjoy the podcast, be sure to subscribe on iTunes, and leave a rating and a comment on there as well. Doing this helps us immensely as far as our ranking on there, which is what allows people to be able to discover us. Word of mouth is always best of all though, so spread the word!
By the way, the beautiful painting above is by artist Marianne Kuhn, and it is called Naro Cinema Norfolk VA. You can see the full painting and buy prints of it at FineArtAmerica.
Movie Stuff Referenced in this Episode:
Continue reading →
Posted in

All Posts, Podcast Episodes
Tagged

adam mckay, akiva schaffer, alfred hitchcock, andrzej zulawski, anthony hemingway, anthony kapfer, batman and robin, blue velvet, bob saget, boogie nights, bryan singer, catherine hardwicke, charles herman-wurmfeld, chloe pelletier, christopher nolan, cinema podcast, classic monster shirt, classic scifi, classicscifi.com, clerks, clerks 2, cody clarke, dario argento, david gordon green, david lynch, diary of a country priest, dirty work, dog day afternoon, dr. strangelove, eric wareheim, ernest b schoedsack, film podcast, frankenstein shirt, frankenstein shirts, friday the 13th part 3, friday the 13th part iii, gary ross, george lucas, goodfellas, guillermo del toro, hard eight, harry d'abbadie d'arras, hot rod, housebroken clothing, inferno, jacques tati, jenna ipcar, jerry schatzberg, joe dante, joe dante pacific rim, joel schumacher, ken loach, kevin smith, king kong, lee tamahori, magnolia, martin scorsese, merian c. cooper, mike judge, monster shirt, monster shirts, movie joke, movie jokes, movie podcast, naked lunch, naked lunch the simpsons, ned martin, night of the living dead shirt, office space, pacific rim, pacific rim joe dante, panic in needle park, paul thomas anderson, phenomena, playtime, possession, psycho, punch drunk love, raging bull, red tails, rehearsals, rehearsals cody clarke, rick alverson, robert bresson, roland klick, run home slow, scarecrow, scifi shirts, sidney lumet, simpsons, smug film, smug film podcast, smugfilm, smugfilm podcast, snow angels, stanley kubrick, star wars, star wars: the phantom menace, steve miner, superman returns, talladega nights, ted brenner, the cat o nine tails, the comedy, the dark knight, the dark knight trilogy, the edge, the hammer, the hunger games, the phantom menace, the shining, the simpsons, the simpsons naked lunch, the wind that shakes the barley, tim & eric, tim & eric's billion dollar movie, tim and eric, tim heidecker, tony scott, top gun, twilight, ufo shirt, ufo shirts, white star, william a. wellman, wings
Leave a comment