Tag Archives:
the godfather: part ii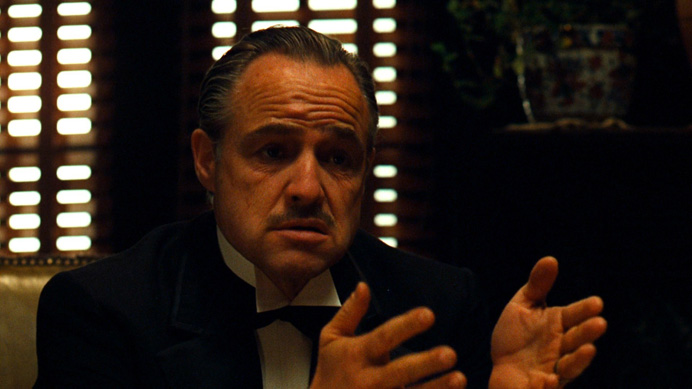 Nope, not gonna touch this one. Too easy.
It's easy to pick on classics.  In fact, by virtue of being considered 'classic', they're almost assuredly not as good as they're said to be.  Anything so beloved is automatically suspect.  This is not contrarianism; it's healthy skepticism.  In an age where most people still aren't atheists and science is constantly hindered by new age nonsense, skepticism is beyond necessary.
I figured I'd apply that maxim to culture and pick the ten most overrated classic movies ever made.  But, like I said, it's easy to pick on the big ones.  Casablanca, The Godfather, and Gone With the Wind all have their place in history, but that doesn't make them better than Back to the Future.  And they aren't.  Not artistically, and certainly not in our collective hearts.
However, here, rather than just list the most acclaimed classic movies and call it a day, I really wanted to hone in on some particular titles that I find obnoxiously overrated:
Continue reading →
Posted in

All Posts, Greg's Lists
Tagged

12 angry men, a prairie home companion, all the president's men, animal house, apocalypse now, back to the future, billy ray, breach, broadcast news, caddyshack, casablanca, classic movies, dawn of the dead, dawn of the dead remake, dementia 13, detroit red wings, dumb and dumber, find me guilty, francis ford coppola, freddy got fingered, george a romero, george romero, george roy hill, gone with the wind, gosford park, greg deliso, hal ashby, harold and maude, indiana jones, ingmar bergman, jack, jackie dinorscio, james l brooks, john landis, judd apatow, kevin smith, mash, nashville, network, night of the living dead, overrated classic movies, overrated classics, overrated movies, paris texas, pcu, poltergeist, red wings, richard donner, robert altman, rocky, rumble fish, shattered glass, short cuts, sidney lumet, slap shot, smug film, smugfilm, stanley kubrick, the burbs, the conversation, the farrelly brothers, the godfather, the godfather part 2, the godfather: part ii, the goonies, the matrix, the seventh seal, there's something about mary, vin diesel, wim wenders
17 Comments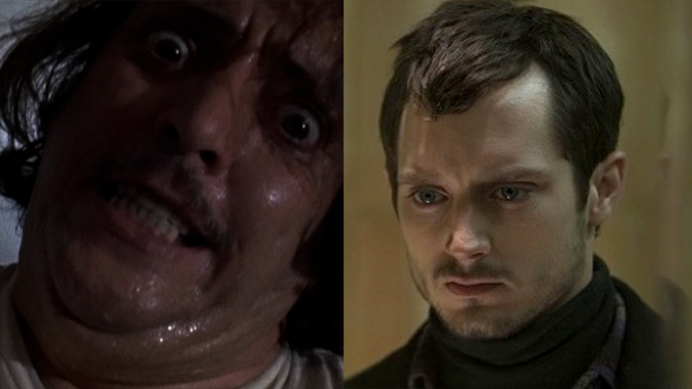 Whether or not we can learn a thing or two about the current state of cinema by examining the 1980 film Maniac by William Lustig and its 2012 remake by Franck Khalfoun is difficult to say—both films were not made for mainstream audiences. And both have leading men that wouldn't ordinarily be considered leading men: starring in the 1980 film is Joe Spinell (the extremely prolific character actor who had bit roles in such films as The Godfather 1 & 2, Taxi Driver, Rocky 1 & 2, and Cruising) and in the remake, Elijah Wood, star of the immensely successful Lord of the Rings saga (as well as many other films that aren't necessarily known as Elijah Wood vehicles). The original Maniac was shot in the very seedy New York City, with Spinell stalking about the grimy 42nd St theaters that would soon be playing the very film he's acting in. When it was released, it caught some of the backlash that all "slasher" films were experiencing at the time—namely, accusations of being merely an exercise in violence for its own sake. (Gene Siskel took pride in claiming he walked out of Maniac after 30 minutes.) The remake was shot in sunny Los Angeles, mostly in the downtown area. It has yet to have a wide release here in the US.
Continue reading →
Posted in

All Posts, Ned's Reviews
Tagged

bill lustig, cruising, elijah wood, franck khalfoun, frank zito, gene siskel, joe spinell, lady in the lake, lord of the rings, maniac, maniac remake review, maniac review, ned martin, rocky, rocky 2, rocky ii, smug film, smugfilm, taxi driver, the godfather, the godfather part 2, the godfather: part ii, william lustig
Leave a comment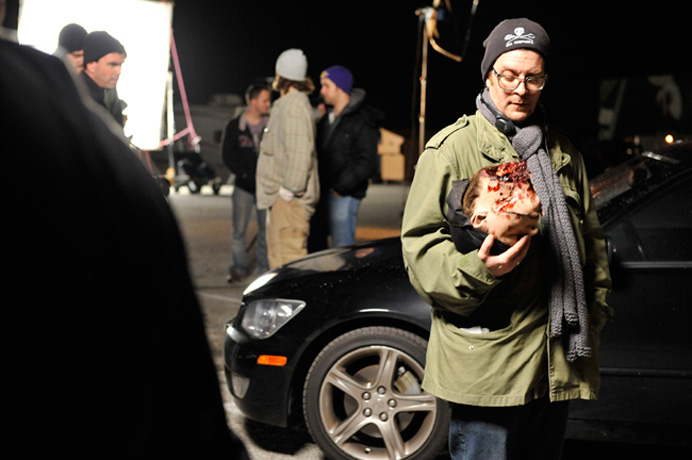 You might not have heard of Jack Perez, or his many aliases, but you've probably heard of his work.  Jack directed Wild Things 2 for TriStar and the pilot for the popular cult TV show Xena: Warrior Princess. His film Mega Shark vs Giant Octopus is a staple of the B-movie resurgence of the last decade.
Jack has one of the rarest jobs on earth—he's a working director in Hollywood.  The DGA represents just over 14,000 directors.  They say in SAG about 5% of the union is working—I'd probably halve that when talking about the DGA.  And remember, for every one of those 14,000 there is literally thousands upon thousands of people dying to get in.  Directing is an elusive job, everybody knows a director makes a movie but almost nobody—lay people and cinephiles alike—really have any idea about what the job actually entails.
Continue reading →
Posted in

All Posts, Greg's Interviews
Tagged

akira kurosawa, alfred hitchcock, godzilla, godzilla vs king kong, grumpy old men, hard target, hearts of darkness, hercules the legendary journeys, it came from beneath the sea, jack perez, jack perez filmmaker, jack perez interview, john ford, john frankenheimer, john huston, martin scorsese, mega shark vs giant octopus, megashark vs giant octopus, notorious, orson welles, plan 9 from outer space, sam peckinpah, the flintstones, the godfather part 2, the godfather: part ii, tristar, vera cruz, wild things 2, xena warrior princess, zm productions
Leave a comment