Tag Archives:
oblivion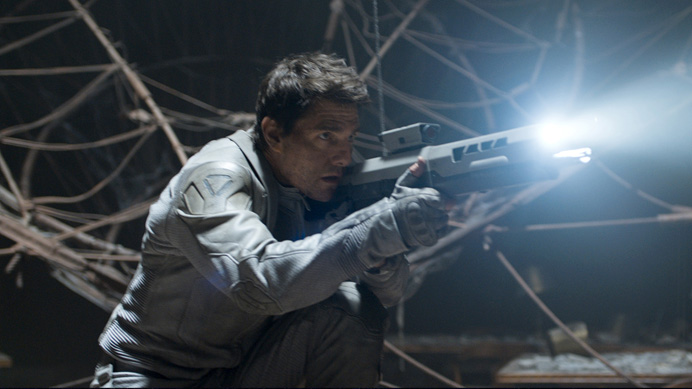 In my earliest Smug Film piece, I reviewed a movie called ATM and introduced this idea of 'Roomies'—movies where the characters are trapped in some kind of room and the whole point is figuring out why they're there and how to get out. Exam, The Breakfast Club, and Cube are some popular examples. Now I'm going to introduce you to Twisties, which have become quite prevalent lately.
I saw the Tom Cruise movie Oblivion in the theater by myself.  I like going to the movies by myself.  It's cool.  There's something about being by yourself in the grandeur of the theater that always reminds me how much I want to make movies.
Continue reading →
Posted in

All Posts, Greg's Essays
Tagged

a few good men, alex hiatt, atm, atm movie, avatar, blade runner, brad pitt, charles dickens, cube, dune, ellen page, empire strikes back, exam, ghostbusters, gone with the wind, greg deliso, hulk, inception, insheeption, iron man 2, ivan reitman, jerry maguire, oblivion, raiders of the lost ark, roomies, smug film, smugfilm, south park, spider-man, spiderman, star wars, terminator 2, the avengers, the breakfast club, the dark knight, the empire strikes back, tom cruise, twist movies, twisties, world war z
Leave a comment
There is a moment in Fargo (I'll never stop talking about Fargo) that makes me die with laughter every single time I watch it. The movie is packed with black comedy and irony and brilliant deadpans (the license plate joke, holy shit) and some basic but perfect physical gags (Jean Lundegaard bursting out of the shower draped in its curtain like a kid in a homemade ghost costume), but I ain't talking abaout all that stuff. I'm talking about the stills above. This moment seems to be more of an editorial in-joke than an actual written joke, but of course you never can tell with the Coen brothers. After Jean's dad and Stan Grossman and Jerry discuss the plot's central ransom over breakfast, Jerry is at the counter. The beaming cashier asks how Jerry's meal was. After he answers rather shortly, he comes back with an affable "How you doin'" and when it cuts back to her, we see her cock her head to the side before it cuts again. All she does is cock her head to the side. No response, no change in expression, just a slight pitch. It's hilarious. It's insanely funny.
Continue reading →
Posted in

Alex's Essays, All Posts
Tagged

15 minute rule, 50/50 rule, airplane, alex hiatt, an american werewolf in london, andrew nichol, breaking bad, cody clarke, coen brothers, compliance, david lynch, ethan coen, fargo, fight club, fright night, from dusk till dawn, get him to the greek, greg deliso, guillermo del toro, hostel, in time, inland empire, iron man, jean lundegaard, joel coen, ki-duk kim, kim ki duk, life is beautiful, life of pi, lords of salem, louis ck, mike stoklasa, moon, night of the comet, oblivion, p.t. anderson, pacific rim, paul thomas anderson, premium rush, pt anderson, roberto benigni, roderick jaynes, sam raimi, saving private ryan, saw, schindler's list, shaun of the dead, slither, smug film, smugfilm, source code, spider-man 3, spiderman 3, spring summer fall winter and spring, stan grossman, stanley kubrick, steven spielberg, stir of echoes, structural humor, texas chainsaw massacre, the burbs, the dark knight, the evil dead, the hangover, the lords of salem, the room, the texas chainsaw massacre, tremors, troll 2, tucker and dale vs. evil, twin peaks, united 93, wild at heart
15 Comments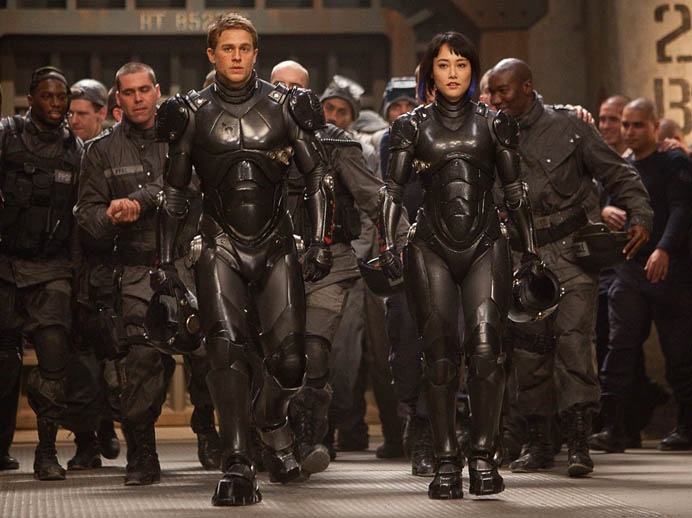 These characters are so. Fucking. Boring.
Pacific Rim (2013)
Directed by Guillermo del Toro
Written by Travis Beacham & Guillermo Del Toro
131 min.
Warning: spoilers ahead.
2013 was supposed to be the year that saved big screen science fiction. When this summer's lineup began filling out, I had more anticipation for this movie season than I'd had in years. Names were popping up like Blomkamp, del Toro, Shyamalan (fuck the haters), Abrams, Cuarón, Wright (and Pegg and Frost), and startlingly, there seemed to be more original properties on the horizon than sequels/adaptations: Elysium, After Earth, Gravity, Pacific Rim, Oblivion, Ender's Game, Star Trek Into Darkness, The World's End, etcetera. From what I saw of the trailers, these movies didn't look like your typical disaster porn invasion movies, á la, Battle: Los Angeles or Transformers (except Pacific Rim, though its premise justifies, and even necessitates it) nor were they part of the insufferably relentless deluge of Marvel/DC sequels and spinoffs (except Into Darkness, whose trailers gave it the tone of a Dark Knight movie; y'all looking forward to Thor: The Dark World?). I loved the designs I saw in the Oblivion trailer, I liked the visual approaches of After Earth and Ender's Game, and I love the idea of Sandra Bullock leading a stranded-in-space drama.
Continue reading →
Posted in

Alex's Reviews, All Posts
Tagged

after earth, alfonso cuaron, armageddon, avatar, battle: los angeles, burn gorman, charlie day, chekhov's gun, elysium, ender's game, gravity, greg deliso, guillermo del toro, hellboy 2, idris elba, independence day, it's always sunny in philadelphia, j.j. abrams, m. night shyamalan, neill blomkamp, neon genesis evangelion, nick frost, oblivion, pacific rim, pacific rim bad, pacific rim review, pan's labyrinth, simon pegg, star trek into darkness, star wars, starship troopers, the dark knight, the devil's backbone, the matrix, the terminator, the worlds end, thor: the dark world, tom cruise, transformers, travis beacham
5 Comments