Tag Archives:
storytelling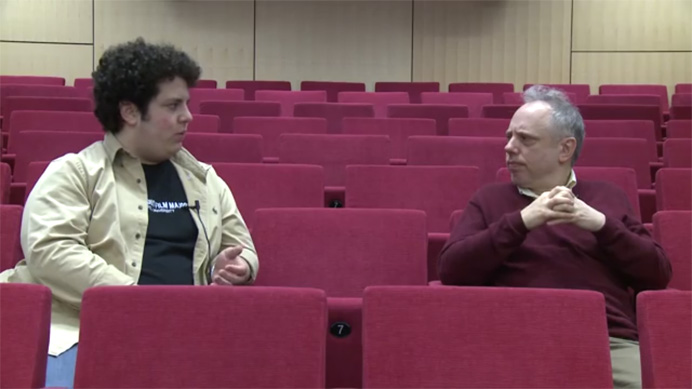 As of the time I'm writing this, Todd Solondz on Becoming a Filmmaker & Welcome to the Dollhouse has 412 views in the 6 months it's been online. That is a travesty. It's one of the best short films I've seen in ages, albeit an unintentional one.
It's basically just Todd Solondz being interviewed by a film major at Drexel University, Zachary Shevich, but really it's so much more. It contains all the precise uncomfortability you might expect from a Solondz film, but wholly organic. For starters, it's as though Solondz is being interviewed by one of his characters—Zachary's vibe and mannerisms and attire are similar to that of the protagonist of Dark Horse and certain side characters from Storytelling, Palindromes, and Life During Wartime. Then, there's the production values—the setting, a college screening room, is uncomfortably overlit; Solondz' lavalier microphone is placed on the wrong side of his lapel for the direction he is speaking, as though they were nervous to be interviewing him and weren't thinking, and maybe even switched sides last minute; the lower third graphic stating their names is a depressingly ugly, brown, clipart film strip, with a bland font; there are random mic rumbles here and there from breathing and fidgeting, and at certain points, Solondz bows his head and accidentally talks quite loudly into his mic. On top of all of this, you of course have Solondz' calmly dour and intimidating demeanor. It's a must-watch.
My favorite moment is the cut at 1:23 where we see the exact distance and body language of our two characters. That's the shot at the top of this post. By the way, there's a Part 2! You can watch both parts below: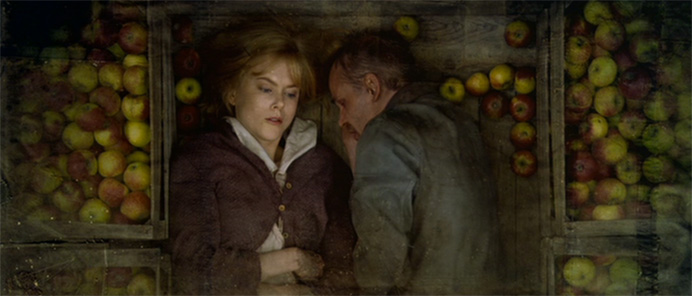 Dogville (2003)
I don't really get into my political leanings here at Smug Film, for the obvious reason of this being a site about movies, not politics, but also because I hate creating arbitrary 'dividing lines' in my work. It's petty, and I can't stand when others do it. For instance, I'm a huge Woody Allen fan, I think he's our greatest American filmmaker, but I cringe whenever he peppers little jabbing jokes against the Right in his films when the story doesn't even call for it. Those sort of winks to the audience take you out of the film momentarily, whether you agree with them or not. It's distracting and wholly unnecessary. So rest assured, people who disagree with me politically—there will be no lazy digs, or insults, or other 'playing to the base' bullshit in this post whatsoever.
This list will be of particular interest to libertarians, that's a given, but even if that ain't your particular alignment, it should at least be a unique window in the the sort of things we, or at least I, care about, both politically and philosophically. And don't worry, there are no propaganda docs on here; these are simply great movies, many of which (hell, probably all of which) aren't even made by libertarians. Whether intentionally or unintentionally, they just so happen to contain, within their myriad elements, certain elements that we get a kick out of. Enjoy! Continue reading →
Posted in

All Posts, Cody's Lists
Tagged

annie hall, ayn rand, barcelona, bicycle thieves, charlie kaufman, cody clarke, collectivism, damsels in distress, dardenne brothers, david gelb, david mamet, death wish, dick cheney, dogville, fascism, films libertarians should see, fish tank, george w bush, girls, happiness, howard roark, jean-pierre dardenne, jiro dreams of sushi, lars von trier, libertarian film, libertarian films, libertarian movie, libertarian movies, luc dardenne, manderlay, manhattan, metropolitan, michael winner, new york, objectivity, oleanna, paul kersey, republican film, republican films, republican movie, republican movies, rosetta, rotten tomatoes, smug film, smugfilm, storytelling, subjectivity, synecdoche, synecdoche new york, the last days of disco, todd solondz, tribalism, vittorio de sica, welcome to the dollhouse, whit stillman, william h macy, woody allen, zelig
12 Comments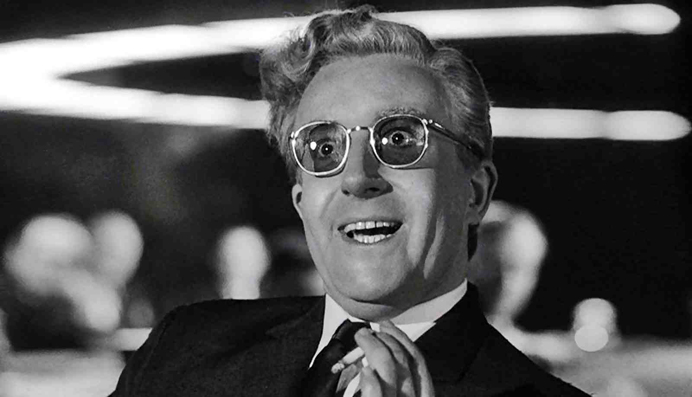 Black comedy, something like: Arsenic and Old Lace, Dr. Strangelove. Or, some with dry British humour like Kind Hearts and Coronets. – Bawuk R.
Cody Clarke: I'm blanking on older black comedies besides what you mentioned. But hell, you didn't specify old, so fuck it, here's some non-old black comedies that are great:
Editor's Note (12/4/14): We no longer answer movie questions through our advice column. We answer them in the mailbag segment of our podcast. Send them to Cody@SmugFilm.com and we will answer on the show!
Continue reading →
Posted in

Advice, All Posts
Tagged

aki kaurismaki, arsenic and old lace, brief encounter, city lights, cody clarke, dr. strangelove, film advice, film advice column, free film advice, free movie advice, ikiru, imitation of life, in the loop, john damico, kind hearts and coronets, leo mccarey, look around you, make way for tomorrow, movie advice, movie advice column, ozu, paths of glory, shadows in paradise, smug film, smugfilm, storytelling, synecdoche new york, the awful truth, the circus, the gold rush, the human condition, the office, the trip, todd solondz, tristram shandy
7 Comments